Choosing the right outdoor kitchen design can quickly transform your humble poolside into the perfect setting for hosting weekend barbecues and dinner parties. It should give you a perfect balance between functionality, style, and affordability.
Tips for Setting Up Your Outdoor Kitchen
Consider the space for your outdoor kitchen
The amount of space that you have in between your home and your pool is the first thing you need to consider when looking at outdoor kitchen design ideas.
You need to make sure that there is not only ample space for the different areas of your outdoor kitchen–the cold areas (refrigeration and storage), hot areas (grills and ovens), wet areas (sinks) and dry areas (prepping counters). There should also be enough space left for you and your guests to sit, dine and move around comfortably.
Relationship with your indoor kitchen
Believe it or not, your indoor kitchen plays a role when it comes to looking for an outdoor kitchen design idea for your home.
If you only have a very limited space to build your outdoor kitchen, you may need to use your indoor kitchen for your wet and cold areas. That way, you don't end up with an outdoor kitchen design that looks cramped and forced. For instances like this, you need to make sure that as you build your outdoor kitchen, there is an easy way for you to make your way from one kitchen to the other so that it doesn't hinder you from cooking and entertaining your guests at the same time.
Know your must-haves
Once you've determined the role that your indoor kitchen will play when you use your outdoor kitchen, the next thing you need to do is to come up with a list of the essentials that you need. Usually, this would mean your grill and stove cooktop, a compact refrigerator, cabinets for all your utensils, and a countertop or two where you can do a bit of prepping and serving.
Now, we all would love to have everything in our outdoor kitchen customized based on the design idea we've chosen. The thing is, unless you're quite handy and are a pro doing DIY projects, having everything customized for your outdoor kitchen can be very expensive.
A budget-friendly way to deal with this dilemma is by using prefabricated outdoor kitchen kits you can find in your local home depot warehouse or store. These kits come in a variety of designs and come with the essentials you need for your outdoor kitchen at a fraction of the price.
Go for low-maintenance materials
Even though you put a roof or covering over your outdoor kitchen, it still is exposed to the elements like the heat of the sun, moisture from the rain and snow, and even from the treatment chemicals you use in your swimming pool.
Stainless steel is always the safest bet since it's very easy to clean and has a high resistance to corrosion and grease stains. If you want to add some stone work into your overall outdoor kitchen design, make sure that you avoid porous materials and tiles. Although they look beautiful, highly porous materials like limestone quickly absorb moisture and stains more quickly, making them more prone to damage within just a short period.
Seek professional help
If there is one aspect of planning your outdoor kitchen that you should never really skimp your budget, it's getting a professional contractor help you install the plumbing, gas, and electrical lines in and around your outdoor kitchen.
Aside from making sure that all the utility lines are adequately and safely installed in and around your outdoor kitchen, hiring a professional contractor will help you get the most out of your outdoor kitchen based on the design idea you want and your budget.
A professional contractor will also help you out when it comes to positioning your different entertainment devices so that you and your guests can enjoy them at any time. For instance, if you plan to include a television screen in your outdoor kitchen, you need to be able to put in an area where it's still able to deliver a high quality picture even in bright sunlight.
Another is your music. You need to be able to position the speakers of your entertainment system in such a way that your guests can enjoy the music without it having to be so loud that it bothers the neighbors.
Get your cue from your home's design
Your outdoor kitchen should look like an extension of your home, not sticking out like a sore thumb. That said, when going through outdoor kitchen design ideas, look at those that have a design that is similar or complementary to the overall design of your home.
For example, if you've used a Zen or modern style to decorate the interior of your home, look for outdoor kitchen ideas with a minimalist design and those that focus on neutral tones. On the other hand, if your home is made of bricks or stones, choose outdoor kitchen layouts that echo the use of bricks and stones in its design as well.
Here are three great outdoor kitchen design ideas to spark a bit of inspiration, all of which take their cue from the design of the home.
High-End Retreat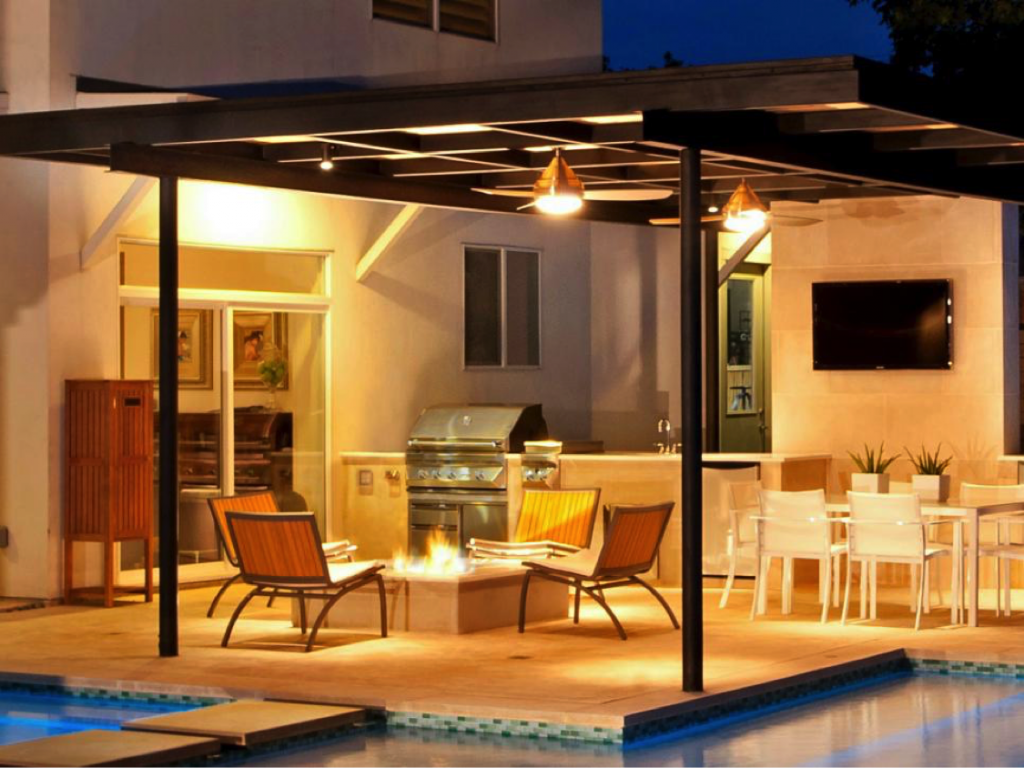 Source: HGTV.com
If there is very little space between your home's backyard entrance and your pool, this is a great outdoor kitchen design to consider. The steel arbor covering gives the illusion that your outdoor kitchen and dining area is an extension of your home's interior.
Adding the fireplace at the center adds to its sophisticated look and feel. Not to mention that it allows you to host dinners and make use of your outdoor kitchen even after summer is over. If you want to maximize the space, you can just choose not to add this in the final outdoor kitchen design for your home.
Pool Party Ready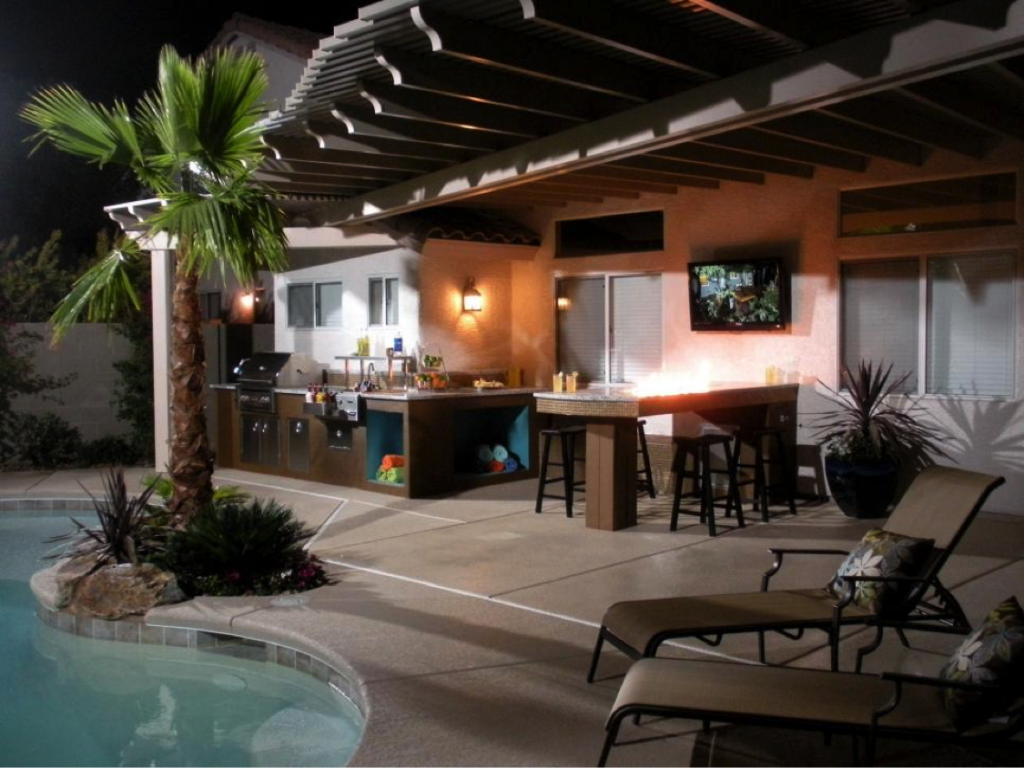 Source: HGTV.com
This outdoor kitchen design idea is great if there is not that much space between your home and your pool, but there is no direct access to it from the inside. The aluminum shade structure above the lounge area gives sufficient protection from the elements and can provide enough shade as well so that the picture from the flat-screen TV mounted on the wall can be enjoyed day or night.
Instead of installing additional lighting fixtures, this outdoor kitchen design makes the most of the existing lighting fixtures mounted on the walls of the home.
Luxury Poolside Escape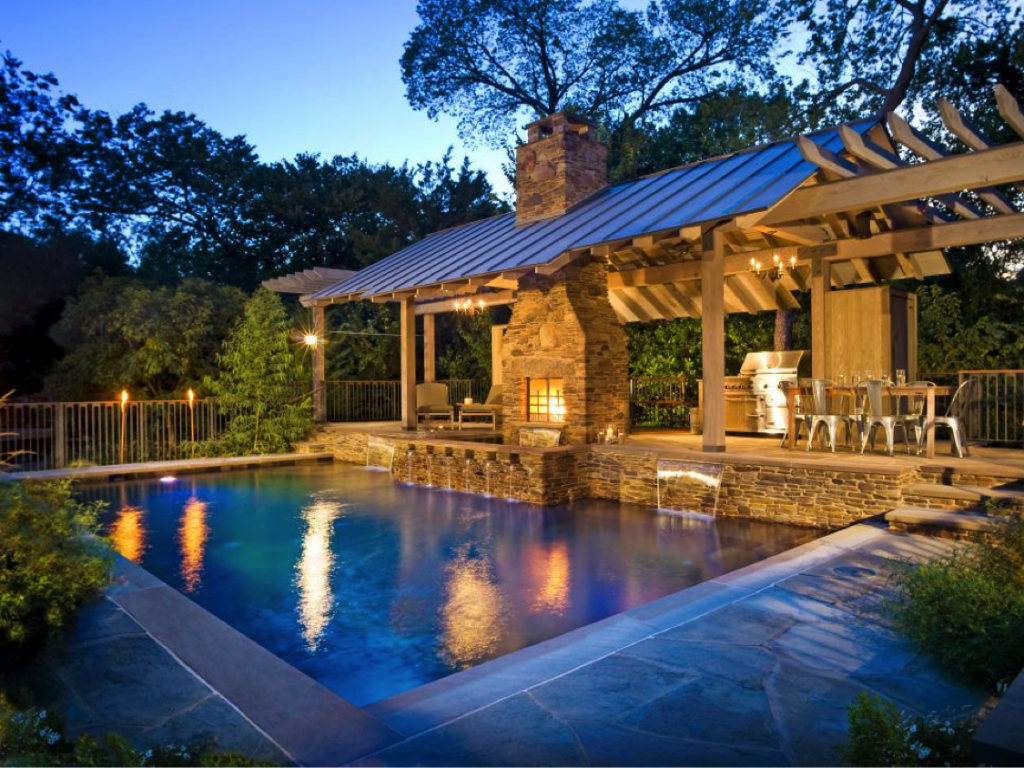 Source: HGTV.com
As its name implies, this outdoor kitchen design gives you a secluded place right in your backyard for you and your friends to have a fun afternoon pool party or an intimate dinner.
Of course, this outdoor kitchen design idea works best if you got enough space in your backyard to set this up. Graphite stones used at the side of the pool and on the fireplace gives this design its rustic appeal. The reflection of the light coming from fire torches lining the walkway to the outdoor kitchen and dining area and the chandeliers hanging here help create a romantic ambiance at night.