St. Patrick's Day may be an Irish holiday. But whether you've got Irish blood or not, it still makes a pleasantly convenient excuse to throw a bbq party in your backyard.
But as we all know, hosting a bbq party can be a very daunting project. There's a lot of things to do to make sure your guests are well-fed and have a great time that you barely have any time to sit down and mingle with your guests. In fact, it's not surprising if everyone in your bbq party is having a good time and in high spirits except you.
The good news is that you don't need a four-leaf clover or the magic of a leprechaun to throw a memorable bbq party for St. Paddy's Day. All you need is a bit of planning and a dose of creativity.
Here are 10 tips to help you host an amazing St. Patrick's Day bbq party right in your backyard.
Prepare a guest list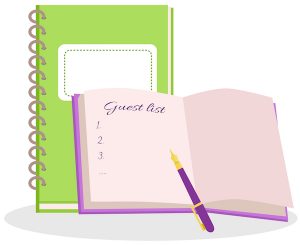 True, an outdoor bbq party is hardly a formal event. Still, writing up a guest list can help you bring down the stress factor of hosting a bbq party.
In addition to knowing how much food and drinks you need to get, writing a guest list will also give you an idea just what kind of food and drinks you will need to get. Are there any vegetarians coming to the party? Do any of them have food allergies? All of these need to be taken into consideration to make sure that none of your guests would feel left out.
Inspect and clean your outdoor grill
Nothing spells disaster for an outdoor bbq party than having an outdoor grill that is just not working properly. So, make it a point to carefully check the fuel supply, tubes and connections of your outdoor grill to make sure that everything is in good condition. Be sure also to take some time to clean your grill thoroughly. Not only will this make it more presentable during the party, but it will also make sure that you grilled food will taste really great.
Prep the night before your bbq party
Prepare as much of the food you're planning to serve during your bbq party. Not only will this allow you more time to prepare for your party and mingle with your guests. It will also give time for marinades and rubs to penetrate through the meat you're planning to grill.
Mix functionality with design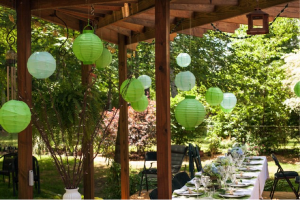 One neat trick to jazz up your backyard for your upcoming St. Paddy's Day bbq party is to choose decorations that are iconic and functional at the same time.
Stringing up green and gold colored lanterns across your backyard is one way to do this. During the afternoon, these brightly colored lanterns lend to the overall festive feel of the party. As the sun goes down, it helps brighten up your backyard, allowing you to carry on your bbq party well into the night.
You can even go and make your own functional decorations to trim down your party budget. For example, instead of using St. Patrick's Day decorative weights you find in party favor stores to keep tablecloths in place despite the wind, fill small black buckets with pebbles painted gold to look like pots of gold. Suspend these on the sides of your tablecloth using a clip and a skinny green or gold ribbon.
Dress up for the occasion
Dressing up in costumes can definitely add to the fun and feel of any party. Ask your guests to dress up in their best and most creative St. Patrick's Day attire and then choose a winner during the bbq party.
Serve traditional food
What would be a St. Patrick's Day party be without some traditional Irish food and drinks. Instead of serving your favorite beer, opt to go with stout and Guinness.
The challenge, of course, is the food. Most traditional Irish dishes are boiled or stewed. Since you're hosting a bbq party, you can slightly bend this by grilling or smoking them instead like this recipe where the traditional corned beef with boiled cabbages is given an American twist by cooking them over the grill.
---
Barbecued Corned Beef with Grilled Cabbages
Ingredients: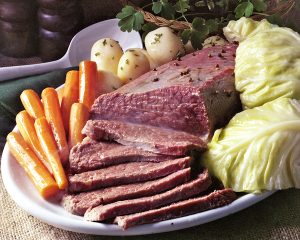 1 4lb. corned beef brisket
10 strips of bacon
1/2 stick butter, unsalted
1 small white onion, finely diced
1 medium green cabbage
1/4 cup of your favorite bbq sauce
salt and pepper to taste
6 cups of hickory, oak, or other hardwood chips, soaked in water for 1 hour and then drained
Directions:
Pat the corned beef brisket from any moisture. Rub the brisket all over with salt and pepper. Place this in an aluminum foil pan, fat side up. Drape 6 strips of bacon over the top of the corned beef.
Set up your grill for indirect grilling. Toss 1 1/2 cups of the wood chips and close the lid to allow the smoke to build up.
Place the corned beef on the top rack over the indirect heat section of your grill. Close the lid and smoke the corned beef for 5-6 hours, replenishing the wood chips every hour for the first 4 hours and keeping the grill at an even temperature of 250 degrees Fahrenheit.
Remove the corned beef from the grill. Cover the pan with foil and allow this to rest for 10 minutes. Thinly slice across the grain.
Meanwhile, 1 tablespoon of butter in a skillet over medium heat. Add the bacon and onion and saute this until the onions are just starting to brown. Set aside along with the drippings separately.
Core the cabbage by cutting a 3-inch circle about 3 inches down the center. Stir in the barbecue sauce into the bacon and onion. Dice the remaining butter and insert this into the cabbage's cavity. Brush the outside of the cabbage with the bacon drippings and season with salt and pepper.
Place the cabbage on the top rank over the indirect heat section. Add the remaining wood chips and close the lid. Grill the cabbage until this becomes very tender and it is easy to pierce with a skewer. Remove from the grill and discard any of the charred and dried out outer leaves. Cut this into wedges and serve along with the sliced corned beef, some buns, and mustard.
---
Keep the bugs away
Flying bugs like mosquitoes would be common pests in any backyard party, especially if you got a swimming pool. Adding a bundle of sage on the topmost rack over the indirect heat of your outdoor grill and keeping this open will help not only keep the bugs at bay but also help flavor all the other meats you grill here.
Always provide alternatives
If you have guests who are non-meat eaters, don't drink alcohol, or there are children in the party, make sure that you include food and drink choices that are suited to whatever diet that they follow. That way, all of your guests will feel that you are taking really good care of them and want them to enjoy your party.
Prepare some take home gifts
Aside from the usual doggie bag filled with leftovers, make sure that you give your guests a small token to show your appreciation for them attending your party. This doesn't have to be anything fancy or expensive. A small bag filled with green-colored peppermint candies or mint chocolates with a thank you card would be very much appreciated.
Take time to enjoy
Take some time out from hosting and sit down to mingle with your guests. After all, it's a party, and your guests came to enjoy your company.