Celebrate the season of autumn with these 5 outdoor Thanksgiving decoration ideas that will wow your guests and make your neighbors jealous.
The warm hues of autumn leaves and the cold, crisp air are clear signs that Thanksgiving is just around the corner. That means it's time to dress up your home inside and outside fitting for the occasion.
Decorating your home for Thanksgiving may sound like a daunting task, especially if you're trying to figure out what to prepare for Thanksgiving dinner. But with a bit of creativity and help, you will find that decorating your home for Thanksgiving is simple, enjoyable and budget-friendly.
Here are five fabulous Thanksgiving decoration ideas to get you inspired to dress up your home.
Autumn Natural Nut Wreath
Source: Shelterless
This outdoor Thanksgiving décor is a labor of love but will be worth it in the end. Make sure that you got an extra bowl nearby just in case you can't resist popping a few in your mouth while making this.
What you will need:
A foam wreath
Burlap ribbon
Scissors
Hot glue gun
Hot glue sticks
Mixed nuts in season
Spray on sealer
How to make it:
Wrap the foam wreath with the burlap ribbon and secure this with hot glue.
Using the hot glue gun, apply a little bit of glue onto the nuts and stick it on the wreath, starting with the larger types of nuts like acorns and walnuts. Keep doing this until you've covered the entire wreath.
Spray the entire wreath all over with a sealer and then leave it outside to dry completely before hanging this on your door.
Bountiful Harvest Arrangement  
Source: PerfectPorchSwing

Autumn time is harvest time. This beautiful outdoor Thanksgiving decoration will bring in the festive feel of the season on your front porch or by the poolside.
The great thing about this Thanksgiving design idea is that anything goes for this. It can be as simple like this arrangement on the right:
'Give Thanks' Sign Posts
Source: Pinterest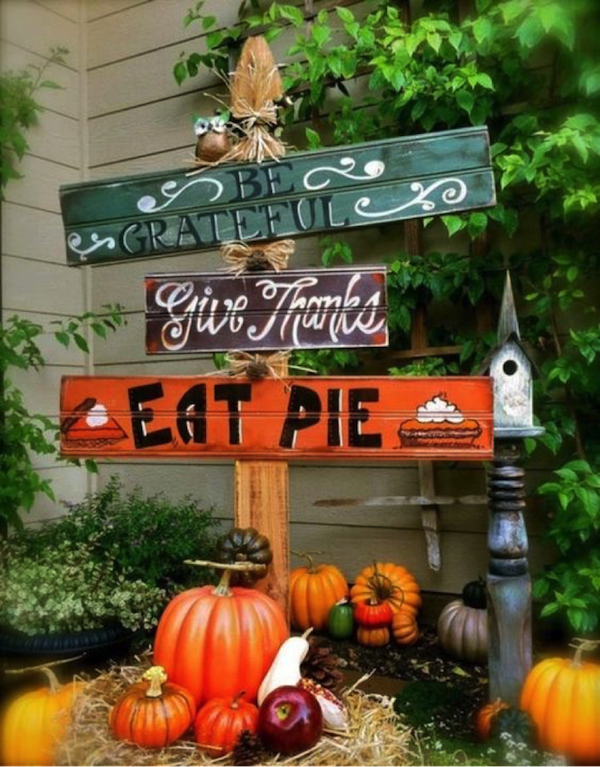 Let's face it. The traditional 'Welcome to Our Home' sign on the front porch can be quite boring. Setting up a whimsical sign like this will surely bring a smile on your face and your friends when they come over for Thanksgiving dinner. All you need is some wood planks, autumn colored paints, a paint brush and your imagination.
Light the Way
Source: DigsDigs
Decorate vintage lanterns like these with Fall floral picks that you can get from your local arts and crafts store and line these up along the walkway leading up to your front porch as well as along the steps in your backyard. Not only do these bring you back to the days when the early pilgrims used these as light for that first Thanksgiving feast. These are also a beautiful way of helping you trim down your electricity bill, too.
Thanksgiving Garlands
Source: TaterTotsandJello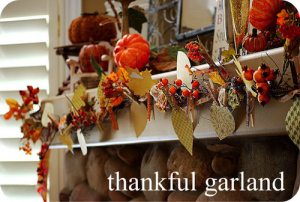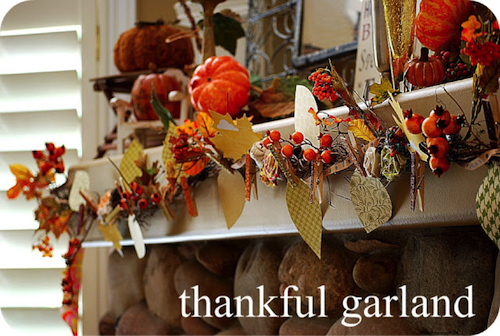 String these garlands across your backyard fence, across your fireplace mantle or swagged on the wall to bring an instant festive vibe. You can buy these from your local department store or, better yet, make one with the kids.
What you will need:
Grapevine garland (you can get this from your local arts and crafts store)
Pack of wooden clothespins
Colored glitter
Mod Podge
Scrapbook paper of different patterns
Fabric rosettes
Gorilla glue tape
Fall floral picks
Hot glue gun
Hot glue sticks
Tape measure
Scissors
Ribbons
How to make it:
Measure out the area where you will string your garland with a tape measure and then cut the grapevine garland slightly longer than the length of the area where you will be hanging it.
Tape either side of the grapevine garland across the room. This will help make putting the garland together much easier.
Take out the Fall floral picks and cut them out so that they become individual pieces. Using the hot glue gun, glue these pieces randomly across the entire length of your grapevine garland. Do the same with the fabric rosettes.
Get a wooden clothespin. Brush one side with a thin layer of mod podge. Sprinkle some glitter on the mod podge until it's covered. Shake out the excess. Set aside to dry completely.
Cut out some leaf shapes from your scrapbook paper of different sizes and shapes. Hang these onto the garland using the clothespins with the glitter side facing out.
6. Tie the ribbons to either end of the garland and use this to secure the garland in place. You can also hang the garland        and then secure these with Gorilla glue tape and then hide the tape using the ribbons.