May 10 is quickly approaching and that means it's Mother's Day! Are you prepared to celebrate Mother's Day? What will you do to make Mom (or whomever you consider your Mom) special on this day? We know that Moms work hard. They sacrifice for us, they help care for the grandchildren, they attend the soccer games and they probably do a lot of the cooking, laundry and housecleaning, right?
Well, even if Mom doesn't do all of that in your house, it's still nice to step back, give her the day off and just celebrate her and make her feel special.
Your Mom deserves the best. Whether she's a new Mom caring for a baby or if she is a grandmother and has been caring for the family for decades, she will appreciate the time and effort you put into celebrating her. Why not plan a Mother's Day brunch poolside? Your Mom will love being able to kick back and spend time with the family without having to lift a finger!
If it's warm enough you may want to make certain the swimming pool is open and ready so everyone who wants to can take a plunge! Decide whether you want to take Mom out to breakfast, brunch or dinner then plan the day accordingly. If you want to spend the day at home surrounded by friends and family and have a pool party, she will probably love that!
You can start Mother's Day with breakfast served al fresco (if it's warm enough) after she's been given the gift of sleeping in. Make her favorite breakfast or buy her favorite breakfast treat and her favorite cup of coffee or tea and spend a leisurely morning poolside.
Ask Mom who she wants on the guest list for her special day. If your list includes more than one Mom, enlist the help of the family of the other Moms and make the day a celebration for everyone! Also, having extra hands makes the day more relaxing for you — especially if cooking, decorating and serving aren't in your usual wheelhouse.
Are You Prepared To Celebrate Mother's Day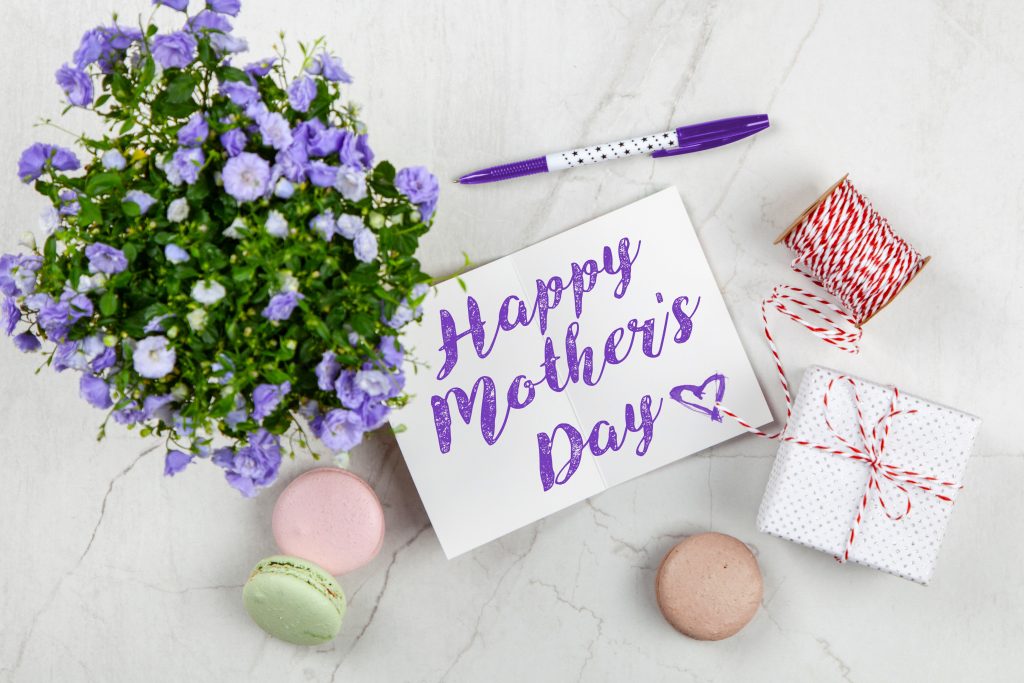 Does your household or the families you'll be inviting have babies or toddlers? If that's the case everyone may find it more relaxing to have a backyard brunch than to fight the crowds on Mother's Day at a restaurant. If Mom loves a restaurant experience, plan one for later in the week and get a babysitter for the children and toddlers.
One way you can make mom's day better and more relaxing is to offer to feed the toddler rather than having her feed him or her while trying to enjoy her own meal. Just ask her, we'll bet she will tell you that being able to eat a meal in peace is a gift!
Get the kids involved in the planning and preparations for Mother's Day brunch. Make a day of crafting part of the whole event. Get paper, crayons, glue, ribbons, glitter and the great decorating device — macaroni! Let the children design placements for all of the guests and decorate them in their own unique style. The Moms will love them and will likely take them home and hang them on the fridge!
Doesn't Mom deserve the best?
Of course, she does! That means, plan a brunch. She can sleep in and you can have a bit of time to get the backyard set up for the guests and the day. Brunch is an ideal time to have guests over — not too early, not too late — and there is time to relax together before and after the Mother's Day celebration.
Reasons brunch is an ideal time for a celebration
The sun will be up and the water might be warmer
The dew will be off the grass and if the children are crawling around, they won't get wet!
It allows the guests time home alone with Mom before they come over
What does Mother's Day mean to you?
It can be a day fraught with many memories. If your Mom has passed, it may bring up painful memories, but those memories can also warm your heart. You can honor her memory and go visit her gravesite, take her flowers and spend a bit of time with her. If you have friends who don't have a mom or whose children or grandchildren live alone, invite them over to spend the day with you.
If you have friends who are empty nesters and whose children aren't local, invite them over. If you are one of the family's whose mom is not nearby, use technology to have a video chat and connect. Many people will have a video chat and eat their meals together — that is one of the ways technology can help you connect!
Plan Mother's Day Brunch
You can let Mom know you're planning an event so she knows you have it all under control! If you know your Mom (or your wife) loves a surprise, then don't let her in on the planning! If you're not sure about the day, ask her what her favorite meal is, ask her who she'd like to have attend the brunch. Make sure you clean the house so she isn't cleaning up for her own event!
Decorate For The Brunch
Choose her favorite flower
Choose her favorite color (when the kids are decorating placemats, make sure they use her favorite color in the design)
Decide if you want to have a theme — movie, vacation spot, sport, etc.
You probably don't have to go overboard. Dropping a few of Mom's favorite things into the day and letting her relax while you take care of everything will make it a special day.
When it comes to gifts, buy her some of her favorite flowers that she can plant (or you can plant for her), buy a bouquet of her favorite flowers. Have the children give her certificates for specific items:
Making their beds
Folding their laundry
Putting their plates in the sink
Work with them to make the certificates age-appropriate (clean the pool, take the garbage out, vacuum, feed the pets, etc.) She will love knowing she can use her certificates when she wants to.
Who Is On The Guest List?
After you've discovered whether Mom wants guests or just the immediate family you can send out invitations. That may seem old-fashioned, and it is, but hand written invitations make the event even more special. If it's family members you may just be picking up the phone and making the arrangements — and that's all right.
Planning The Menu
What's on the menu? Of course you will want to have Mom's favorite dish and sides. When you're inviting family members let them know what's on the menu and ask what sides they may want to contribute. Don't forget the beverages.
If you're inviting guests to your house, you will usually be responsible for the meat — the biggest part of the meal. If you're grilling chicken, salmon, burgers, steak… whatever Mom likes the best, choose sides that either go with the meats or that Mom loves but rarely eats.
Desserts should be on the menu as well — choose Mom's favorite!
Set The Brunch Tables
If you have a theme, decorate the tables to highlight that. Use the placemats and decorations the children have made. You may even want to pick up a few tiny pots of succulents and let each Mom take one home with her! If you're really crafty or have a family member who is and who wants to help, invite them to make a centerpiece that each Mom can take home.
You may want to use disposable plates and utensils so Mom doesn't feel she has to clean up. If you don't want to use disposable items, make sure you know who will be doing clean up so that Mom doesn't feel it will be her task.
There is no time like the present to start planning your Mother's Day Brunch.
What will you do this year?