Curb appeal is ideal for more than those times when you're going to try and sell your home. Curb appeal sets the tone for your Thanksgiving or other holiday gatherings. 
Autumn just lends itself to a riot of colors when you're decorating your home. You can set the tone right at the front door or walkway, carry it throughout your home and into the backyard around the swimming pool and hot tub. Crisp leaves, cooler temperatures, pumpkins (they're not just for Halloween!) give you fantastic ways to amp up your outdoor decorations and make your neighbors jealous!
Autumn Charm For The Outdoor Living Space
When you decorate your home for autumn, it is a decorating theme can carry you throughout the holiday season with a few tweaks. It's not a daunting task. We have ideas here for you and your can get more ideas from Pinterest or even from your local craft store.
Natural Nut & Pine Cone Wreath
The time and effort you put into your Thanksgiving décor will be a labor of love but you will know you've hit the nail on the head when your guests ask, "where did you get that?" You can smile and tell them, "I made it myself!"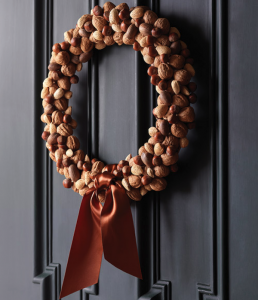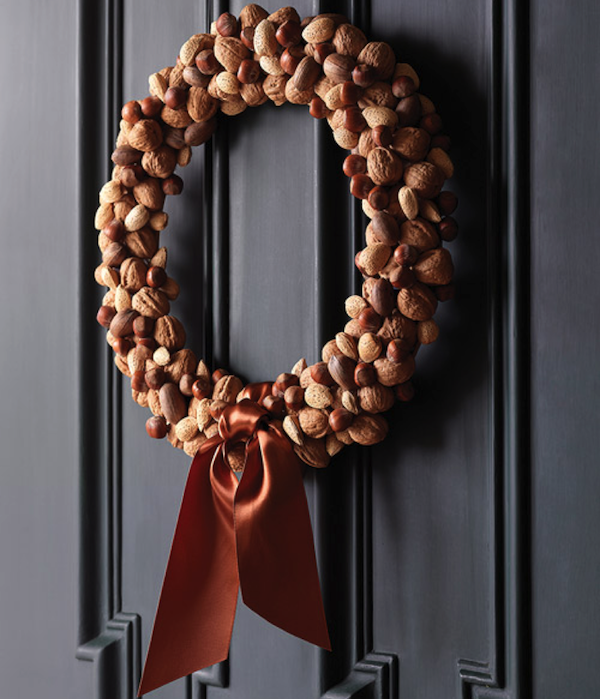 Items you'll need:
A foam wreath
Burlap ribbon
Scissors
Hot glue gun
Hot glue sticks
Mixed nuts in season
Pine cones
Dried straw flowers
Dried, colored leaves that you can gather from your yard
Spray on sealer
Instructions:
Wrap the wreath with the ribbon, secure with hot glue.
Lay the nuts, flowers, pine cones and leaves around the wreath until you hit on a design you love. Apply a bit of hot glue to the items and stick them to the wreath. Do this until you've covered the entire wreath.
Spray the wreath with a sealer
Set it outside in a dry, protected area until it is completely dry
Hang on the door
Enjoy!
Harvest Arrangement  
Because autumn is a time of harvest, bring the beautiful colors inside or put it outside in the pool space — or both!
Gather pumpkins of varying shapes, sizes and colors. You can even incorporate various squash into the arrangement. Add in branches with berries and pine garland. This arrangement can be as simple or elaborate as you'd like and can be moved from table top to table top to create a wonderful vignette. Add deep reds, oranges and yellow candles to your decorations. Cinnamon sticks also lend interest and height to the entire arrangement.
Thanksgiving Sign Posts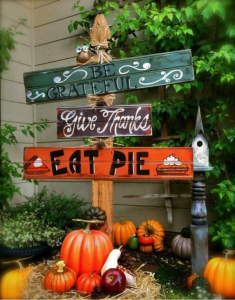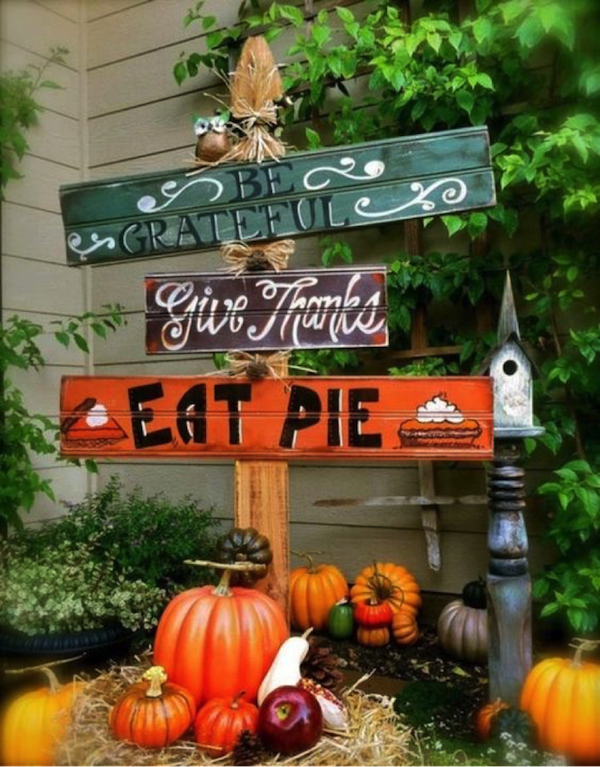 How can you let your guests or even passers-by know that you're in the holiday and autumn spirit? By creating a Thanksgiving or "Give Thanks" signpost. A traditional "Welcome" sign on the porch is yawn-inducing, right.
You can paint these Thanksgiving signs as a fun craft with your children. A whimsical sign will truly welcome guests, put a smile on their faces and a smile on yours every time you see it.
Go to the craft store, pick up some wooden planks and some autumn-colored paints, a paintbrush and your imagination. You may want to grab some stencils unless you are great at hand-lettering. Write your message, decorate the sign with some tiny pumpkin or other autumn-themed decorations, spray with can be quite boring. Setting up a whimsical sign like this will surely bring a smile on your face and your friends when they come over for Thanksgiving dinner. All you need is some wood planks, autumn-colored paints, a paintbrush and your imagination.
Spray with a sealer, attach it to a post, put in the ground and wait for the guests to arrive!
Light the Way
Pick up vintage lanterns from the big box store or a craft store. Put candles of varying heights into each one then add fall floral pieces to surround the candles. If you want to play it safe, use LED candles. They flicker beautifully and are safer than candles. Hot glue some autumn items to the LED candles if you'd like to make it more festive.
Turn on the candles when night falls (or get solar candles) and your walkway will be so inviting!
Autumn garland
You can buy garlands from most craft shops or you can make your own with items you pick up from the local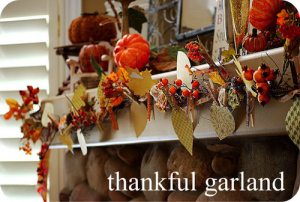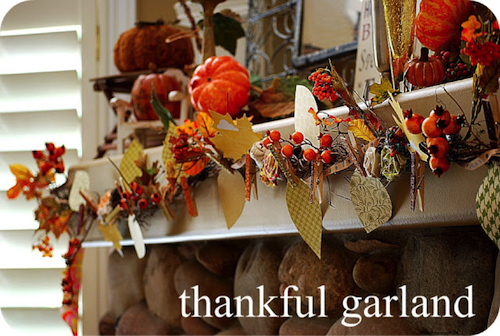 craft store or from the outdoors. Garlands can be placed on a mantle, window sills, strung through the railings on your porch, in the guest bathroom or guest bedrooms –anywhere you have a space that a garland will fit!
Items needed
Pine boughs, from the outdoors or a local arts and crafts store
Wooden clothespins
Colored glitter
Mod Podge
Scrapbook paper of different patterns
Fabric rosettes
Gorilla glue tape
Fall floral picks
Hot glue gun
Hot glue sticks
Tape measure
Scissors
Ribbons
Instructions:
Measure out the area where you will string your garland with a tape measure and then cut the grapevine garland slightly longer than the length of the area where you will be hanging it.
Tape either side of the grapevine garland across the room. This will help make putting the garland together much easier.
Take out the Fall floral picks and cut them out so that they become individual pieces. Using the hot glue gun, glue these pieces randomly across the entire length of your grapevine garland. Do the same with the fabric rosettes.
Get a wooden clothespin. Brush one side with a thin layer of mod podge. Sprinkle some glitter on the mod podge until it's covered. Shake out the excess. Set aside to dry completely.
Cut out some leaf shapes from your scrapbook paper of different sizes and shapes. Hang these onto the garland using the clothespins with the glitter side facing out.
6. Tie the ribbons to either end of the garland and use this to secure the garland in place. You can also hang the garland and then secure these with Gorilla glue tape and then hide the tape using the ribbons.
Pinterest is an ideal space for autumn decorating ideas. Or consider making your own Pinterest board to show off your poolside, porch or walkway decorations!