Meteorologists are predicting sweltering heat and humidity to begin during the Fourth of July weekend and continue on to the week beyond. Heat and humidity have been an issue for some time now for many parts of the country. In fact, Arizona has been seeing days of triple-digit temperatures for close to a month now.
What can you do to beat the heat in your outdoor living space? We have suggestions. Your swimming pool contractor also knows that their customers who have their own backyard swimming pools, want to turn their backyards into an oasis of warmth and relaxation.
Beat The Heat In Your Outdoor Living Space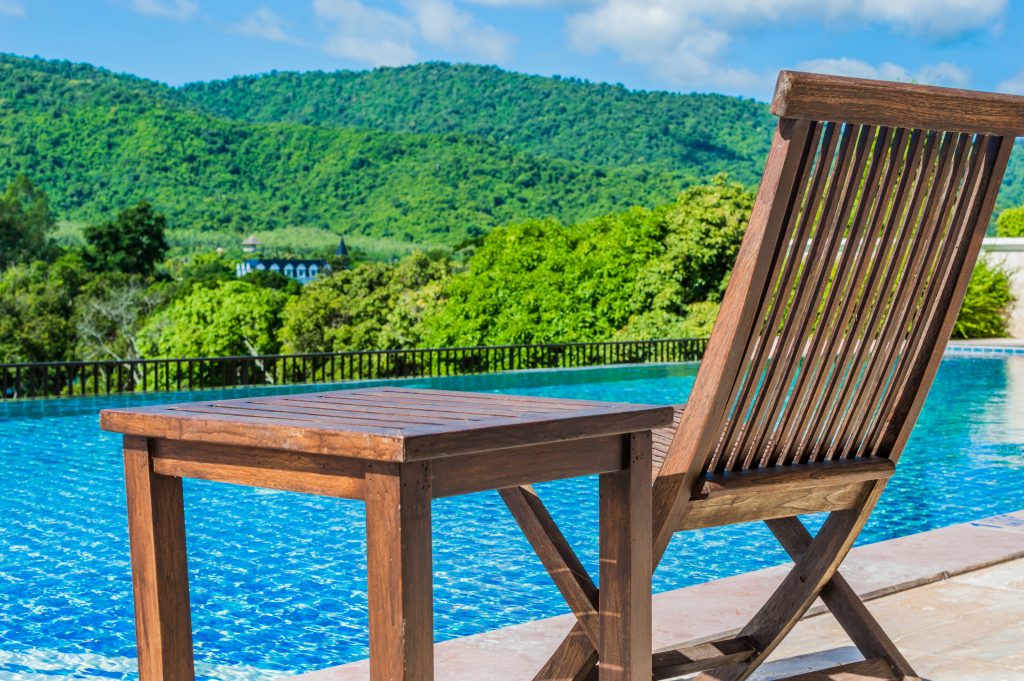 When you have a swimming pool, your backyard is automatically your refuge from the world outside as well as a place to beat the heat, cool off and if you're so inclined, get your workout in regardless of the temperature. After all, who wants to pile into a hot car, fight the crowds and find a spot at the beach or park — keeping in mind that with coronavirus concerns you'd need to wear a mask and keep six-feet apart from the others who have the same idea you did. It's much easier and safer to relax and kick back and be cool in your own space.
Ask any pool owner and you will find that they spend more time AROUND the pool than they do IN the pool. Because of that, if you want to relax without being in the hot sun, you will want to amp up the design and comfort or your patio space. With a little time and effort and maybe money — you can find a way to turn the patio and poolside space into a hot (and we don't mean from the heat!) staycation spot.
Tips For Furnishing Your Outdoor Living Space
We've put together some design ideas to keep your cool in and around the pool.
Shade matters. You may love the sun, but do you want to be sitting in it all day? Chances are you want to escape from its hot rays at some point. Getting out of the sun is a safety factor for your skin and risk of sunburn as well as it is from being way too hot.
Plant shade trees. Plant with care, you don't want roots to damage your swimming pool nor do you want to be cleaning up dropped leaves or dripping tree sap all season long.
A gazebo. These structures can be open sided and provide a roof over your head while still allowing breezes to filter in.
A patio umbrella. Moveable, beautiful and fun.
An awning attached to one side of the house. This is ideal if the pool is close enough to the house to make it a spot for relaxing while stil feeling like you're poolside.
A tent. Look for a breezy, thin material tent like you see at weddings. You can tie the sides back or let them be closed depending on the amount of breeze you want to let in.
A poolhouse. This may not be where you want to sit — after all if you wanted to be indoors, you could just do that, but a poolhouse serves many purposes.
Invest in misting systems. These are cool, relatively inexpensive and will significantly lower the temperature of your patio space.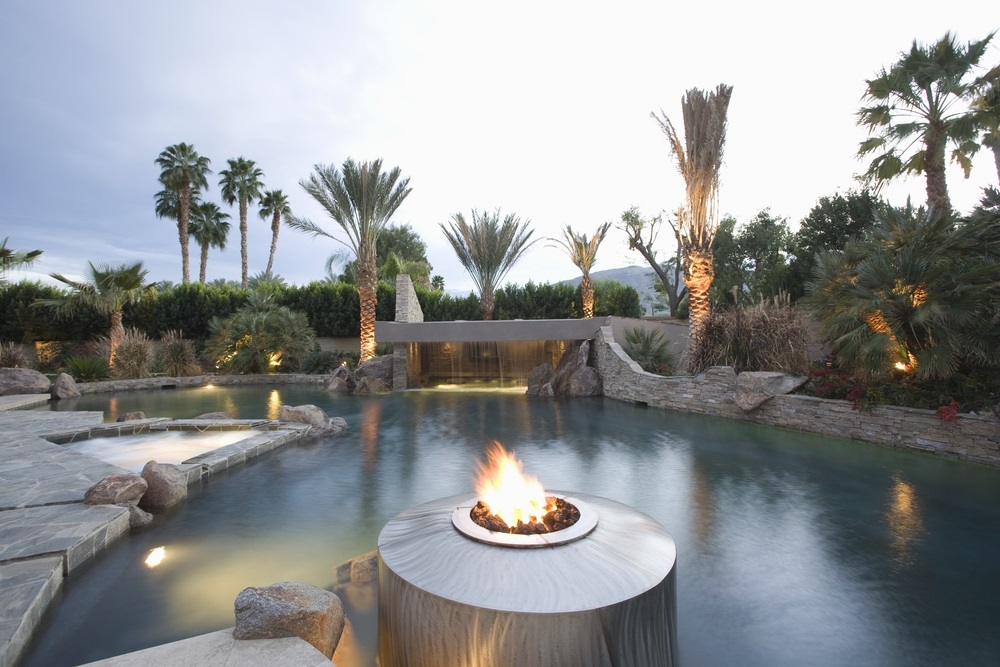 Entertainment matters. If you plan to move your indoor living outdoors this summer and want to have entertainment, here are some ideas.
Invest in weatherproof items like television or radio or find a space in your outdoor space that is sheltered from the weather.
Look for water and weatherproof speakers so you can listen to music outdoors but keep your sound system indoors.
Don't bring out any electronic entertainment and just enjoy the sights of your backyard and the sounds of the water.
 Seating matters. Before you buy furniture, make sure you sit in it with shorts on. You may not want to wear a bathing suit shopping for furniture, but you can certainly wear shorts! Sit in the furniture and imagine what it will feel like on your bare skin when you're in and out of the pool.
Look for fabrics that bring you joy
Look for fabrics that can handle wet suits and dry off quickly
Look for fabrics and material for the furniture that is comfortable. Wicker furniture is beautiful, but if you don't have great cushions, it may be uncomfortable to lounge on.
Lighting matters. If you don't want to go indoors just because the sun has gone down, light the area.
LED lights in the outdoor living space is a cost-effective way to light the night.
Solar-powered lighting is powerful enough to give off a glow of light that makes outdoor nighttime seating a joy. Solar-powered lighting also comes in many shapes and sizes and you can add your unique touch
Off-season matters. Just because summer is over do you have to give up the pool and go back indoors? No!
If you have a pool water heater you can swim long after summer has ended
Add fire features to your outdoor living space — fireplaces, fire pits and other fire features can provide warmth as well as lighting. You could even invest in a fire feature upon which you could cook food or treats! Marshmallows anyone?
Talk with your pool contractor today and get started on your outdoor living space — it will become a spot you will never want to leave!