Water is so ho hum, don't you agree? If you don't want to drink soda or alcoholic beverages, what can you drink that is both refreshing, delicious and potentially healthy? Iced tea! That's what is filling our cups this summer when we are kicking back poolside.
Iced tea is so versatile. Whether you used flavored teas or if you used black or green or white tea and use fruits and herbs to add to its delicious, refreshing flavor profile, we think you will find a tea recipe you love — even if you say you don't like the taste of iced tea!
Brew Up Summer Iced Tea
Summer days and heat and humidity are upon us and we know that it is a healthful thing to drink a lot of water. Again, though water can be boring! Sure you can put pitchers of water in the fridge and add in items like:
Cucumbers
Slices of lemon and lime
Strawberries or other berries
Peach slices
Orange slices
But for a bit more body and flavor, consider staying hydrated with iced teas.
When did iced tea originate?
"Win" a trivia game when you tell your friends that you know that iced tea was "invented" at the St. Louis World's Fair in 1904 when ice was added to hot tea to cool it down.  Viola — iced tea was born!
Iced tea is not only delicious, but it provides a boost to your immune system and can even regulate your cholesterol. If you love hot tea, you are bound to love cold aka iced tea! Iced tea is so beloved that it has its own holiday! June 10 is celebrated as National Iced Tea day!
Here Are Iced Tea Recipes To Try
Strawberry Lemonade
Use lemon tea. It's a subtle flavor but you can amp it up by adding lemon slices to the glass when you serve it or you can add lemon slices to the tea when you're brewing it.
This tea features club soda for a fizzy zing! Here's how to make it:
 Steep six lemon tea bags in four cups of boiling water
Use 24 ounces of strawberry puree — you can use fresh or frozen strawberries. Blend them up until they are a thick consistency — about one minute
Add one bottle of club soda or sparking water
After the tea is brewed and cooled, remove the tea bags and put the tea into a pitcher, add the strawberry puree and sparkling water. Serve over ice with a sliced strawberry and lemon on the side.
Mint tea
Mint tea is surprisingly refreshing.
To make:
Five cups of boiling water
Pour over one tablespoon of loose green tea
Rinch two small bunches of fresh spearmint
Add one-third cup of sugar — or more or less — to taste
Let the tea steep for three minutes. Remove the tea ball. Add the mint and sugar to the hot tea. Strain. You can either let this sit until cool or you can serve immediately by pouring over ice.
Pineapple Sun Tea
Sun tea is popular, but we urge you to not store it in the refrigerator, but to discard what doesn't get drunk that afternoon.
Grab a pitcher or a large mason jar, fill with four cups of water, add four black tea bags, let steep in the summer sun. This will take about three hours.
After the tea is the color you like (brew longer for a more robust tea flavor) remove the tea bags, add in pineapple frozen concentrate, squeeze in lemon juice and add sugar to taste (about one third of a cup)
Slice a piece of pineapple, place on the iced tea glass and pour the tea into a glass filled with ice.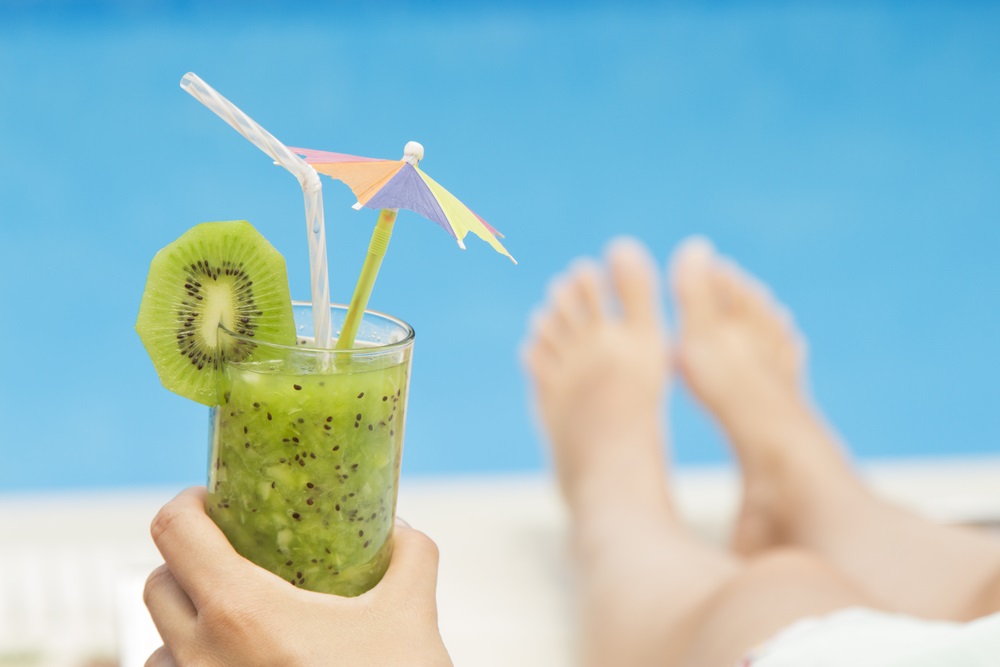 Peach Iced Tea 
This is a long-standing summer favorite because it's refreshing and delicious!
You will need.
Two quarts of brewed black tea
One cup of sugar
One quarter cup of fresh squeezed lemon juice
Cans of peach nectar
Stir all of the ingredients together in a large pitcher. Refrigerate. Serve over ice with pieces of peach in the glass or frozen into ice cubes.
To make certain your tea retains its flavor and doesn't get watered down by ice cubes. Freeze tea into ice cube trays and use those for your drinks.