By now you have perfected the "art of the pool party" and your backyard is known as one of the best places to be whether it's for a formal party you've planned or if friends and family drop by and you entertain spur of the moment.
We know the Fourth of July holiday is one that marks patriotism and celebrates all who have served and continue to serve, but it is also a time for celebrating with fireworks, family, friends, good food and time spent in the swimming pool. You may want to gather with friends at family at an amusement park or you may be on vacation. No matter how you mark the Fourth of July (Independence Day) if you're having a party at home, surrounded by loved ones in the backyard and poolside, you may want to start planning the event now (before everyone's calendars get full!) and you can begin planning your mouth-watering menu.
Celebrate The 4th With Friends And Family
Do you love throwing a party? Do you have friends and family who always offer to pitch in by helping decorate or with the food or watching the children in the pool during the party? If so, say "yes!" when they ask if they can help. Put your menu together then let them choose what they want to bring, or see what they want to bring and work the menu around it. We use the word "menu" loosely a a Fourth of July party usually involves grilled meats and veggies, summer salads, frozen treats for the kids and chips and dip. Your Fourth of July party menu doesn't have to be — and probably shouldn't be — elaborate. It's more about the friends than the food, anyway!)
Here are items to consider for the upcoming 4th of July… or any party you throw! 
Menu. We mentioned the food and that might be your first step in the party planning. What will you be grilling? Do you have vegetarians you will be feeding? What kind of salads do you want? Do you want grilled fruits and veggies to go along with the grilled meats? Who will bring the drinks? The ice? The treats for the kids? Don't forget the s'mores fixings for when the sun goes down! Make a menu, call your friends and family who have offered to help out and get that part of the party planning on its way.
Music. Music can set the mood for any party. You don't have to play patriotic tunes, but you do want to have background music that everyone can agree on. You may not find music everyone likes, but you can probably please most of the people at your party. You can play music when the fireworks are blazing in the sky, consider the background sounds of the New York Philharmonic playing God Bless America. Do you have friends in a band who would like to come and entertain? If so, give them an opportunity to volunteer their musical talents. Keep the music low enough that conversation can happen.
Pool Games. Okay, the swimming pool is the biggest place for fun at the party! Make sure you have it cleaned and serviced and fully operational before the party starts. Call your pool contractor early to get on his schedule — you won't be the only one throwing a party and be in need of an additional cleaning or two (before and after te party.) Look for some fun in-pool games for the children and the adults. Don't forget to have swim vests on hand as well.
Backyard Games. You can never go wrong with croquet or bocce ball. Set up a net and play badminton or volleyball. Have a basketball net? Make sure that's in a safe place and that the ball is filled with air. Grab an inflatable kiddie pool or two — you may have children who don't want to go into the "big" pool and they can splash in the kiddie pool. Get another kiddie pool and fill it with sand and grab some beach toys for the younger guests to enjoy.
Party Supplies. Grab a few extra beach sand buckets and stock them with sunscreen and lip balm to protect guests' skin from burning. Stock up on dollar store flip flops for those who don't want to walk barefoot and who didn't bring sandals. You may want to find a few umbrellas for someone who wants to walk around and protect his or her skin from the sun. Have enough towels on hand for those guests who forget to bring one (ask guests to bring a towel when you invite them!)
Bring on the food!
Yes, we're talking dessert first!
Light, bright red, white and blue dessert
Sliced strawberries
Blueberries
Sliced croissants or biscuits
Homemade or store bought whipped creamt
Spread whipped cream on the sliced croissants or biscuits, layer strawberries and blueberries, top with the croissant or biscuit. Chill and serve these delicious light, bright, blue and white sandwiches!
Family-favorite Traditional Potato Salad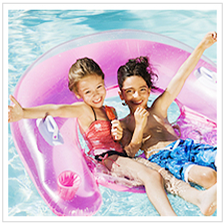 Summer picnics are made of traditional potato salad and traditional macaroni salad as well as tossed salad with vegetables purchased from the local farmer's market. Yum!
To make your potato salad:
Bring a large pot of salted water to a boil. Add potatoes (salt potatoes are an ideal size). Cook until tender but still firm, about 15 minutes.
Drain, cool, peel and chop.
Place eggs in a saucepan and cover with cold water. Bring water to a boil; cover, remove from heat, and let eggs stand in hot water for 10 to 12 minutes. Remove from hot water, cool, peel and chop.
Put it all together:
In a large bowl, combine potatoes, eggs, celery, onion, relish, garlic salt, celery salt, mustard, pepper and mayonnaise. Mix together well and refrigerate until chilled.  Reserve a few eggs to slice and place on the top of the salad. Sprinkle with paprika. Enjoy!
Homemade lemonade
Lemons, cut in half
Sugar
Ice
Water
Lavendar essential oil
Sprigs of mint
Let your guests make their own fresh-squeezed lemonade. Give them a lemon, a glass and let them squeeze the juice into their glass. (You may want to offer glasses that have the rims dipped in sugar first. To do this, wet the rim and roll the glass in sugar and viola — fancy, sweet glass)
Once they've squeezed the lemons, they can add water, ice and sugar to taste. They may want to drop a bit of essential oil for a flavorful take on traditional lemonade.
Have a bowl of sliced strawberries and/or blueberries they can drop into their drinks. Don't forget to give them a lemon slice to decorate their glasses with.
Offer sparking water or club soda to give the homemade lemonade a bubbly, fun taste and look.
Fire up those coals, the smoker or the gas grill 
When there is a backyard and swimming pool event you know there will be a contingent of your guests who will gather around the grill and want to be the one who cooks up their "favorite" grilled meats. If you have friends who bring their grilling skills and their competetive natures to the party, challenge them to a cook off! (Sneakily enough you will get out of the cooking yourself as your grill master guests will be fired up (pun intended) to take on the grill and be crowned grilling king!
To make it fun, offer grill-themed prizes to the winners (and they could all be winners)! 
While the grilling kings-in-the-making are at the grill, you and your other guests (the ones who offered to cook) can gather and get the side tables set up and get the food on ice if necessary, plug in the crockpots or assemble the various items and put the chips, veggies and dips out for everyone to enjoy.
Take advantage of tech! If you're hosting a large July 4th gathering, set up a private Facebook group and fire up the inspiration, the grill master "trash talk" and let the older children get to know one another and plan their fun activities!
Build memories right on the spot
Chances are everyone will be snapping photos and taking videos on their phones but why not grab an automatic camera and snap photos. Hang some colorful yarn and use tiny wooden, colored clothespins and hang the photos around the party area. Make sure you get a photo of everyone and that everyone gets to take a photo home when they leave!
Have a lot of film on hand and offer guests the opportunity to take photos as well. Make sure the digital photos you take and your guests take are shared in the private Facebook group for all to enjoy long after the party has come to a close.
Decorations rule 
The tried and true, red, white and blue are ideal colors for your party decorations. Grab some streamers, stars on streamers can be found in your local big box store or party supply store. Look for red, white and blue balloons, blow them up and string them around the outdoor area. Buy some potted plants and decorate them with stars and other July 4th decorations and let guests take a centerpiece/plant home with them.
Cover the picnic tables with table clothes. To make it easier on you and on clean up after the party, buy some plastic ware in patriotic colors. If you don't want to be wasteful, have a bin of water set up by the trash can and ask guests to drop the plastic ware and even the plates (if you get plastic ones) so they can soak and you can wash them later, pack them away and use them next year. Oh yes, you will be called upon to host the following year because this party will be such a success! If you're not the host or hostess, offer this bin of patriotic plates and plastic ware for the next host/hostess to use; that's recycling at its best!
Safety matters
When there is a swimming pool party you need to appoint someone, or more than one person, to be responsible for those in the pool at all times. Appoint someone to watch X amount of people (adults) then appoint one or two people to watch X number of children. The person who is watching the children should be in the pool and be within arms reach of each child he or she is responsible for at all times (this may require more than one person) .
If you're serving alcoholic beverages and your guests are drinking (and hey, why not!) have a space for any guests who need to (even if they don't think they do) spend the night. Set up tents and have sleeping bags or inflatable mattresses in there so when they're tired, they can just crawl into a tent and go to sleep. Prepare for overnight guests and have some easy to prepare breakfast foods on hand. Better yet, make up a few quiche, keep them in the freezer or refrigerator and pop them into the oven the next morning to feed the overnight guests.
July Fourth Trivia to wow your guests with
The Fourth of July commemorates the adoption of the Declaration of Independence. It was adopted by Congress on July 2, 1776, but revised with the final version being adopted on July 4.
Thomas Jefferson drafted the Declaration of Independence on a the first "laptop" — a writing desk that fit on his lap.
John Adams and Thomas Jefferson both died on July 4, 1826.
Congress declared July 4th an official holiday in 1870 as part of a bill that officially recognized other holidays, including Christmas.
The American Pyrotechnics Association (APA) estimates that close to 20,000 fireworks displays light up U.S. skies each 4th of July all across the country
 Celebrate the Fourth of July with your loved ones at your poolside backyard space!