Bbbrrrr, winter has settled in in many parts of the country. Does that mean you have to forsake your backyard living space and host all of your holiday parties indoors? Not. At. All! With a little planning and decorating, and maybe a pair of mittens, a firepit and a winter jacket, but why not start a new holiday tradition and spend some time in your beloved backyard space?
Decorate The Backyard For Holiday Fun
Snowmen
If it's been snowing, gather your guests (making sure they knew to bring snowpants, jackets, mittens and hats) and have a group snowman or snow woman building activity. You can either all work together on one snowman or you can have a competition to see which group can build the best or the biggest or the cutest snowman!
Make sure you have carrots, pieces of coal or black painted rocks, scarves, twigs for arms and other accessories to decorate your snow creations. You can get really fancy and add some colored snow which you can make by adding a few drops of food color to some of the snow.
If you live in an area of the country where snow is never going to happen you can pick up some blow up beach balls in varying sizes and use those to construct your snow man creations. You can "paint" your creations with fake canned snow to add to the winter wonderland feel or you can leave them with their crazy beach-ball colors. If you're decorating beach ball snowmen, you can use cut out pieces of felt for the nose, eyes and buttons stick them to the creations with a glue stick. If you're not going to reuse the snowmen, blow the balls up and glue them together with a super glue before the guests arrive.
Make a nose out of a piece of colored styrofoam painted orange. Wrap the snowmen in scarves or even evergreen garland and place them around the backyard to add to the festivities.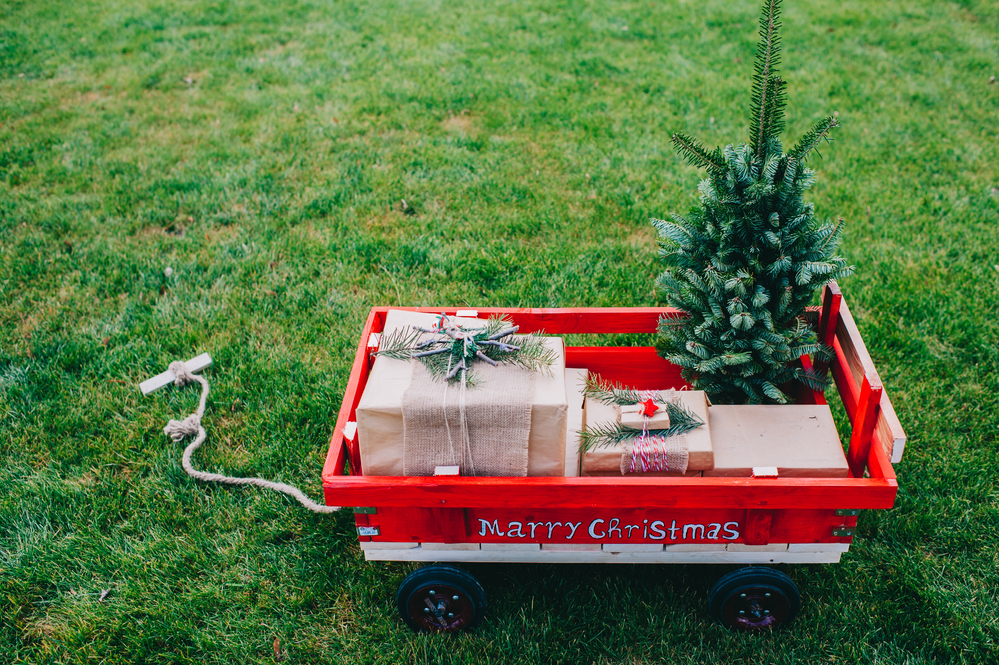 Decorate
If the party will be at night, invest in some lighted snowflake decorations and string them around the backyard to add to the ambiance and wintery feel. Buy potted pine trees or even Christmas Cactus, string lights and decorations on them. Depending on how many you purchase and how many guests you have, you could even give a plant or tree to everyone when they leave. Make it fun by having a decorating party with the trees and plants. Put a number on the bottom of each pot and on the bottom of each person's chair or pull numbers from a hat and then take home the plant or tree that matches the number you drew.
Scents
Love the smell of pine? String pinecones from trees and other outdoor items and spray with pine or cinnamon scents to add to the the feeling of a holiday feeling.
Burn holiday scented candles. Think: cinnamon, pumpkin pie spice, evergreen, eggnog or whatever other scents you fancy.
Warm it up
If you live where it's cold, light a fire in your poolside fire pit or invest in outdoor heaters and have blankets that your guests can wrap up in while they sip mulled cider and eggnog.
Start a new tradition that everyone will be talking about until next year!