If you're starting an "outdoor Thanksgiving Day dinner tradition" you need to make certain the decorations help set the mood as much as the food will.
Sure, the men and some of the women will probably want to gather around the television(s) you have set up and settle into the comfy outdoor furniture and cozy under blankets if the temperatures are a bit on the chilly side, but they will all appreciate the Thanksgiving decorations and table settings.
What does Thanksgiving mean to you when it comes to decorations?
The warm hues of autumn
Crisp air
Reds, golds
Apples
Pumpkins
Squash
Cornstalk decorations
Don't let the idea of decorating the outdoors for your Thanksgiving feast become a daunting task, especially when you're also focusing on the grilled turkey.
You can easily decorate with these ideas or by jumping onto Pinterest and looking there for DIY decorating inspiration.
 Make an autumn wreath. You can buy all of the supplies at your local craft store, or depending where you live, you may be able to walk into the woods or your yard and gather them right there! Here's what you'll need: A foam wreath, burlap ribbon, scissors, glue sticks and glue gun, in-season nuts, spray on sealer
  To make the wreath: 
Wrap the foam wreath form with the ribbon and secure it with hot glue
Apply a dab of glue onto the nuts and stick them to the wreath. Do this until the ribbon/wreath is covered
Spray the wreath with the sealer and let it dry before you hang it on the front door or on a door outside where you're eating dinner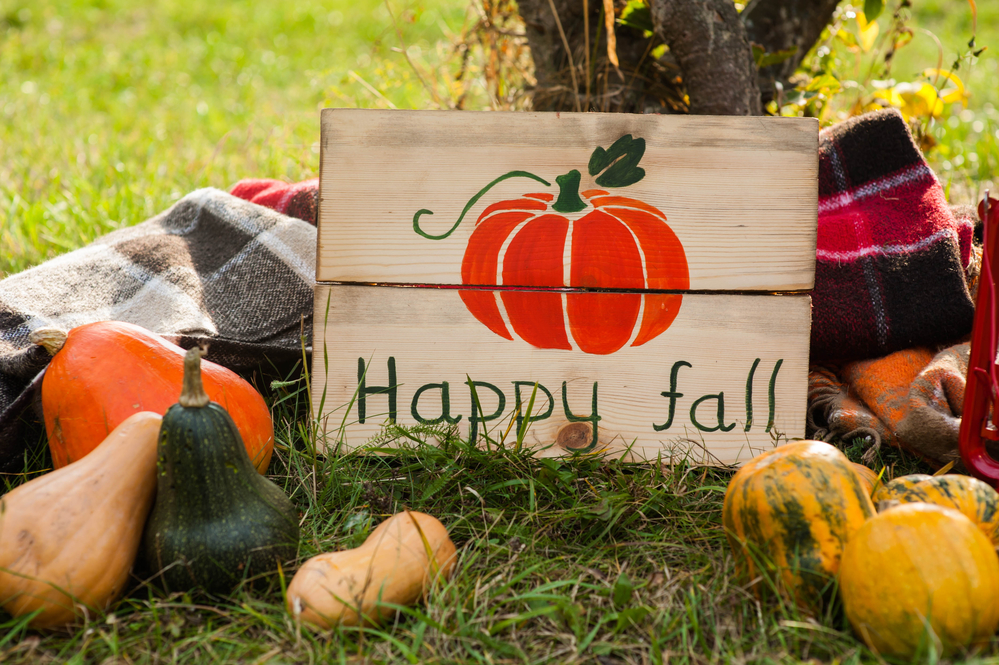 Table arrangements 
Decorate the table with fresh, fallen leaves, pine cones, nuts and other outdoors elements. You can gather these items and place them in bowls or plates on the table. Spray with gold spray paint to add a more festive flair. Make some ribbons out of rich jewel toned material and add a ribbon to each table arrangement. Don't forget to
Make a chalkboard "thank you board"
Grab some reclaimed wood, paint it with chalboard paint then grab packages of colored chalk. Start the "thank you" board by writing, 'Welcome to Our Home'  then add, "Write down what you're thankful for this year." You can start it off, too by saying you're thankful that everyone is gathering for the Thanksgiving dinner at your house.
Let everyone take a turn at the chalk board and write or draw a message. You can spray it with a sealer to keep the words forever in your memories, or take a photo of the board and send a photo to every guest to have as a reminder of your day together.
 Light the Way
Vintage lanterns that look like they're made with reclaimed wood are all the rage. Pick up some from your local arts and crafts store and have them line the walkway from the house to the pool. Use battery operated or LED lighting in them so safely light the way. Surround the lanterns with autumn-themed leaves to add to the festive feel.
Make a cornucopia of fresh fruits and seasonal vegetables. 
Pumpkins, squash, apples, zucchini, brightly colored corn, corn stalks and seasonal flowers make for lovely table arrangements. If you're so inclined you can offer your guests a fruit or vegetable arrangement to take home with them as a momento of the day together.
How can you celebrate Thanksgiving with a new tradition? Just because you've always done things a certain way doesn't mean you can't add in a new way of doing things — that's how traditions get started!