Marie Kondo has started a new way of living for many people. Whether you're looking to go minimalist the way Kondo explains and supports or if you just want your home and your outdoor living space to spark joy, let's see what needs to be done!
Take a few moments, when you have free time, and look at your outdoor living space. Sit down in it it. Sit in a space you don't normally sit — we all have "our spots" and that means we only see the space from one point of view. Walk around. See how the outdoor space feels.
Grab your phone and take some photos. Better yet, print those photos out and spend some time with them.
Spend time in the outdoor space in the morning, in the afternoon, in the early evening and after the sun has set. Does it spark joy in some times of the day, but not others? If that's the case, see if you can pinpoint why that is. Ask a friend or family member whose opinions you trust to sit with you and help you determine the "feeling" of your space.
Look at the photos you've taken
Ponder them
Ponder the view.
Do you love it?
Are you meh about it?
Are there parts you love and parts you're ambivalent about?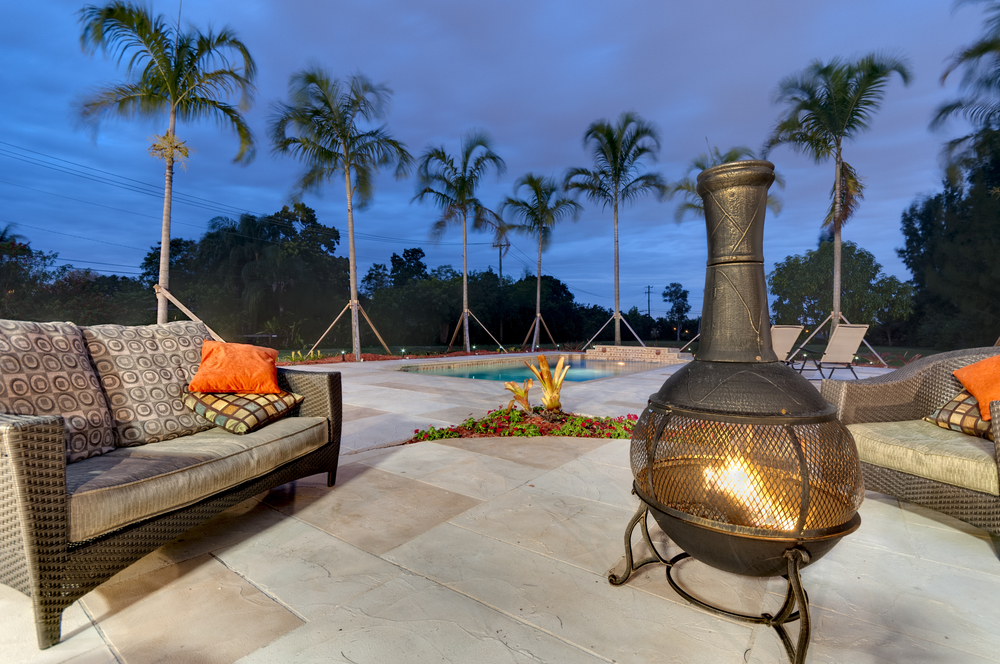 Don't you want to LOVE it?
If you don't take some time right now to put a plan into place to help you love the space. After all, summer is fleeting and you don't want to be in an outdoor space that doesn't make you and your friends and family happy, do you?
 How can you get a space that sparks joy?
The answer to that question is different for every person. What you like, I may not. What your spouse likes, you may not. Be willing to compromise and work together until you find a space that makes both of you — and your entire family happy to be there with one another.
Don't forget to think about how you will use the outdoor space during the autumn and winter. You may not be swimming in those seasons, but you can design your oudoor living space in a way that allows you to sit outside in the fresh — if cooler — air!
Does Your Outdoor Living Space Spark Joy?
How can you move indoor living to the out of doors? This is essentially what you will be doing, especially if you're a swimming pool owner. 
Shade it. The sun is great, but you still need to find a space in which you can escape from the full sun. What can you do? Use natural shade, create shade by adding a gazebo or an awning, use moveable umbrellas or potted plants
Bring indoor comfort out side. When you're in the house, what do you love the most? The comfortable furniture? Television? Radio? A heated space with warm, comfy blankets? Look for weatherproof outdoor storage units and tables that do double duty.
Light it up. Lighting is crucial to comfort and joy in the outdoor space once the sun sets. Add LED lights or hang strings of solar powered lights. They add ambiance, and enhance the safety of the outdoor space. If you swim after the sun goes down, have your pool contractor install in-pool lighting to keep the pool as safe and well lit as possible.
Summer doesn't have to end outdoor time
As we mentioned, summer is fleeting. No one wants to think about that, especially as we just welcomed July! When you're thinking of a redo for your outdoor living space, though think of ways to extend the time you spend there even after summer is fading and the leaves are falling from the trees.
Add a fireplaces for both heat and beauty. The fireplace can be pre-fabricated or constructed on site. A fire pit is a common outdoor living space feature. Look for a fire pit that is at least three feet wide to six feet or larger.
How much joy is your outdoor living space sparking? Work on it now, but buy your new elements for it once the season has wound down — you may spark more joy if you save money on your redecorating and remodeling of the outdoor living space.