NOTE: We don't recommend swimming when you're home alone BUT you can let a family member know you're going out to swim. Whether your friend or family member sits poolside, he or she should come and check on your frequently. We recommend, even if they don't want to swim, that they should be relaxing poolside or be out in the yard so if you run into issues or an emergency, they will be able to hear your cries for help.
Swimming laps and getting a solo workout can be peaceful as well as healthy.
Why do you swim?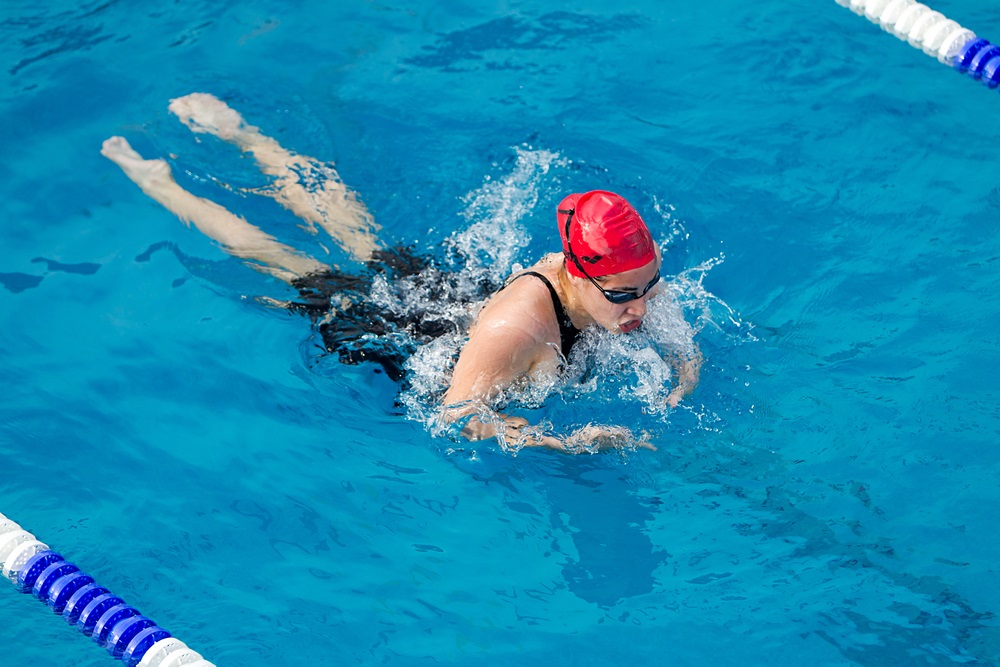 Whether you swim for fun, to keep track of the children, or to get (and stay) in shape, you want to be consistent in your efforts. A swimming pool workout doesn't mean you will break a sweat like you will if you're jogging or at the gym, but you can still get your heart pumping and get a full body workout in the pool.
The main benefit of a pool workout is that you can swim — no matter your health or fitness level, you won't injure your bones or joints and no matter how hot it is outside, a pool is refreshing.
Even with all of the benefits of a pool workout — it is still just that — a workout. If you're new to exercising you may need to motivate yourself and give yourself some pep talks to keep you motivated and engaged.
Enjoy Your Solo Pool Workout
What is the best way to get into a routine for your swimming pool workout?
Make it a routine. Just as you may have a routine to watch television after dinner or go to bed at 10 pm, a swimming workout needs to be part of your routine. You need to find the time of day it works best for you to get your swim in and stick to it. Make it a non negotiable date with yourself.
Jump right in. Don't wander around the pool, dipping your toe in and telling yourself the water is too cold. Just jump in. Don't talk yourself out of working out.
Write down what you want to accomplish. When you write down your goal you are more likely to stick to it. Make your goals specific — rather than say I am going to swim today; tell yourself, I am going to swim for thirty minutes or I am going to swim 10 laps. Once you meet your goal you can decide whether you want to stop or continue on.
Turn on some tunes. Invest in a floating speaker or turn on some music and swim to the beat. Perhaps you're more relaxed if you swim in silence — if that's the case, go for it. You know yourself best.
Break out of your rut. If you've been swimming ten laps a day for weeks, shake it up. Add something new to your workout. Use a kickboard. Wear swim fins. Do some side to side inwater running. Don't let yourself get bored.
Why are you swimming?
If you're swimming so you can lose ten pounds, fit into your wedding dress, feel better, get healthier, etc. you will be more likely to stick to it.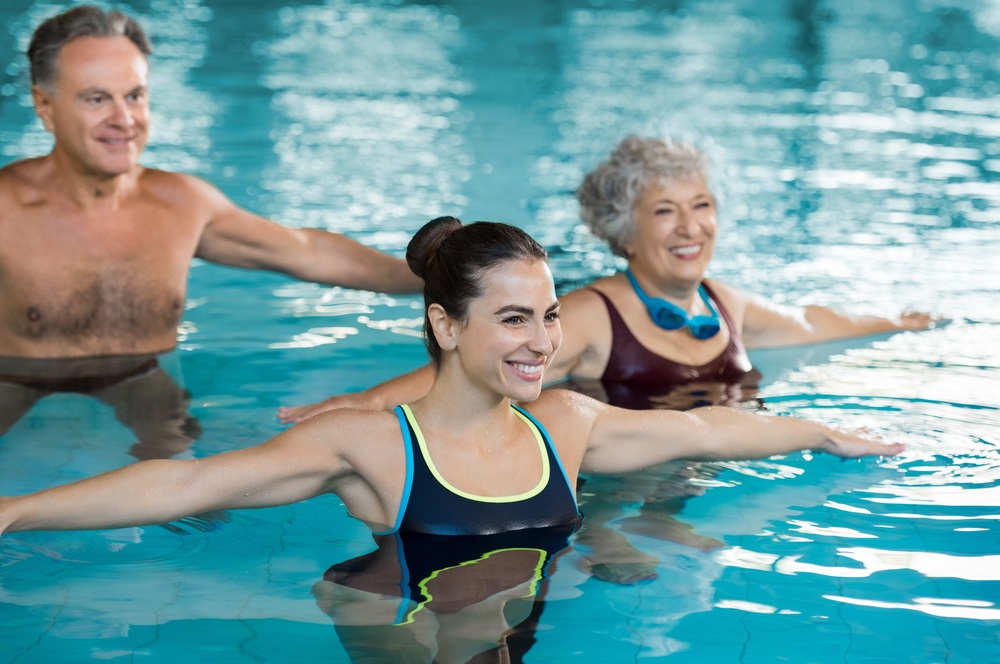 Be friendly
If you're swimming at a public pool, make friends with the people you see, and swim with. A friendly "hello" or a "may I swim laps with you" will make your workouts more enjoyable. You may just make yourself a workout buddy — having someone to work out with may make you stick with it.
 Be positive 
Even if your'e swimming and working out alone go into your swim time with a positive attitude. If you think, "Ah I hate this but I have to do it" you won't stick with it. Reward yourself for goals met.
Be patient
If you haven't worked out, don't tell yourself you're going to jump in and swim 50 laps — start slow so you don't get discouraged. Give yourself a break and start slowly.
Challenge yourself
If you swam two laps yesterday, swim three today. If you participated in a water aerobics class for 15 minutes yesterday, work up to 20 or 30 minutes. Each day push yourself out of your comfort zone a little more. You will be even more motivated once you see results.
Treat yourself
A killer workout deserves a reward. Have a fruit smoothie, buy a new bathing suit, kick back and read a book instead of cleaning the house or mowing the yard. Brag about your accomplishments to friends, family and on social media.
If today is your first swim workout, congratulations! You're on your way. Remind yourself of that!
Once again, swimming alone is not safe, so let someone know that you're swimming and ask them to come hang out poolside even if they don't want to join you.