Ghosts, Ghouls, Princes. Princess. Super Heroes. Backyard grill masters! No matter what costume you don this Halloween, you will want to start planning your Halloween grilling menu right now. There are a myriad of items that you can grill up whether you're having a small, intimate gathering or if you're going to throw open the doors to the neighborhood to enjoy a Halloween haunted house followed by a delicious meal.
No matter what you plan this Halloween, we have some ideas that are delicious and Halloween-centric. If you live in an area of the country that allows your pool to still be open during this Halloween season, invite your guests to bring their suits and jump into the pool between party games and yummy foods.
Grill Up Halloween Goodies
Try some of these spooky goodies!
Franken-Weinies
Ingredients:
Your favorite brand of hot dogs
Pop open cresent rolls.
Cream cheese
Cut up black olives
or for a unqiue sweet, salty treat candy eye balls
Wrap the hot dogs in the crescent rolls. Grill until the hot dogs are warmed through and the crescent rolls are cooked thoroughly. Put a dab of cream cheese topped with a piece of black olive or put a dab of cream cheese and place a candy treat eye ball in the center (you can find these treats in the baking aisle.)
Set up a hog dog station where your guests can choose from a variety of their favorite hot dog toppings like: ketchup, mustard, onions, chili, cheese and more.
Cook up hot dogs that are not wrapped in the crescent rolls and then grill up a few hot dog rolls and let your guests choose which they like. We bet the children will grab the franken-weenies. To truly add to the fun, watch the Disney movie, Franken-weenie on a screen in your backyard as part of the party festivities.
Bacon-wrapped Jalapeno Mummies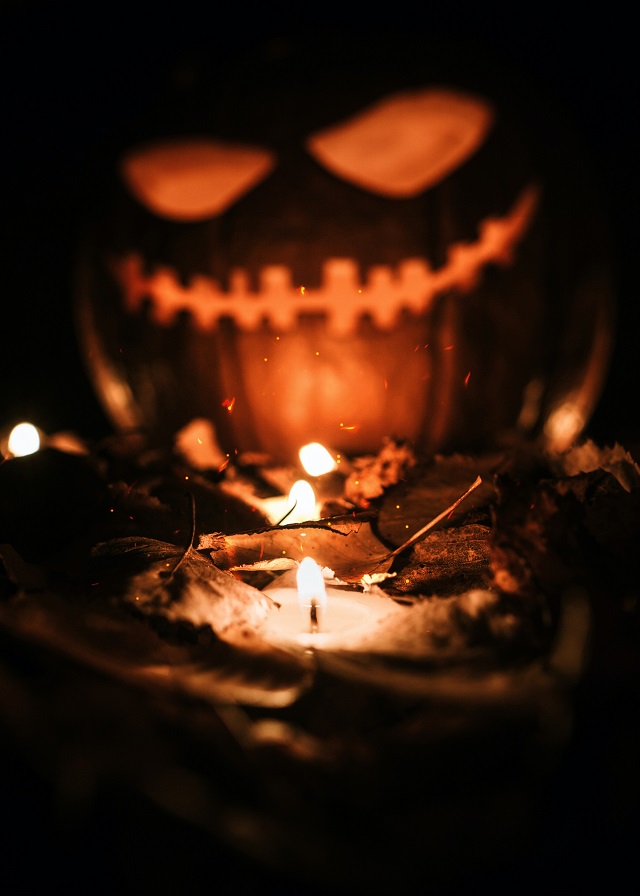 Ingredients:
Jalapenos — sliced in half length-wise, seeds removed
A mix of cream cheese, parmesan cheese, scallions and thyme
Put the mix into the halved jalapenos
Wrap each half with bacon
Drop in capers for eyes.
Cook in a pre-heated 350 degree oven until the bacon is crispy. You can also grill them until the bacon is crispy. Place on a bed of red tortilla chips.
Halloween Popcorn Balls
Ingredients:
Cooked popcorn (from one-third cup of unpopped kernels)
One tsp. vanilla
12 ounces of marshmallows
Cooking spray
Chopped up candy bar of your choice
1/3 of a cup of salted almonds
One-half cup of black and orange M&Ms
One tablespoon butter
In a saucepan over low heat, melt butter, add vanilla then stir in marshmallows, stirring until marshmallows are melted. Pour the melted mixture over the popcorn. Mix with a spatula in a bowl that's been sprayed with cooking spray. Spread the popcorn/marshmallow mixture on a baking sheet covered with waxed paper. Sprinkle remaining ingredients over the top. Chill in the refrigerator for an hour, break into bite-sized chunks. Serve.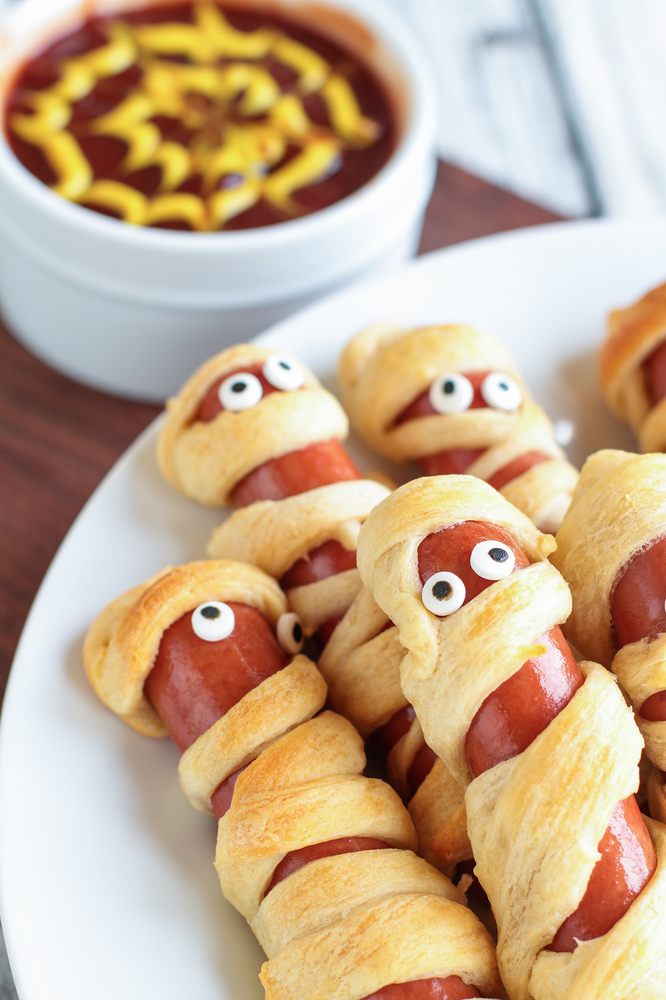 Spiced, Warm Cider
This spooky treat will take some pre-planning to allow time for the apples to dry.
Ingredients
Apples cut into slices with faces (think Jack-o-lantern) cut into the slices. Once these dry they will look spooky floating in the cider.
Cider of your choice
Cinnamon sticks
Creepy ice cubes. (Pick up Halloween spider rings, fill a bundt tray half way with cider — freeze. Place the rings into the bundt pan ring, cover with cider and freeze until solid.
Butter rum or butterscotch candies
Allow two to three days for your apple faces to shrink, wither and dry. If you want to move the process along, place the slices in a 250 degree oven and cook for a couple of hours until dry and withered.
Pour cider into a large kettle. Add in the butterscotch candies, heat until warm. Remove from heat, Drop in cinnamon sticks and a few cloves.
Prior to party time, pour the spiced cider into a cast iron, Halloween-themed decorated bucket and add the bundt cake ice cube ring to float on the top. Once it melts your guests will see "spiders" floating in the cider.
Add the dried apple rings either to the bucket or add them to individual glasses. Enjoy!
Grilled Apple "Pies"
This is a delicious way to top off the meal and it sure beats bobbing for apples!
Wash and core your favorite type of apple. You can also halve the apples and scoop out some of the apple to make a space to add in the "stuffing." It is easier to core the apple, but it is your choice.
Take additional apples or you can use apple pie filling. If you use additional apples, cut them up into small pieces, toss with cinnamon and butter and brown sugar. Fill the cored or halved apples with the mixture and place on indirect heat on the grill.
Grill until the apples are warm and the filling is bubbly. Ask your guests if they'd like a piece of cheddar cheese melted on top.
Serve the apples with vanilla ice cream, homemade whipped cream or vanilla yogurt.
Happy Halloween!