Halloween brings with it tricks, treats, ghouls, goblins and princesses… it also brings along the chance to grill up some Halloween treats. Whether you're having a backyard swimming pool party, a Halloween party for children and adults or a mix of the two, we have some of our favorite treats.
Some areas of the country are still blessed with an open swimming pool or a swimming pool heater and that means the guests can still hop into the pool. If you have a hot tub, make sure that's opened and ready for guests, too! Now to the best part of this article — the food!
Grill Up Some Halloween Treats!
Will you be hosting a party? If so you will want to decorate the party space. Use pumpkins, carved and un-carved and you could also host a "decorate your own" pumpkin carving party and the guests can take the pumpkins home with them as a "parting gift."
Host a costume judging contest (hint, everyone wins!) You can also have creepy treats like, "spaghetti noodles covered in 'blood' and call it 'blood and intestines'" or "eyeballs" and for the eyeballs you simply peel grapes and their slimey feeling does the rest!
Here are other treats to consider
Bacon-wrapped Jalapeno Mummies
Ingredients: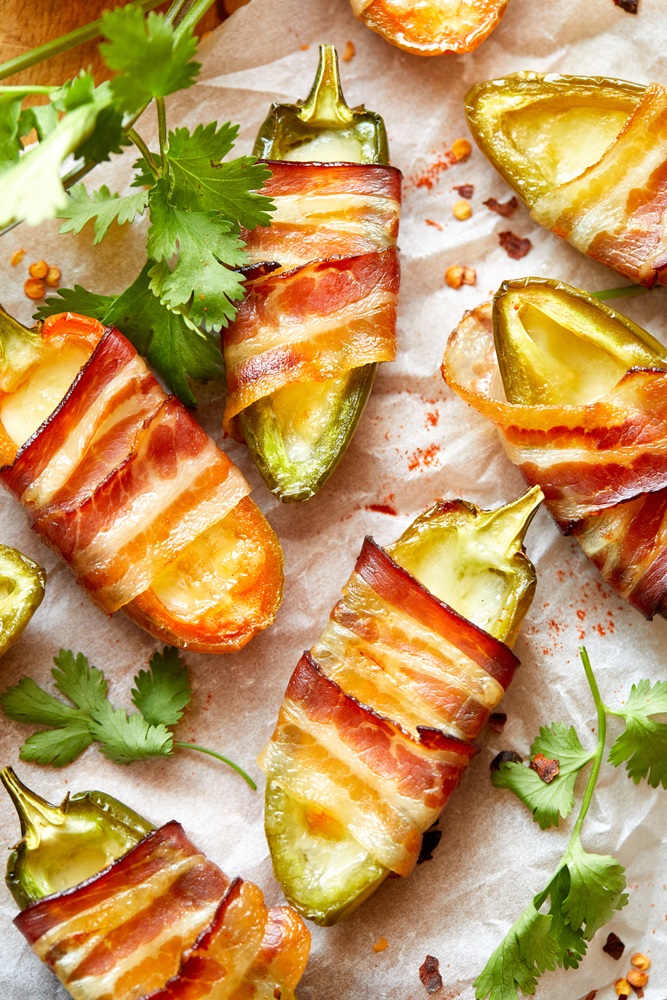 Jalapenos — sliced in half length-wise, seeds removed
Mix cream cheese, parmesan cheese, thyme and chopped up scallions
Put the mix into the halved jalapenos
Wrap each half with bacon
Drop in capers for eyes.
Cook in a pre-heated grill them until the bacon is crispy.
Place on a bed of red tortilla chips and serve with salsa or a sour cream, chive or onion soup mixture for dipping.
Halloween Popcorn Bars
Ingredients:
Cooked popcorn (from one-third cup of unpopped kernels) (you can cook the popcorn over the grill or an open fire in a popcorn basket — look for one at the camping supply store
12 ounces of marshmallows, one tbsp butter, one tsp vanilla (heat the marshmallows, butter and vanilla on a grill or open flames in a saucepan)
Stir until marshmallows are melted
Cooking spray
Chopped up candy bar of your choice, 1/3 cup salted almonds, 1/2 cup black and orange M&Ms
Pour melted mixture over popcorn. Mix with a spatula in a bowl sprayed with cooking spray. Spread the popcorn/marshmallow mixture on a baking sheet covered with waxed paper. Sprinkle remaining ingredients over the top.
Chill in the refrigerator for an hour, break into bite-sized chunks. Serve.
Halloween Hot Dog Zombies
Ingredients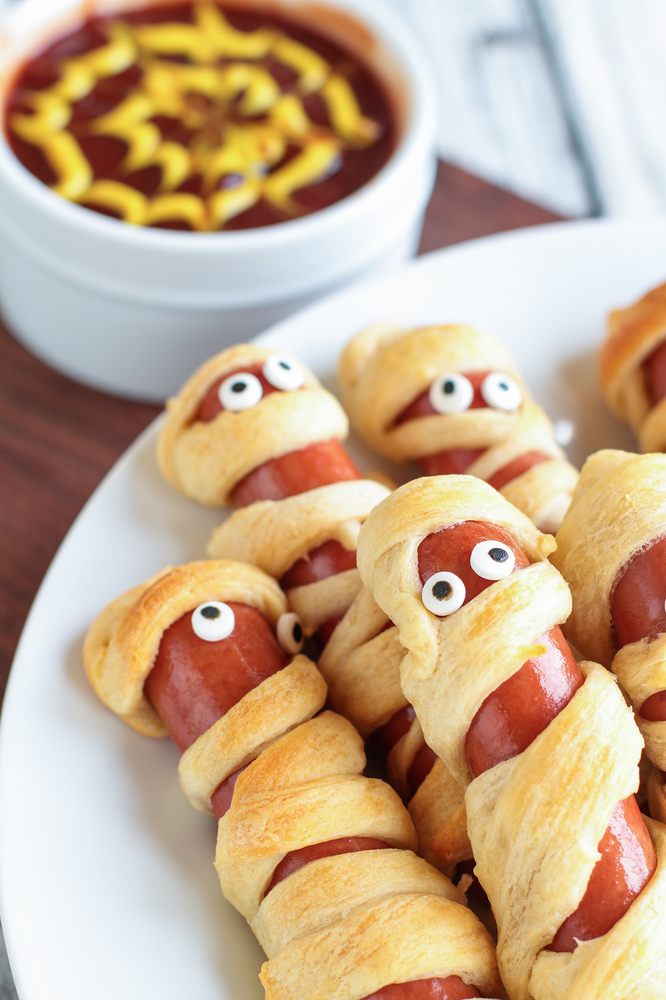 Hot dogs
Refrigerated crescent rolls
Ketchup
Mustard
String cheese
Separate crescent rolls and hot dogs. Roll a hot dog into a crescent roll.
Bake according to crescent roll package instructions. You can also cook them low and slow on the grill to assure the roll is cooked.
Once the hot dog is cooked. draw on ketchup "wounds." Mustard dogs can be eyes. Rip the string cheese and drape it across the hot dogs to resemble tattered clothing.
Nothing Spooky About This Warm Cider
Pre-planning is the way this apple cider recipe can be served at your party!
Ingredients
Apples cut into slices with faces (think Jack-o-lantern) cut into the slices. Dried, they will give your warm cider a creepy look! It will take two to three days for the apple faces to dry and wither. You could place the apples in a dehydrator or in an oven on low heat (200 degrees) until they're dry and withered
Cider
Cinnamon sticks
Ice cubes made with plastic spider or skull rings frozen into them! If you have a large enough bowl for the final product, fill a bundt cake pan halfway with cider, freeze, then add the rings,. cover with more cider then freeze until solid.
Put the frozen cider in a large bowl, cover with more cider and put in the cinnamon sticks and dried apple faces.
Pour cider into a large kettle. Add in some butterscotch candy, heat until warm. Remove from heat, Drop in cinnamon sticks and a few cloves.
Prior to party time, pour the spiced cider into a cast iron, Halloween-themed decorated bucket and add the bundt cake ice cube ring to float on the top. Once it melts your guests will see "spiders" floating in the cider.
Add the dried apple rings either to the bucket or add them to individual glasses. Enjoy!
Spice up the Halloween party with Halloween-themed music, decorations and orange and black lighting. Enjoy!!