When a new year peeks its head around the corner many people make resolutions to be healthier in the new year. We have come up with some delicious ways to stick to your resolution to eat healthier be healthier in 2018 and many of our ideas can be cooked on the backyard barbecue!
Cooking on the grill in the backyard while your friends and family are swimming in the pool is a great way to spend time together and have fun. Having an outdoor kitchen makes the outdoor cooking and food prep and serving even easier than if you have to run back and forth from the house to the grill. If you have been thinking about an outdoor kitchen, talk with your pool contractor for tips and advice on having your own outdoor kitchen constructed.
Summer is the ideal time to start cooking as many meals out of doors as you can — it frees up having to cook indoors which can be hot and when you add in humidity it can be uncomfortable for the chef of the family. Also, when you're cooking indoors, you miss the fun and conversations that are going on poolside.
Cooking on the grill gives your food a delicious taste that you simply can't get indoors. You will want to decide whether you want to cook in a smoker, on charcoal or on a gas grill. You can also have a combination of all three and try out different meals on different types of flames and see which your family enjoys the most.
Healthy BBQ Recipes For 2018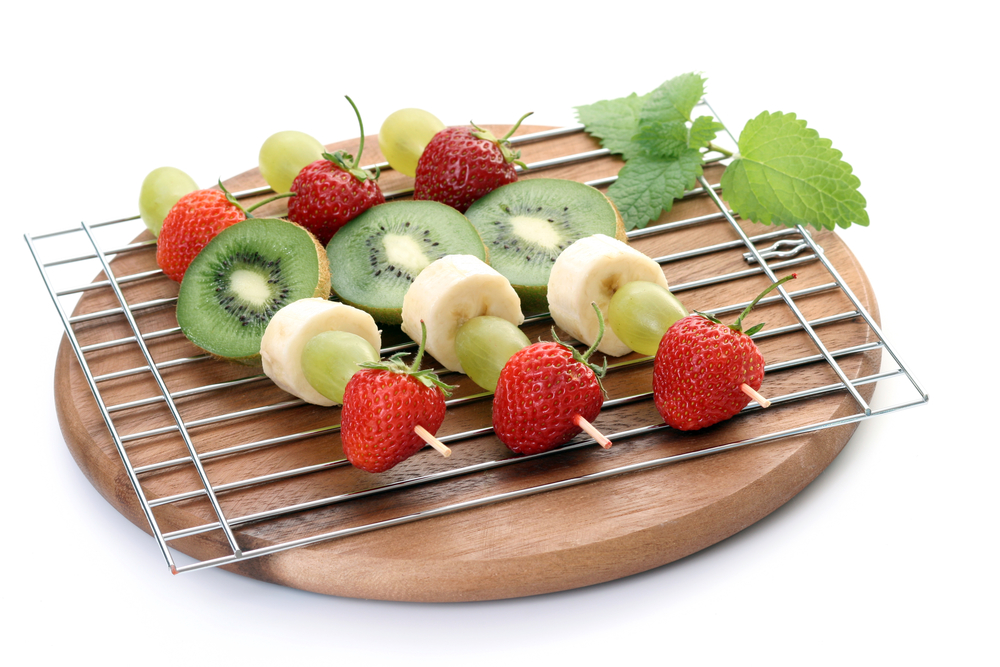 Choose your protein. Sure there is nothing better than a charbroiled burger, but why not make certain you're choosing lean cuts of beef for the burger. Lean cuts of steak and even organic steak is a healthy way to enjoy beef. Certain cuts of pork are delicious grilled as are turkey burgers, chicken breast and various types of fish. Marinade a few salmon steaks in an olive oil and balsamic dressing or simply put on salt, pepper and a splash of olive oil before putting on the grill. Fish is a delicious way to get protein without all of the fat. Experiment with various types of fish, marinades or herbs and spices. Wrapping fish in a foil packet with your favorite veggies, a splash of lemon juice and herbs and salt and pepper then cooking slowly on the grill yields a delicious "one pan" meal. Add in some of your favorite sides (or just have the veggies in the foil packet for the sides) and yum — a healthy and quick dinner.
Choose vegetables that are in season or those that are your favorite year-round. Spiralize some zucchini or squash to cook in the foil packets with your protein. Grill zucchini, potatoes, tomatoes, corn on the cob or other veggies of choice to serve along with your protein.
You can also cook chicken breast, boneless chicken thighs and even bone-in chicken in a foil packet with your favorite veggies.
Don't forget to make some fruit ke-babs to enjoy after dinner. Slice and skewer your favorite fruits, grill them up and enjoy. You can sprinkle cinnamon or even a drizzle of honey to help cararmelize on the grilled fruit. Serve with a side of Greek vanilla or plain yogurt that you can add a drizzle of honey to. You can add a scoop of ice cream to the grilled veggies.
If fruit ke-babs aren't your idea of a delicious way to enjoy grilled fruit, slice up peaches, pineapple, kiwi, apple and pear slices and other fruits of your choice. Grill them until they are soft and have grill marks on them. The natural sugar in the fruits will be enhanced by the heat and make a delicious and healthful after dinner treat — with or without ice cream or yogurt topping.
After the sun goes down, treat the kids to a good old fashioned s'more. Sure they may not be healthy, but they are delicious and sometimes you just have to indulge!
What are your favorite, or your go-to, barbecue meal ideas?