Did you know that August 19 is National Hot & Spicy Food Day? If your taste buds are up to it, invite your friends and family over for a hot and spicy grilled food feast. Remember, you can have "heat" without flavor, but who wants that? We offer recipes here that amp up the heat and at the same time offer flavorful burst of grilled deliciousness!
Hot and Spicy Grilled Food Recipes for National Hot & Spicy Food Day
Have you ever heard the term "pyro-gourmaniac"? It's said that pyro-gourmaniacs are people who love and appreciate spicy foods. Hot spices have been utilized in recipes for more than 6,000 years with many cultures having their own take on spicy foods and the ingredients they incorporate into a recipe to add the flavorful fire. Hot foods can be filled with:
Hot sauce
Chilis
Peppers
Spicy foods don't have to always mean "hot" spicy foods can be bursting with flavor and be warm to the palate. Consider, too, the health benefits of the capsaicin that is the main compound of chilis — it's been shown to fight inflammation and boost metabolism, among other benefits. People who consume spicy foods are shown to have lower rates of strokes and heart attacks. Those who eat spicy foods may also experience an increase in blood flow and your body may boost production of the feel-good hormone serotonin.
Not sure where to get started down the road of spicy foods? Your choice is to either start out slow with "warm" foods and work your way up to those foods that are sure to set your taste buds aflame.
Grilled Chipotle Burger Recipe
 2 lbs ground beef
1/4 cup canned chipotle chiles (chopped) in adobo, including sauce
salt and pepper or grill seasoning
For the chipotle mayonnaise
2-3 chipotle peppers, finely chopped
1/2 teaspoon adobo sauce
1/2 cup mayonnaise
Other ingredients
Lettuce
Tomato
Onion
Cheese
Sliced jalapeno
Hamburger buns
Directions 
Combine all ingredients for chipotle mayonnaise and mix well. Set aside.
Preheat grill. Combine ground beef with chipotle chiles and adobo sauce. Mix with hands and form into 1/2 lb patties. Salt and pepper patties on each side. Cook on each side until desired doneness.
3. Toast hamburger buns and slather with chipotle mayonnaise. Add burgers, lettuce, tomato and onion. Serve with chips or fries. (From Eclectic Recipes .com)
Jalapeno & Blueberry Cornbread (Vegan)

1 cup cornmeal
1 cup + 2 Tbsp flour
2 tsp. baking powder
2 tsp. maple syrup
2 Tbsp coconut oil (or other neutral oil)
1 1/2 cup soymilk or milk of choice
3 Tbsp. jalapeño, small dice
1/2 c. fresh blueberries
Preheat the oven to 350F and grease an 8×8 baking pan.
Combine the cornmeal, flour, baking powder in a large mixing bowl. Whisk.
In a separate bowl combine the soy milk, maple syrup and coconut oil. Whisk and set aside.
In a small bowl, take the blueberries and toss them with the flour. This will help prevent them from all sinking to the bottom.
Combine the wet into the dry and mix well. Add in the jalapeños and blueberries. Mix.
Pour the batter into the baking pan and bake roughly 30 minutes or until toothpick comes out clean.
Note: Adjust the amount of jalapeño to your liking. (Recipe from One Green Planet.org)
This is a great side dish!
Grilled Salmon With Spicy Rub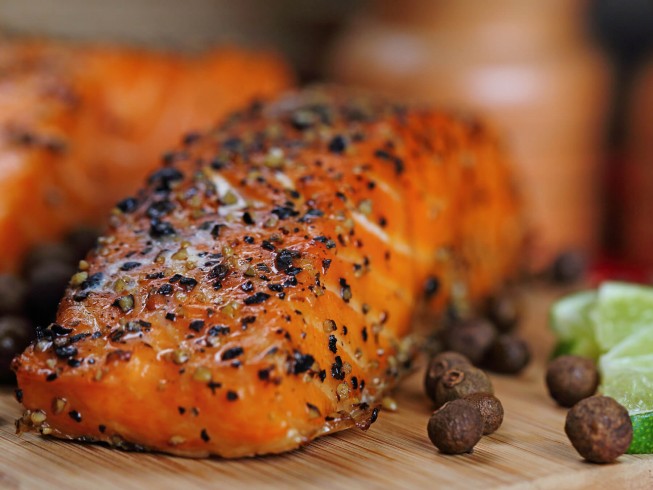 Salmon Rub (The rub can be used on other foods you are grilling) 
3 tablespoons kosher salt
2 tablespoons sugar1 tablespoon light or dark brown sugar
2 teaspoons ground black pepper
2 teaspoons celery seed
2 teaspoons paprika
2 teaspoons garlic powder
1 teaspoon cayenne pepper
1 teaspoon onion powder
1/2 teaspoon chili powder
1/4 teaspoon ground cumin
1/4 teaspoon ground fennel seed
Salmon
2 1/2 pounds skin-on salmon fillets
mayonnaise
1 lime
Cooking directions
Combine all the rub ingredients until thoroughly mixed. You can store any leftover rub in an airtight container.
Meanwhile, heat the grill to medium heat.
Sprinkle several tablespoons of the rub evenly over the skinless side of the salmon fillets and gently rub it into the fish flesh.
Spread a very thin layer of mayonnaise over the rub on the salmon. Place the fish on an oiled grill rack, skin side down.
Close the grill cover and cook until the fish flakes easily. Cooking time will vary by the thickness of the fillets but expect them to take 15-20 minutes. Do not overcook the fish and do not turn it while cooking.
Before serving, squeeze fresh lime juice over the fillets. (Recipe from CD Kitchen .com)
Grilled Hot Wings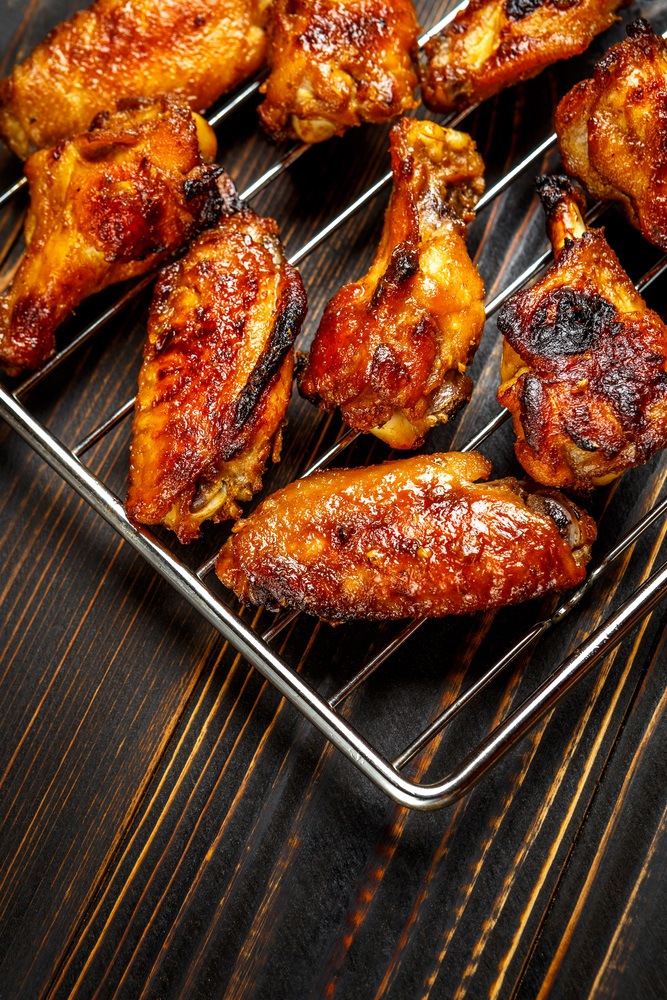 Ingredients (Serves 6)
3 lbs of party wings. If you get fully intact chicken wings, get 24 and cut chicken wings into three sections and discard the wing tips.
4 tablespoons unsalted butter
1 cup chicken broth or stock
Seasoning Blend (combine all ingredients listed)
1/4 cup mild chili powder, we use Ancho powder (Chimayo or Hatch powder works well too).
2 tablespoons sweet paprika
2 tablespoons firmly packed dark brown sugar
1 1/2 teaspoons dry mustard
1 1/2 teaspoons cayenne pepper
3/4 teaspoon garlic salt
3/4 teaspoon coarsely ground fresh black pepper
3/4 teaspoon kosher salt
1/2 teaspoon Old Bay Seasoning
Wing Sauce Blend
1 cup Frank's Red Hot Sauce
4 tablespoons unsalted butter cut into 1/4″ cubes
1/4 cup thinly sliced scallions, white and green portions
1/4 cup finely chopped chives
Optional traditional hot wing sides
Blue cheese dressing
Celery sticks
Baby carrots
Instructions
The first step is to season the wings and then place them in aluminum pans for steaming and infusing them with flavor.
Place the wings in a large bowl and toss with the seasoning blend to coat evenly on all sides.
In 2 disposable aluminum pans (13 1/2″ x 9 1/2 "x 3") or anywhere near that size, add about 2 tablespoons of the cubed butter into the bottom of each pan. Add chicken broth to each pan so it's about 1/4 inch high (about 1/2 cup).
Arrange the seasoned coated wings in an even layer into the two pans. You can pack them in side-to-side, but don't stack them up. They should all be touching the broth and butter. Cover each pan with heavy-duty aluminum foil; crimp to seal.
Place the wings into the grill and cook for 45 minutes at about 275 degrees, low and slow. If you end up stacking up some trays, be sure to switch them around about halfway through. This step can also be prepared in an oven.
As you get near the end of the steaming process, you should prepare your woodfired or charcoal grill as well as the wing sauce.
Making the wing sauce
Pour 1 cup of Frank's Hot Sauce into a saucepan and bring it to a simmer over medium heat. Add 4 tablespoons of unsalted butter and swirl until the butter is completely melted. Add the scallions and chives. Turn off the burner, stir to incorporate all ingredients and basically keep it in a warm spot until it's ready to meet the wings. I leave it on the stove top until I'm ready to use. You can grate a jalapeño or other pepper (avoid the seeds) into the sauce to give it a fresh kick of heat!
Once the steaming and wing sauce is complete
After the steaming phase is complete, you can wait until guests arrive or just head for the grill. We like to use direct heat from a charcoal fire with smoldering wood chips for more smoke. Cook the wings in batches so everyone gets a chance to try them fresh and hot off the grill.
Grilling takes about 10-15 minutes and make take a bit of finesse to get just right. The spice coating should blacken a bit. The meat is already mostly done from the steaming phase, so watch carefully, rotating wings around from hotter to cooler parts of the grate to make sure they get to a consistent level of doneness.
Take a finsihed batch of wings, using tongs, toss them in the wing sauce (transfer the sauce to a bowl first if your saucepan isn't big enough).
Garnish with a bit of greenery if you want to get fancy, and serve! (From Cayenne Dianne – Adapted from Serious Barbecue from Adam Perry Lang)
Picadillo Poppers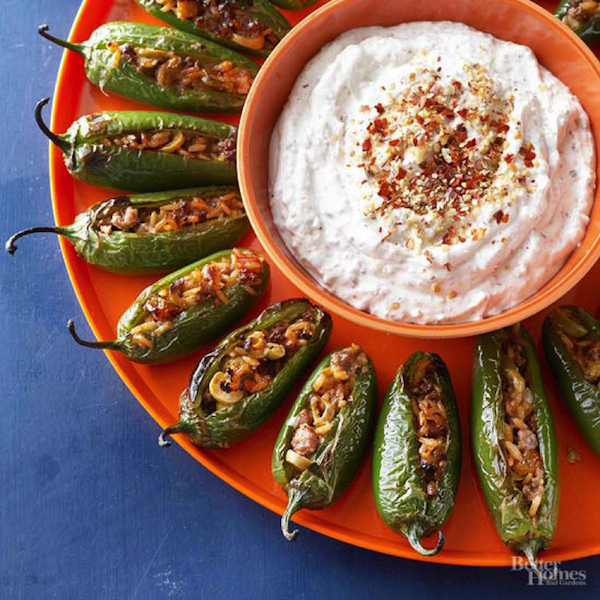 Ingredients:
8 oz. lean ground beef
1 small onion, chopped
1 8.8-oz. pouch cooked Spanish-style rice
1 cup grated Monterey Jack cheese
1/2 cup golden raisins
1/2 cup pimiento-stuffed green olives, sliced
1 tablespoon lime juice
24 plump fresh jalapeno peppers
For the Dipping Sauce:
1 8-oz. carton sour cream
1 tablespoon milk
1/2 cup ground toasted almonds
juice of 1/2 lime
a pinch of ground cinnamon
Directions:
In a large skillet, saute the ground beef and onion over medium heat, breaking up the meat with a wooden spoon as it cooks. Once the meat is brown, and the onion is tender, pour these into a medium-sized bowl.
Stir in the cooked rice, grated Monterey Jack cheese, olives, raisins, and lime juice into the bowl. Mix until well combined. Set aside.
Cut a slit across the length on one side of each jalapeno pepper to create a pocket. Remove the membranes and seeds inside with a small spoon and discard. Spoon the filling into each of the jalapeno peppers.
Arrange the stuffed jalapeno peppers in a grilled basket with the slit side up. Place the basket on your bbq grill rack on top of the direct heat. Cover and grill these for 8 to 12 minutes, or until the peppers are crisp-tender and the filling has completely cooked through. Remove from the grill and arrange them onto a serving plate.
To make the dipping sauce, combine the sour cream, milk, almonds, lime juice, and ground cinnamon in a small mixing bowl until well combined. Serve this along with the stuffed jalapeno peppers.
This is a delicious side with a spicy kick! (From Better Homes and Gardens)
Enjoy a delicions a mucho caliente Hot & Spicy Food Day on August 19!