Winter means hibernation for many people. It also means your swimming pool has probably been closed up for the season too, right? Even if that's the case you still need to pay some attention to the pool even though it's closed. We have tips for how to care for pool cover in the winter because if the cover isn't cared for:
It can damage the cover
Damage the anchors holding the cover
Get dirty standing water into the swimming pool
On those chilly mornings or afternoons when you're looking out the window at the pool that looks dormant and covered in snow you should put on your jacket and boots and trek out and ensure the cover is still doing its job — keeping snow and water out of the pool. We know you're yearning for those lovely warm days of summer when you could lounge around the pool — we all are!
Just because it's winter though, your pool still needs your care and attention to help it, um, weather the winter! Give your pool some thought and attention during the winter months. In fact, you may want to write yourself a note on the calendar to check the pool and cover at least once a week or after any significant rain or snow fall or warm up and snow melt.
Winter pool and cover care doesn't take much time — perhaps a few minutes. That does depend, though, on whether there is a lot of standing now or ice or water — in that case you may need to take some more time than just a quick glance. Believe us, the time and attention you pay now will pay off when the pool is not damaged during the winter and when it's easier to open and clean when summer arrives.
How To Care For Pool Cover In The Winter
Here are a few steps to take to ensure your pool's safety all winter long.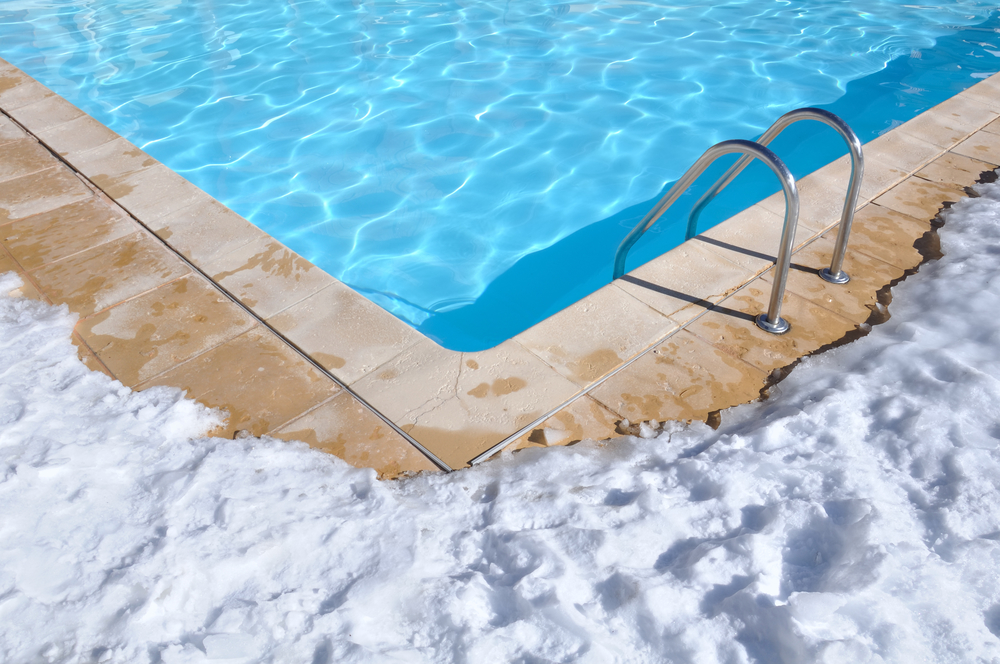 Ensure the cover is secure. Windstorms can lead to the cover flapping in the breeze and you don't want that to happen. A loose cover can lead to it getting shredded or otherwise damaged. If there is a windstorm, go out and check the anchors on the cover and tighten them if needed.
After a snow fall, take a walk out and make sure there isn't a lot of snow weighing down the cover. If there was a heavy snowfall, take a soft outdoor broom and gently remove the snow from the cover. Brush from the middle (as far as you can safely reach from the deck) toward the outer edges, then pull it from the edges onto the deck and then into the yard. Never use a shovel to remove snow.
Ice and standing water are two more issues that can damage a pool cover. Standing water can be removed with a wet-dry shop vac. Never try to remove ice. If you pull off chunks of ice, it could rip the cover. Also, if you remove chunks of ice it could fall onto the cover and tip it. Leave the ice — even though it is difficult to not want to remove it — until it's melted.
As mentioned above, mark on your calendar to check the pool cover. Check it after any heavy rain or snowfall or a warm up.
Check the pool cover immediately after a snow- or windstorm or rainfall.
If you see that the pool cover has come loose from its anchors, secure it again. If the pool cover has ripped or is fraying, give your pool contractor a call and he or she can help you determine whether you need to replace it during the winter or if it can be repaired enough to carry you through to the next summer.
Do you remember the last time you've looked at your swimming pool and the cover? Why not go out there right now and inspect it. After that, make a note to check it regularly to keep your pool safe and free from standing or bacteria-laden water!