Hot tubs and spas are ideal water-filled structures, especially if you live in an area of the country that isn't warm and sunny most of the year. A hot tub or spa is prized by those who live in the colder and snowier areas of the country because when the pool is closed for the season, hot tub time literally heats up.
Imagine sinking into the heated depths of your hot tub while the snow falls or when you can see your breath in the cool night air? It is a luxury beyond compare — just ask anyone who has a hot tub or spa. There are many questions you will want to ask, and have answered, before you make the decision to own a hot tub or spa. Here are a few items to think about and talk with a hot tub contractor about before you… um, take the plunge!
How To Choose And Buy A Hot Tub
What's your budget?
Before you decide what type and size of hot tub to invest in, you will want to have a budget in mind. Don't talk with a pool contractor about a $10,000 hot tub dream if you only have a $1,000 in the budget. Knowing the budget you have for the hot tub project before you meet with a contractor will help you know what you can get for your money and what accessories you may be able to invest in — or have to wait for a later time for.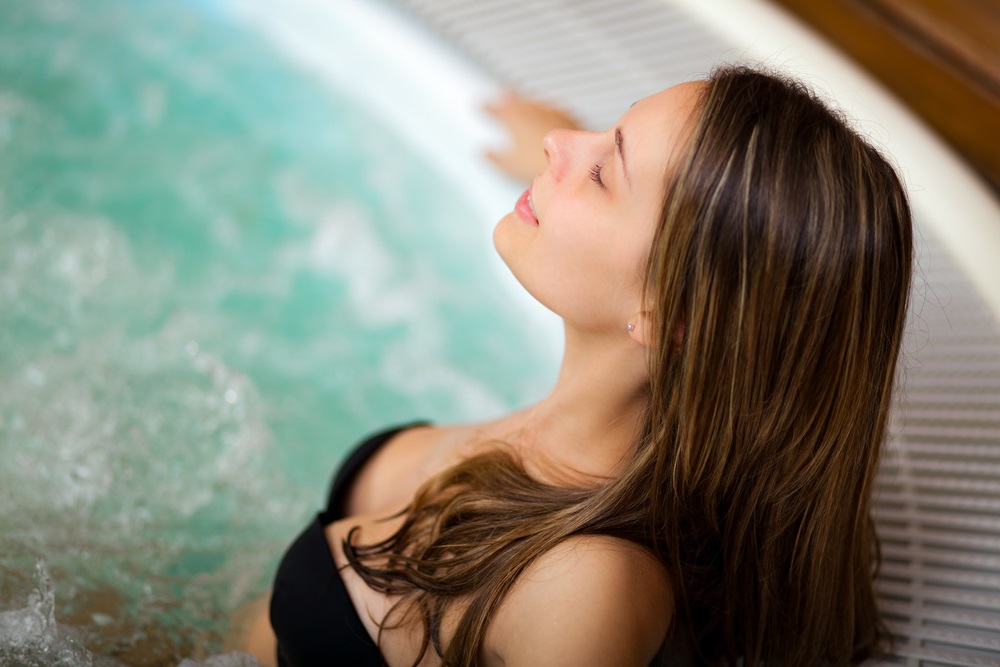 Your budget will include not only the money necessary for the purchase of the hot tub, but for the installation, electricity, plumbing, placement and more. Will you need to have a slab installed for the hot tub to sit upon? Is there an area in the house where you will have the hot tub placed and if so, is it amenable to a hot, moist hot tub or will you have to install ventilation or other measures to protect your home?
Don't forget to budget for a hot tub cover as this is an important piece of equipment and shouldn't be an afterthought, but should be an investment you make when you buy the hot tub or spa.
Ongoing upkeep and maintenance is also a part of hot tub ownership and you will want to budget for that and for increases in your utility bills once the hot tub is up and running.
Know whether your budget will accommodate a basic hot tub or an upgraded model. Know what type you can live with — basic, deluxe or in between. Decide how much luxury you want from your hot tub and budget for that.
Before you even step foot in a hot tub contractors' showroom, research hot tubs and spas online so you have an idea of styles and accessories that you may want in yours. Research will also help you know what questions to ask and what items you may want — or don't want — in your hot tub.
Get a hot tub that fits your family and your lifestyle
If your hot tub isn't big enough to accommodate your friends and family you and you have to "take turns" getting into and out of the hot tub so others can use it, it just won't be much fun. Know how many people will typically be using your hot tub and let the contractor know so he can recommend a hot tub that will be an ideal size for your friends and family.
Understand the different materials from which a hot tub is built so you can decide which material will be best for your family. If the hot tub is out of doors, you will need to consider getting a tub that has an exterior that can withstand the weather, one that has a durable basin and one that is properly insulated to protect it from freezing.
All tubs are made differently, from different materials, so you'll need to decide what you need here as well. If you plan to install your hot tub outdoors, you'll need to consider things like additional insulation, a durable basin, and appropriate exterior.
Do you want your hot tub to be an above ground or an in-ground model? Will you want your hot tub to be installed at one end of your swimming pool in a "swim up spa" style? These are decisions you will want to make before you hit the showroom.
Will your hot tub be used just for soaking or will you want to get one that can accommodate your being able to swim a lap or two? Do you want a swimming treadmill style? Regardless of the type you get you will need to know up front the reasons you want a hot tub and how you plan to use it — relaxation, exercise or a combination.
Do you want a hot tub that is a circle, rectangle, oval or some other shape? You do have many options when it comes to hot tubs today and knowing what you'd like before you shop will help you narrow your options and keep to your budget.

Shopping for your hot tub — don't forget your bathing suit
Yes, you will want to sit in a working hot tub before you make any purchase. You need to know how the jets feel, where you want them placed, how the seats fit and feel and what types of jets you want in the hot tub. The only way to truly know that is by taking a dip into your hot tub while you're shopping and that means, you will need to wear your bathing suit and plan to take a dip before you make a buying decision.
Know whether you want your hot tub for relaxation, hydtotherapy or a combination. Will your hot tub be used to hep you relax on a cool winter's afternoon or will you want to be soaking as a way to alleviate pain from arthritis or other ailments such as a sports injury? Knowing this will help you discuss with yor hot tub contractor the type and style of jets you will want in your hot tub.
Energy efficiency is key
Don't skimp on equipment when it comes to your hot tub. Saving money by putting in less energy efficient equipment when you purchase the hot tub will end up costing you more money in the long run. Invest in high quality, energy efficient equipment when you buy the hot tub and your ongoing utility bills will be lower and your wallet wil thank you.
Don't forget privacy
Whereever you place your hot tub you will want to give the area a look with a critical eye to assure you're not in the line of sight of neighbors. It's probably not going to be too relaxing if you're in the hot tub and your neighbors are out on their backyard deck and can look right over that and into your yard and at you in your hot tub.
Determine where you want the hot tub and decide whether you need to landscape for privacy. You can plant trees or shrubs or install a privacy fence to assure that when you're enjoying time in your hot tub, that you don't have to do it with an audience!
Maintenance is key
Just as you have to test the water chemistry in your swimming pool so too do you need to do the same with a hot tub. Test the water chemistry. Add chemicals and on occasion the hot tub will need to be completely drained and the shell thoroughly cleaned. That is a task a do it yourselfer can take on, or you can work with a pool or hot tub contractor who can clean and maintain the hot tub for you.
Above all, have fun
Enjoy the time in your hot tub, but remember the heated water can lead to dehydration so you will want to drink water while you're soaking and limit your soak time to no more than fifteen minutes at a time. Keep a watchful eye on your children when they are in the hot tub with you to assure everyone is safe and has fun.