"Chestnuts roasting on an open fire…" Chances are you have heard that song sung around Christmas time, but have you ever tried to roast chestnuts? Have you ever wondered "is roasting chestnuts something people really do?" Well, yes, they do!
For those who are looking for a low calorie, delicious, high in protein treat roasted chestnuts should be on the menu. This is a great way for the backyard griller to get out of doors, even in the cool months and cook up sme chestnuts. This will be a dish your guests talk about long after the last roasted chestnut has been devoured.
How To Roast Chestnuts For A Holiday Treat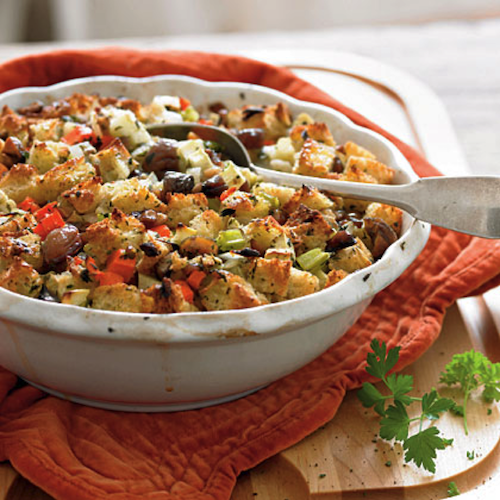 If you don't have a chestnut tree in your yard or in the woods near where you live, you will have to rely on your local grocery store or a specialty store or even online shopping to find your chestnuts.
Harvesting chestnuts isn't difficult. They fall to the ground when they are ripe and ready to be eaten. Grab a basket and pick them up. The spiky husk may split open, but beware of the spikes — you may want to wear gloves when you're picking up your chestnuts. The ones you buy in the store will likely already have been husked.
Look for chestnuts with smooth, glossy shells that are firm to the touch. Don't use any that have what look like pinholes — those are actually wormholes.
Shake them gently if you hear a rattling noise, toss them out. This means the meat inside the shell has dried out.
Hang them in a net in a cool, dry place for a couple of days to allow the nuts' starch to turn to sugar — this makes them even sweeter.
Here are our tips for roasting up this delicious and one-of-a-kind holiday treat. 
Make two cuts on the chestnut shell in the form of an X
The cuts should be about 1/8 inch deep. Push the tip of the knife into the shell then press down. Hold it tightly to avoid the knife slipping
Once they're all cut, put them in a chestnut roaster or a metal mesh pan used on a grill to pop popcorn.
After about 30 minutes you will hear popping and hissing and this means they are done. They can also be cooked on an shallow dish or aluminum pan
You can cook chestnuts in the fireplace or over your grill.
Peel them and enjoy them while they are still warm. Yum!
 Amp up your chestnut serving skills!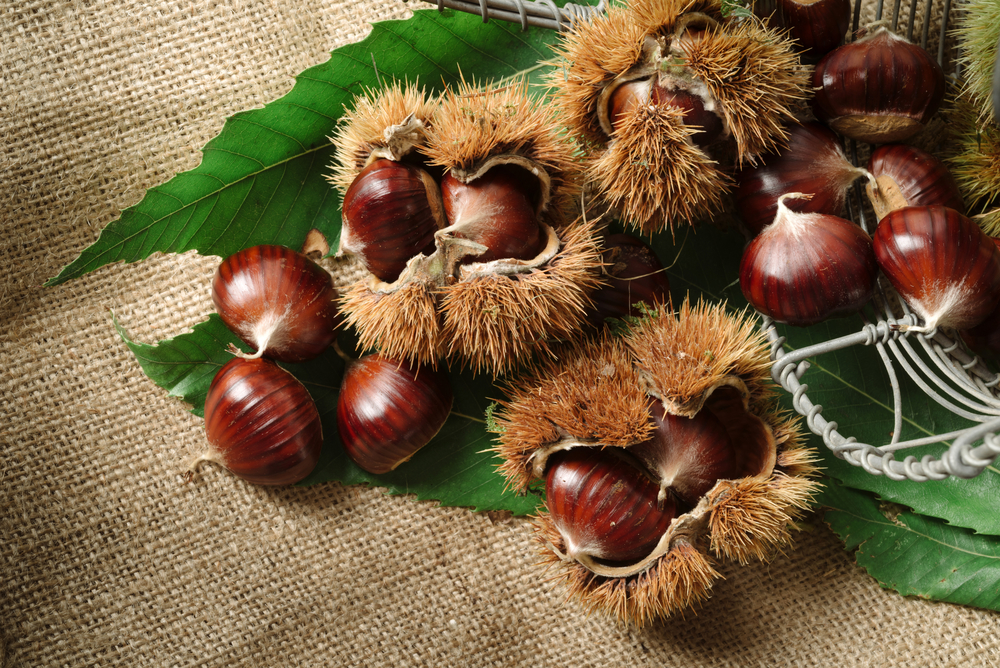 Sure you can offer roasted chestnuts to your guests to simply peel and eat, but what if you put the toasted chestnuts into your favorite holiday dinner dressing? The roasted chestnuts lend a unique nutty flavor to your favorite stuffing recipe.
Here is our favorite sourdough stuffing recipe to which we've added roasted chestnuts. We also serve additional roasted chestnuts along the side as an appetizer. This stuffing can be used with your turkey or Christmas goose.
Ingredients:
1 loaf sourdough bread, crusts removed and cut into ½ inch cubes. Toasted
14 ounces (2 cups) roasted chestnuts, peeled and chopped
2 tablespoons
1 large chopped red onion
2 large chopped carrots
2 large chopped chopped
1 cup of fresh or frozen cranberries
½ cup fresh minced parsley
1 tablespoon each: fresh thyme leaves, sage leaves, salt, pepper
2 eggs, lightly beaten
4 cups chicken broth (or vegetable broth)
Preparation for indoor or outdoor cooking:
Preheat oven or outdoor grill to 400 degrees.
In a large saucepan, melt the butter and add the onions, carrots, and celery. Saute the vegetables until soft.
Add cranberries and saute for about two minutes
Add parsley, thyme, sage, salt, and pepper.
Set aside.
Add roasted chestnuts, toasted bread, eggs, and broth to a baking an.
Bake or grill this on indirect heat at 350 degrees for 1 hour or until the top is light brown and crusty. We don't recommend putting stuffing inside the bird because it may lead to undercooked meat in the cavity
Chestnut dessert log
Chocolate sponge and nutty, creamy chestnut filling makes this a welcome alternative to traditional Christmas desserts.
Ingredients:
175 grams sugar
6 eggs, separated
50 grams all purpose flour
175 grams dark chocolate, melted
3 cups roasted chestnuts, peeled and roughly chopped
2 ¼ cups whole milk
pinch of salt
1 teaspoon vanilla extract
150 ml whipping cream
50 grams mascarpone cheese
3 tablespoons icing sugar
Preparation
 Preheat oven to 350 degrees Fahrenheit.
Whisk sugar and egg yolks until pale and thick.
Stir in the flour until it's well combined.
Fold in the melted chocolate.
In a separate bowl, whisk the egg whites until it forms stiff peaks. Fold into the chocolate egg mixture.
Pour the batter into a 9×13-inch Swiss roll tin lined with greaseproof paper lightly brushed with vegetable oil. Bake for 18 to 20 minutes or until the cake had risen and springs back when it touched in the center. Set aside to cool.
In a saucepan, combine 2 cups of the chopped chestnuts, milk, salt and vanilla extract. Gently simmer for 20 minutes.
Pour the mixture into a blender or food processor or blender, one-third at a time. Blend until it forms a thick paste. Transfer into a bowl and allow to cool.
Whip the whipping cream until it forms soft peaks.
Fold into the cooled chestnut puree.
Add mascarpone and mix until well combined. Fold in the remaining cup of chopped chestnuts.
Remove the cake from the Swiss roll tin. Spread the chestnut filling evenly on top of the cake, leaving about an inch border around the cake.
Starting from the longest side of the cake, roll the cake. Make sure that you do this gently but firmly to prevent the cake from breaking.
Transfer the cake to a serving dish and dust this with icing sugar.
This may be a labor intensive dessert, but when you're making it for family you're making it with love!
Enjoy the ways in which roasted chestnuts enhance your holiday meal!