What can you do to spice up your outdoor kitchen or what if you want to spice up the poolside and outdoor living space by adding a kitchen in 2022? If you're considering it, know that an outdoor kitchen quickly transforms poolside space into a place where you can host parties, cook and never have to go inside to use the stove or oven again!
Your outdoor kitchen should offer a perfect balance between functionality, style and affordability.
How To Spice Up The Outdoor Kitchen
Talk with your pool contractor and work with him or her to determine the ideal space for the outdoor kitchen, its flow to and from the house and to ensure it doesn't block any egress or ingress into the pool. It also needs to be enough out of the way that water won't get splashed on it and no one will get dangerously close to a hot grill.
Consider adding:
A cold areas (refrigeration and storage)
Hot areas (grills and ovens)
Wet areas (sinks) and dry areas (prepping counters).
Space for you and your guests to sit, dine and move around comfortably.
How To Spice Up The Outdoor Kitchen
Your indoor kitchen plays a role in the design and equipping of your new outdoor.
If you have limited space to build, you may need to use your indoor kitchen for your wet and cold areas. That way, you don't end up with an outdoor kitchen design that looks cramped and forced. If you need to do this make it as easy as possible to get to and from the house.
What are the outdoor kitchen must-haves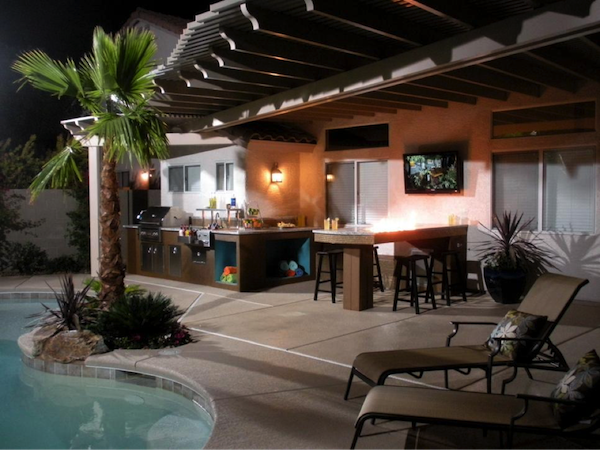 What are the outdoor kitchen essentials you need?
A grill
Stove cooktop
Compact refrigerator
Cabinets for utensils
Countertop or two for prepping and serving.
A budget-friendly kitchen option is to buy a prefabricated outdoor kitchen kit. These can be found at local home stores and come in a variety of designs and essentials at a fraction of the price.
Go for low-maintenance materials
Even if you have a roof over the kitchen, it will still be exposed to the elements and even from the treatment chemicals from your swimming pool.
Stainless steel is rust-proof, easy to clean, and highly resistant to corrosion. Stonework looks great, but don't use porous materials because they will stain and absorb moisture.
Seek professional help
If there is one aspect of planning your outdoor kitchen that you should never really skimp your budget on, it's getting a professional contractor to help you install the plumbing, gas, and electrical lines in and around your outdoor kitchen.
Aside from ensuring all utility lines are adequately and safely installed, hiring a professional contractor helps you get the most out of your outdoor kitchen based on the design and your budget.
Use your home design as a jumping off point for the outdoor kitchen design
The outdoor kitchen should be an extension of your home. If you've used a Zen or modern style to decorate the interior of your home, look for outdoor kitchen ideas with a minimalist design and those that focus on neutral tones. On the other hand, if your home is made of bricks or stones, choose outdoor kitchen layouts that echo that.
Give your trusted pool contractor a call and start the plans for your outdoor poolside kitchen.