You LOVE your swimming pool. You love that you have hired a swimming pool service contractor who takes the heavy lifting of pool care and maintenance off your hands. Prior to coronavirus and the shutdown of the country you may not have had the free time you do now, but you still enjoy having the pool contractor take care of maintenance and chemistry balancing.
Pool contractors bring their own equipment with them. They know that not all pool owners will have the equipment on hand. They may not have the space or the inclination to give up space to pool equipment storage — they rely on your expertise to assure the pool is kept sparkling clean and swimmable.
Don't worry, when you've hired an experienced swimming pool service contractor he will do the heavy lifting when it comes to pool maintenance. You will only have to do minimal upkeep between service visits — skimming off floating debris or emptying the skimmer basket. The rest of the time you can simply swim with friends and family and have fun!
Items Every Pool Owner Should Have On Hand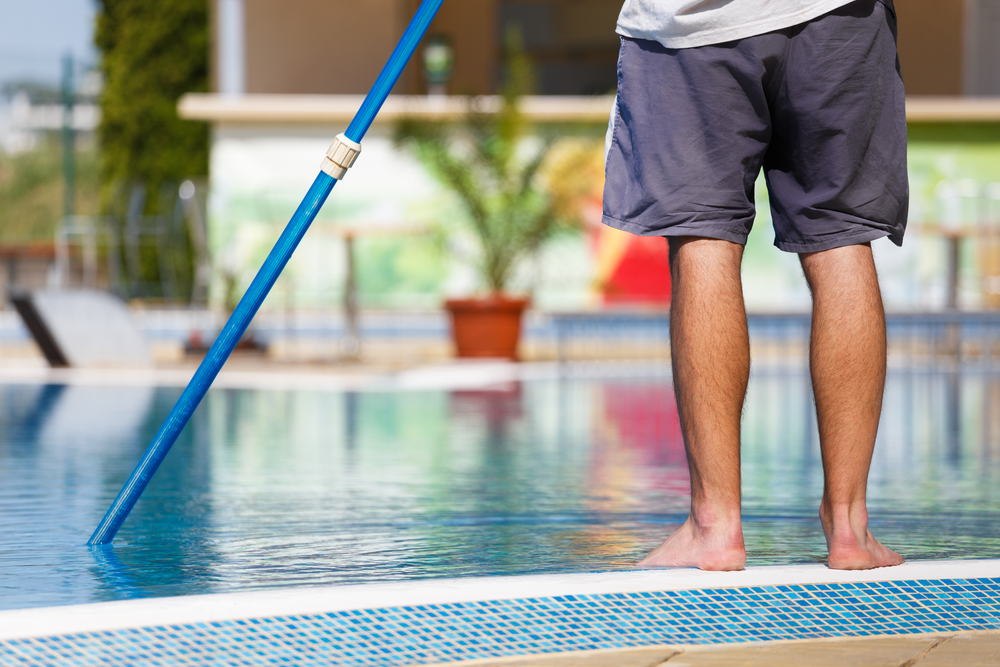 While this is not a complete list and don't think you have to go out and buy every item here or ask your pool contractor to bring it for you. Look at the items on the list and talk with your pool contractor and ask him or her if you should invest in these items (or you may find he or she has a different list of items entirely
Caulk. A tube of pool caulk will come in handy if you notice cracks around the pool tiles. This is like the grout in your bathtub. Lay down a line of caulk and fix up the space to keep water from getting in.
Cover. A swimming pool cover isn't something a pool contractor would have on his truck for your service, but we believe having a pool cover and being diligent in its use is necessary to keep the pool water clean and clear between visits.
Chemicals. You may not need to store chlorine, but you may want a water test kit and your pool contractor may recommend a specific chemical or chemicals that make sense for you to have on hand and to use between visits.
Filter. If you're a DIYer you may be changing the pool filter on your own OR you may have invested in an additional pool filter on hand so when the pool contractor needs to replace or clean the one that's in use, he can easily use the one you have on hand.
Vacuum. This is a piece of equipment most pool owners do have on hand for those between-service-visit cleanups that occur. Ask your pool contractor how to use it properly.
 Pumice stone to remove calcium or mineral build up stains. A pumice stone can remove stains below the water level without upsetting the water chemistry.
Pool skimmer. These long, telescoping items have a basket at the end and are used to skim leaves, bugs or other debris from the water. This will be a tool you use every day — sometimes several times a day.
Life vests and other safety equipment. These need to be poolside at all times. Everyone in the pool needs to know where they are and how to use them in case of an emergency.
When the pool contractor comes for the next service visit, ask him what he recommends you have. You may have other ideas of what you want to have on hand to care for your swimming pool on your own. Even if you hire a pool contractor you will still want to know how to tell if your pool water test kit readings mean you need to add chemicals or call your pool contractor for a visit.