Are you looking out the windows longing for summer — or even spring to arrive? We don't blame you. Even if winter hasn't been as difficult as it has been in winters' past, you still haven't been able to spend as much time — or any time — in the backyard in months, right?
It's almost backyard living time. That's especially true if you have talked with your swimming pool service contractor about getting on the schedule for a spring swimming pool opening. This means that you're doing the countdown to swim time, but is your backyard and swimming pool space ready for spring and summer use?
It might be time to do an inventory of the furniture, umbrellas, water features and other outdoor living items you have, want to have or want and/or need to upgrade before summer is in full swing.
Some fortunate pool owners may be able to enjoy the pool earlier than others — whether they live in an area that the temperatures are soaring or if you use a pool water heater to warm things up.
Is your backyard and outdoor living space as inviting as it can be? Do you want to make some changes that will allow you to spend even more time outdoors this summer? If you said, "YES!" make sure your outdoor living space is as comfortable and welcoming as it can be.
It's Almost Time For Backyard Living!
The swimming pool is the draw to the backyard space — there is no doubt about that. To make the pool not only the focal point but a staycation space surrounding it may mean you want to make some changes to the space surrounding the pool. Some new pool owners, when they are looking at the construction budget will opt out of having a deck or other outdoor living space constructed, but they usually regret that decision later.
Think about how much time you will spend AROUND the pool as you do IN the pool and you can see the importance of having a comfortable space in which to relax. Ask your pool contractor as he or she may have stats on how much time families spend swimming as compared to how much time they spend relaxing around the pool.
Consider these backyard living upgrades
Deck. The deck can be a thin walkway or a large structure surrounding the pool. A deck offers a space for poolside relaxation. Talk with your pool contractor about deck options.
A fire feature. These features offer warmth as well as aesthetic appeal. Consider the layout of the outdoor space and how it might benefit from the warmth of a fire feature. Depending on the fire feature you choose, you may be able to cook campfire foods over it!
Flowers, trees, shrubbery and poolside fencing should be part of the pool plan for your outdoor living space. Planting with privacy and beauty in mind can go hand in hand. Your pool contractor will be able to help you pick out plants that won't have spreading roots that could damage your pool plumbing or drop leaves into the pool. The fence will likely be required by local law but that doesn't mean it needs to be unsightly.
Plant with care because you don't want to lure bees in nor do you want to have tree roots and leaves and sap dripping into the pool.
Fountain feature.  The sound of the running water from a fountain feature is relaxing and soothing. Fountains add beauty and intrigue.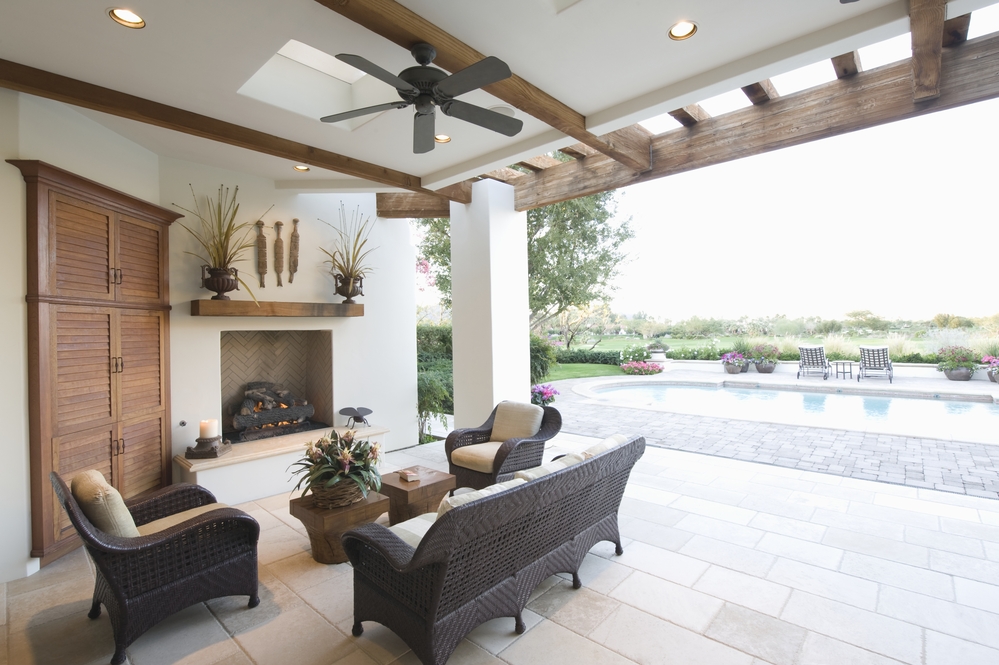 Furniture. Do you need new furniture? Do you want new covers on the existing furniture? Do you have wooden furniture that needs to be refinished? Do you need more furniture to accommodate the number of guests who will be showing up once the pool is open? Choose pool furniture that will withstand the weather as well as swimsuits with chlorine on them!
Hot tub or spa. If you have a swimming pool and have additional space at an end of the pool or in the yard, add a hot tub or spa. This can be a stand-alone structure or it built into the pool as a swim-up spa.
A hot tub or spa offers a place to spend time in the water even after the pool has been closed for the season.
Lighting. Add long-burning economical poolside lighting and even in pool lighting to set the mood. In pool lighting also makes night swimming safer. LED lights cost more upfront but burn long and efficiently.
Outdoor kitchen. Talk with your pool contractor about an outdoor kitchen. This structure can house a chef worthy stove, an oven, refrigerator, wine refrigerator, pizza oven, sink and food prep station and of course a grill and smoker!
Plan for cabinets to house everything you need at hand so you won't have to go indoors at all!
Pool house.  Invest in a pool house or cabana or sturdy gazebo. If those aren't in your budget, invest in colorful, beautiful and large umbrellas that will allow you to escape the heat of the sun and remain out of doors.
A pool house or cabana can be designed to accommodate a washer and dryer, sleeping quarters, a bathroom and even a kitchen.
Water features. Regardless of whether you have an in-ground or an above-ground or a traditional or uniquely shaped swimming pool, adding water accessories not only adds to the aesthetics of the pool, but to the enjoyment you will have poolside.
What upgrades and updates do you want to your outdoor living space this 2020 swim season?