It's hard to believe, but once you read this, Labor Day will likely have passed and you will be looking down the pathway toward Autumn then winter! Where did the summer go?! It's a question we have been asking every week, but for a swimming pool owner — especially those who don't live in areas of the country that lends itself to year-round swimming you may see glimpses of a closed-up-for-the-season-pool!
Even if the pool is closed (and you know you can extend swim season with a pool heater, right?). If you don't have a swimming pool heater and aren't inclined to get one, you can still spend time in the backyard living area and enjoy the poolside beauty well into Autumn.
Jazz Up The Backyard Living Area For Autumn
Take a few moments now and step out into the warm summer day and look at your outdoor living space with a critical eye. How comfortable will that space be when the sun goes down and the nights are cooler? Will you feel warm and cozy sitting in your backyard living area when the temperatures have dipped? Walk around and look at it from various angles. Better yet, take a photo of the area from different angles. Do this a couple times a day when the sun is at different heights in the sky and when the moon comes up and the sun goes down.
Take a seat in each of the chairs and seating areas you have and ask yourself, "how can I make sure this is a warm, welcoming area when Autumn settles in?"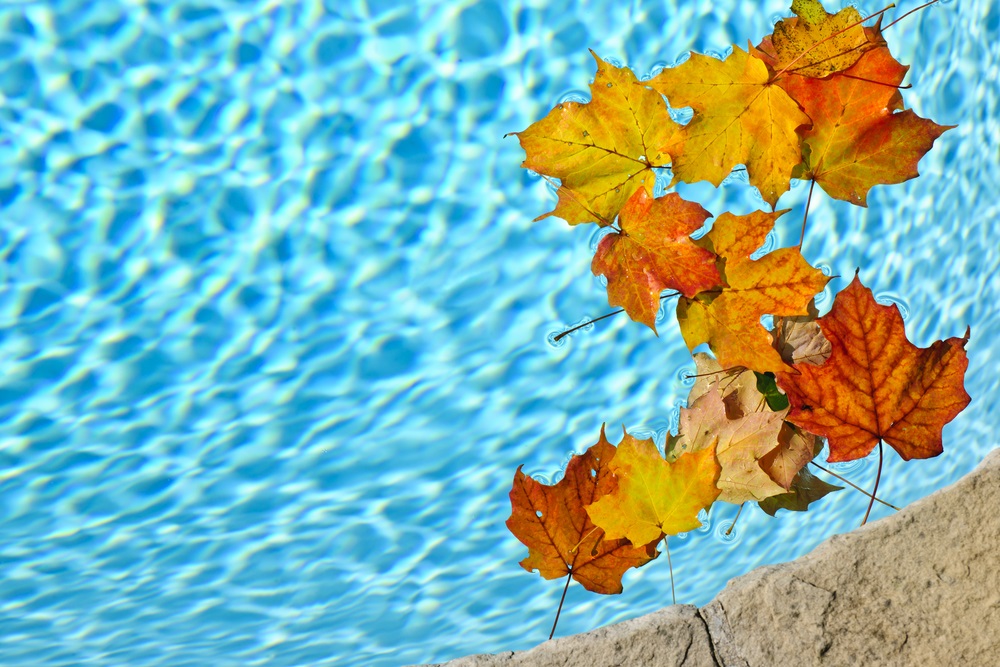 Look at the photos you've taken. Ponder them. Ponder the view. Do you still love it? Are there parts you love and parts you're ambivalent about? Don't you want to LOVE it? Of course you do. This is especially true because summer is winding down and you still aren't ready to be in the house all afternoon and night after you've been inside working all day, right?
It's difficult to move your outdoor living indoors until you absolutely have to. We get it!
How can you do that, though? How can you not only amp up the aesthetic appeal and comfort of your existing outdoor living space, but make it comfortable during the cooler months of the year? Do you have to construct a pool house or gazebo? Maybe, but maybe not.
You've alredy taken steps to move your indoor living outdoors for the summer, but how can you do it to extend your outdoor living time in the Autumn months when the leaves are falling and the air is crisp?
 Find the sun.
In the summer you want to find the shade, but when the sun is not as hot, you want to soak up the sun as much as you can in the autumn.
Rearrange the furniture to the sunny spaces.
Bring out some darker colored fabrics into the outdoor living space to soak up the heat and fit better into the cooler months of the year.
Open the awnings. Pack away the sun-shielding umbrellas.
Bring indoor comfort outdoors. 
Just as you moved indoor living to the poolside area in the summer, you want to keep those creature comforts at hand when you're out there even when the pool has been closed for the season.
A television to watch football
A radio to listen to your favorite music while you enjoy a dinner out of doors
Warm, comfortable blankets to snuggle under
Have a place to store the indoor electronics or invest in water and weatherproof casing. Bring your blankets indoors or have a waterproof place to store them by the furniture so they are within reach when you're outside next.
Lighting matters.
Light up the outdoor space just as you would in the summer. You may want to consider Autumn themed lanterns or solar lighting.
Warm it up.
Summer will be gone before you know it. Extend the outdoor time by investing in a fire feature or fire pit. Fireplaces add heat and beauty. A fire pit is a common outdoor feature that provides heat, warmth, beauty and functionality if you use it as a cooking surface.
Firepits and fireplaces can be fueled by:
Wood
Natural gas
Propane.
Wood firepits are more "natural" but require cleanup and planning to get the fire started. You will also have to find a place to store the wood that will keep it dry. Remember wood may draw insects and you will want to keep that in mind when considering placement of the woodpile.
What can you do to convert your outdoor living space from a summer place to an Autumn place?