Having a swimming pool is fun — if everyone wants to be in the pool. If some family members are afraid of the pool or just don't like swimming, it won't be an activity that will bring everyone together, especially if mom or dad can't join in the fun because one of the children isn't a fan of the pool.
Families who have made the investment in a family swimming pool are certainly planning on it being a space in which memories are built and where everyone can spend time together. What happens if you or someone else in the family doesn't want to swim? You certainly don't want to force anyone into the water because that will likely lead to a lifelong fear of water and that's not what you're looking for.
If you're new to swimming pool ownership or have had a pool, but now have a child who you want to introduce to the water, there are ways to do it that will instill a love of swimming that will last a lifetime.
NEVER:
Force your child into the water
Leave them alone in the water
Try to get them into the pool when they're in a bad mood already
Make Swimming Together A Family Event
Tips to make pool time fun for everyone:
Let them choose their own swimsuit and life vest. Getting them involved (if they're old enough) will get them more invested in wearing the suit and vest and being in the water
Let them wear goggles. They may be afraid of getting water in their eyes and goggles will protect them.
Teach them how to blow bubbles in the water. Make it a game of them blowing raspberries and you can laugh and laugh.
Let your child bring his favorite toy into the swimming pool.
Make pool time a game!
Patience is key
You may love swimming now, but did you love it when you were a child? Patience is key to teaching a child anything and the same goes for teaching her to swim. Be encouraging. Make it fun. Don't make her go in if she doesn't want to. You can't force a child to love the swimming pool, but you can instill in them a love of it — just be aware it might not happen overnight.
If your child isn't fond of the water and you jump back out the second she starts to cry, you may be teaching her to associate swimming with crying and with your complying with her unspoken desire to get out of the water. Instead, if she's crying, hold her close and talk with her. Ask what's wrong. Maybe the water is too cold. Maybe it's scary because it's so large. Find out what she is afraid of then address that fear.
Inconsolable crying may mean you do need to get out of the pool, but first try to calmly speak with her and see what's wrong.
 Swim lessons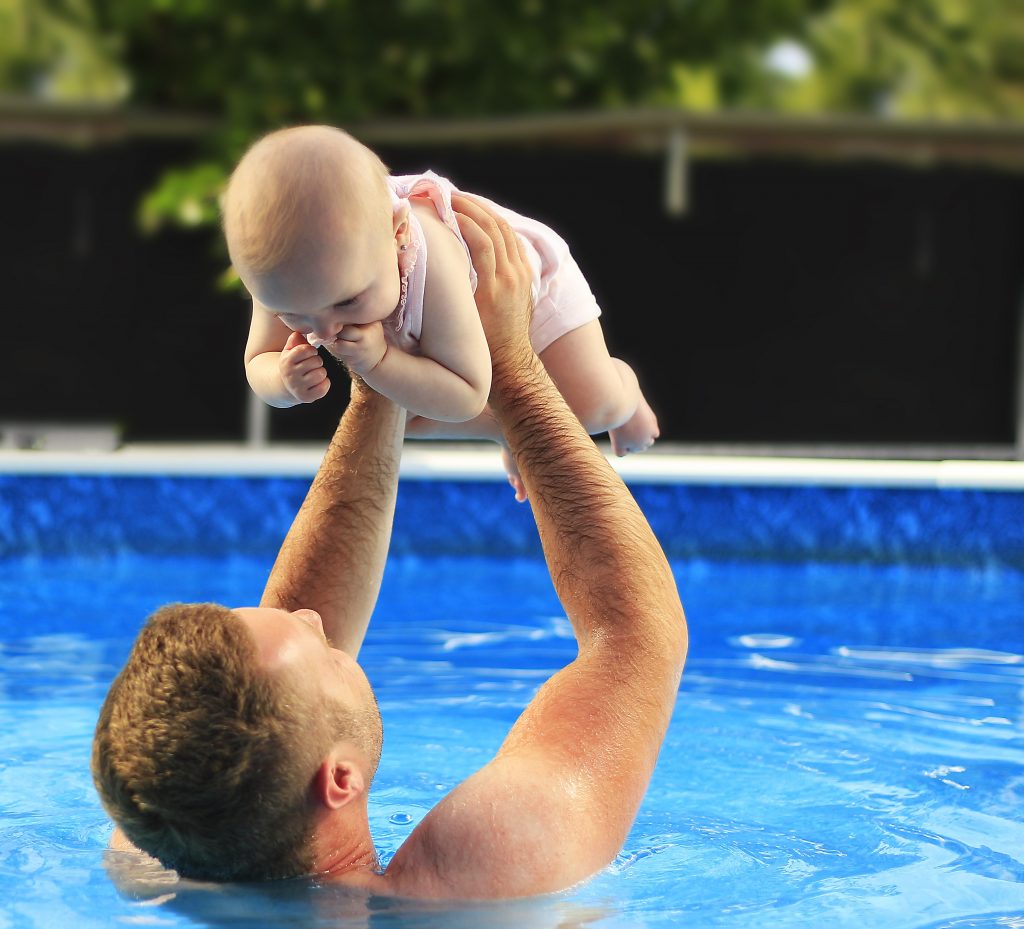 Do you know how to swim? How did you learn? Did you take lessons in school or from your parents? What are your first memories of swimming? If you have a pool, there is no better gift you can give yourself and your child than to teach him to swim.
Swimming lessons can be done in your backyard pool or in a community pool setting. Find the setting that works best for you and sign your child up. When your child is learning to swim, pay attention so you can continue the lessons at home.
A child who learns to swim may just survive a fall into the pool, BUT never leave a child alone in the pool not even for a moment.
Keep in mind that your child may not love the pool this season, but he might have a change of heart next season. No worries!
If your child loves the kiddie pool, place it poolside, put her in her swimsuit and life vest and let her splash away while you're in the "big pool."