Valentine's Day can be a day fraught with worry about what can you do to make the day memorable for the ones you love? Remember, even though it seems as though everyone wants to top everyone else on the romance — you only need to do what you need to do to share the love you have for your friends, family and other loved ones.
The most romantic part about Valentine's Day is spending time together. The money spent on that day, just because you're told you "have to" is a lot of unnecessary pressure. You can show your loved ones how you feel and take it up a notch by planning a romantic poolside or hot tub-side dinner on the grill.
If you don't usually spend Valentine's Day in the hot tub or out of doors in the swimming pool that might be just enough to make the day more special.
Plan A Romantic Poolside Or Hot Tub-side Dinner
If you've usually scurried to score reservations at a local hot spot, why not go more low key, but more romantic by planning a candlelight dinner for two (or more if you're going to get the children involved). Also, if you have single friends or relatives, invite them over and make Valentine's Day a day for friendship and fun.
We've gathered some recipes and ideas you can add to your menu this Valentine's Day.
Grilled Oysters
Oysters have long been known as an aphrodisiac, but we think they are delicious and it probably isn't something you serve every day — or serve grilled — and that makes it a delicious, romantic change!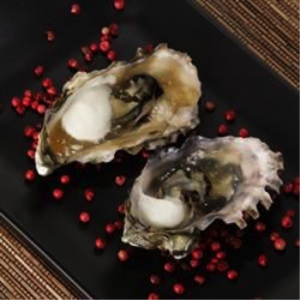 Oysters are delicious AND nutritious. Although you don't have to tell anyone they are "good for them!" you can just believe you're eating a decadent appetizer.
Ingredients:
Fresh oysters in shells
1/3 cup fresh lemon juice
3 tablespoons Worchestershire sauce
hot pepper sauce and salt to taste
Directions:
Preheat outdoor grill.
In a small bowl, combine the lemon juice, Worchestershire sauce, hot pepper sauce and salt until well blended. Set the sauce aside.
Place the whole oysters on the hot grill on direct heat. Grill for about five minutes, or until the oysters open and the juices start sizzling on the hot coals.
Remove the oysters from the grill and pry off the top shell. Slide a knife between the oyster and the shell to disconnect it from the shell.
Arrange the oysters on a plate. Top each one with a teaspoon of the sauce. Serve while still warm.
You may also want to serve melted butter with them to dip in before you splash the hot sauce on
Scallops over Fennel, Apple and Blood Orange Salad with Champagne Pomegranate Vinaigrette
This recipe is filling and fit for grilling! It is chock full of aphrodisiac-friendly foods. Its bright red color is also reminiscent of Valentine's Day colors!
Ingredients:
1/4 cup champagne
2 Tablespoons champagne vinegar or white wine vinegar
1 small shallot, finely minced
1 Tablespoon honey
1/3 cup extra virgin olive oil
1/4 cup pomegranate seeds
1 bulb fennel
1 Granny Smith apple, cut in half
1 small blood orange, sliced into rounds
4 dry-pack scallops
Directions:
Preheat your outdoor grill on medium heat.
Mix the champagne, vinegar, shallot and honey together. Whisk until well combined.
Drizzle in the olive oil a little at a time while whisking continuously until the dressing emulsifies.
Pat the scallops dry.
Season with salt and pepper.
Cut the stalks and fronds off the fennel bulb. Reserve the fronds. Cut the fennel bulb into quarters.
Brush vinaigrette on the scallops, apple halves, fennel bulb quarters and blood orange slices on both sides.
Place on the grill.
Cook the scallops for three to five minutes, set aside.
Continue grilling the fruits and vegetables until they are slightly charred. Remove from the grill.
Cut the grilled fennel and apple into thin slices. Toss these along with the grilled orange slices with a little bit more of the vinaigrette until they are barely coated.
Place a mound of the salad on a plate.
Top with two scallops.
Garnish with pomegranate seeds and fennel fronds.
Serve along with a glass of the same champagne you used in the vinaigrette.
Lamb 'Lollipops' with Warm Mint Pesto
No grilled Valentine's Day dinner would be complete without a a decadent grilled meat like lamb. This recipe is a showstopper. When you top with the fresh mint pesto with its garlic, red pepper and pine nuts you are enhancing the rich flavor of the lamb.
Ingredients:
1 Frenched rack of lamb with 6-8 rib bones
2 Tablespoons butter
1/4 cup plus 1 tablespoon extra virgin olive oil
1 teaspoon coarse or kosher salt
1/2 cup fresh mint leaves
1/2 cup fresh parsley leaves
1 clove garlic
1/2 teaspoon crushed red pepper
1/4 cup pine nuts
1 Tablespoon rice vinegar
2 Tablespoon water
Directions:
Preheat your outdoor grill on medium heat
Add the parsley, mint, red pepper, garlic, pine nuts, 1/4 cup olive oil, vinegar, and water into a food processor. Pulse the ingredients until it forms a thick sauce.
Season with salt to taste.
Cut the rack of lamb between each of the rib bones to make small chops. Trim off the excess fat.
Drizzle both sides of the rib bones with olive oil and season with salt.
Grill chops for 5 minutes on each side, flipping once.
Remove from grill and wrap in aluminum foil.
Let the chops rest for 10 minutes.
Transfer mint pesto mixture into a small saucepan and add the butter.
Place on the grill and gently stir in the butter until it is completely melted, taking care that the butter does not split in the pesto mixture.
To serve, arrange 3-4 chops on a plate. Drizzle mint pesto over the chops.
Transfer the remaining pesto into a small bowl and serve on the side.
 Let's not forget dessert
Grilled Figs with Mascarpone and Smoked Chocolate Ganache
Figs and chocolate are a unique flavor pairing and are considered potent aphrodisiacs. Legend has it that figs were one of Cleopatra's favorite foods.
Ingredients:
6 ripe figs
2-3 barbecue skewers
1/3 cup mascarpone cheese
1 1/2 cups cream
3/4 cup semi-sweet chocolate chips
A handful of cherry, apple or persimmon wood chips
Directions:
Heat up your outdoor grill and throw in the wood chips along with the charcoal, dividing the area in your grill so that you have an area for direct heat and indirect heat.
Close the lid for 30 minutes to allow the smoke to build up.
In a small saucepan, pour in the cream chocolate chip pieces.
Place the saucepan on the indirect heat portion. Close the lid to allow the smoke flavor to infuse into the chocolate.
After 15 minutes, open the lid to stir in the chocolate until the chocolate is completely incorporated into the cream. Close the lid for another 5 minutes.
Remove from the grill and allow this to cool for 10 minutes.
Let the ganache cool
Wash the figs and cut them in half lengthwise.
Carefully thread 4 fig halves onto a skewer.
Place the figs onto the grill with the cut side down on direct heat. Grill the figs for 2 minutes or until grill marks appear on the cut side of the figs. Remove the figs from the grill and allow these to cool for a few minutes.
To serve, spoon a bit of the chocolate ganache on the plate. Arrange 6 fig halves on the plate. Add a dollop of mascarpone cheese onto each fig half and drizzle with more of the chocolate ganache.
Gather your ingredients, invite guests or simply have a romantic evening for two with these delicious grilled romantic foods!