It's only June, you're thinking so why am I planning my July 4th swimming pool party now? Well, you don't want your guests to have made other plans. Ask them to "save the date" for your party even if you don't have it all planned out yet. There is no time like the present to:
Make your guest list
Start buying decorations
Plan the menu (food and drinks)
Plan activities for young and old
Decide where you will watch the fireworks
Plan an additional pool cleaning before the party and after
Even though summer is well underway by the time July 4 rolls around, it seems as though July 4 is the second "official" kick-off to summer — the first being Memorial Day. July 4th is fun because the day ends with fireworks and what better way to end a day with friends and family than to watch "fire in the sky"? We can't think of anything better!
Plan Your July 4th Swimming Pool Party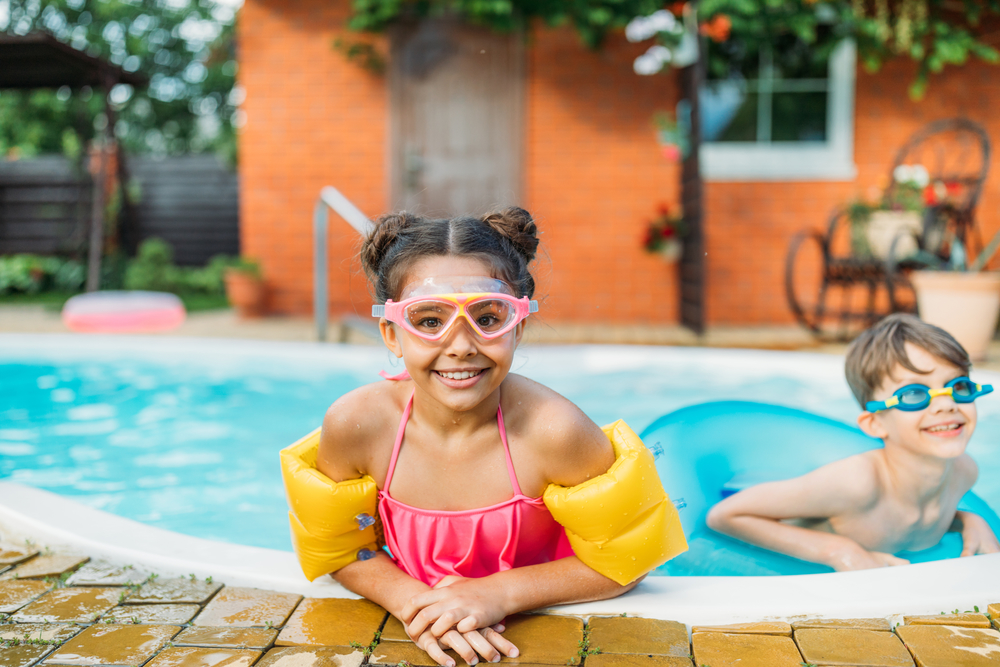 Here are our favorite ways to get prepared for a party — no matter if it's a holiday or just a weekend!
Will you have a theme other than the holiday? July 4, lends itself to no other theme being needed! If you're going to go with traditional red, white and blue you can't go wrong. W
What will you serve? Traditional picnic and party foods like hot dogs, hamburgers, chicken, turkey burgers and/or veggie burgers? How about shish kabobs? Finger foods like mini hot dogs in barbecue sauce? Maybe even wings or ribs. Truly whatever you want to grill up will be tasty!
What sides will you serve? Macaroni salad? Potato salad? Chips and dip. Veggies and dip. Tossed salad.
How about for dessert? Cupcakes? Watermelon and a fruit salad with a side of vanilla yogurt or vanilla ice cream. Cookies? Cakes? Frozen treats for the kids?
Will you accept help from friends and family who want to bring a dish to pass? You need to decide whether you will and then write down who offers to bring what. You don't want six macaroni salads and no burger rolls, lol.
Don't forget to stock up on dollar store flip flops and some sun block in varying levels of coverage. Chances are your guests won't remember to pack their own.
Ask guests to bring towels if you're worried you won't have enough. Ditto for chairs in case you don't have enough to accommodate everyone.
Will your grill be big enough to accommodate all the food you need to cook? Do you have a neighbor or friend who is always happy to lend his or her grill? Ask early!
Will you have sparklers for the children? If you do, use extreme caution because they can cause dangerous injury.
If you're going to watch fireworks, how will you get there? Do you need to carpool? Can you walk? Make arrangements early so you can not have to fight too many crowds.
Do you have space to house any overnight guests? If you're serving adult beverages, you don't want any of your guests who have been imbibing to be behind the wheel. Opt for sleeping under the stars, inviting guests in to sleep where they can find a spot or get a few tents or a screen house to house the overnight guests. If you anticipate having people spend the night, make sure you have some breakfast foods ready. Make a few breakfast casseroles the day before. They are easy to just pop into the oven and warm up the next morning.
Plan activities out of the water for those who don't want to swim.
When it comes to swimming pool safety,
Make the diving board off limits if there are a lot of people in the pool
Parents of young children should be responsible for them. Institute a rule that children should be within fingertip length of an adult at all times.
Buy extra life vests in case your guests don't have any or forget to bring theirs.
Have a safe and happy Fourth of July party!