Don't you hate it when you need to leave your guests and family and the fun that is going on in the backyard around the swimming pool just to start cooking dinner? Also, who wants to be in a hot kitchen when the summer weather can be so fleeting for so many pool owners? No one — that's who!
If you have been thinking of getting an outdoor kitchen space, why not talk with your pool contractor about making it happen this year? Whether you've been budgeting for it or have simply decided this is the year to take the leap and move more of your indoor living to the out of doors, pool owners who have outdoor kitchens say it is not a decision they have ever regretted!
When planning your outdoor kitchen look for a balance of affordability, functionality and style.
Planning Your 2020 Outdoor Kitchen Project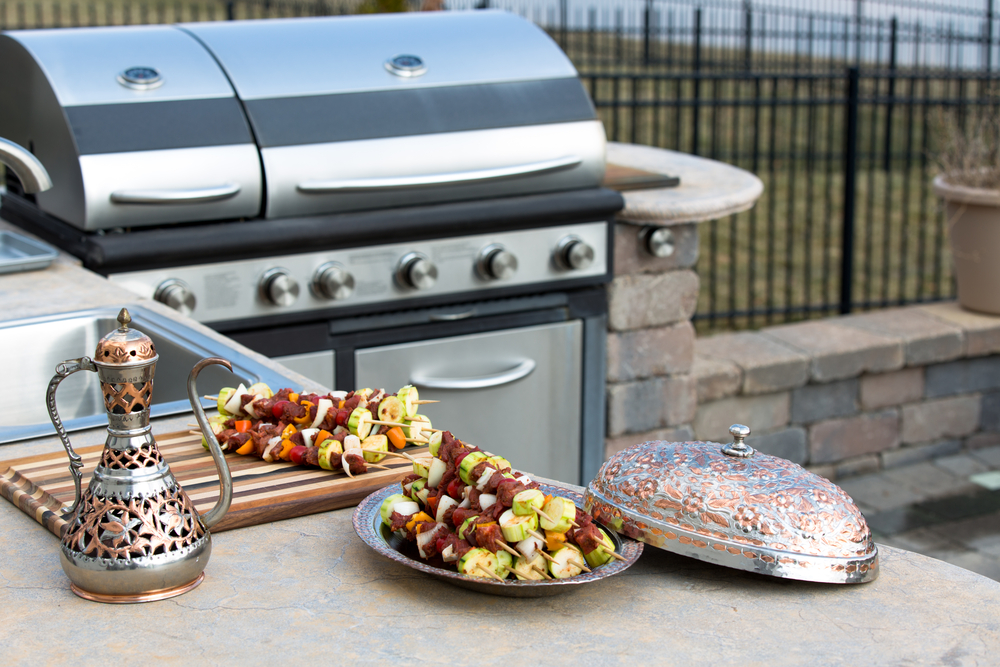 With the new year looming, this is the time of year when many pool and homeowners look at how they want to spend their summer in the new year and if that is something you and your family are doing, give your pool contractor a call and have him draw up plans.
Do you have space for a kitchen?
Remember, every space you devote to an outdoor kitchen (just as when you had a pool constructed) is space you won't have available for other outdoor activities.
Space for the outdoor kitchen also involves how easy it is to get from the house to the kitchen, what plumbing and electricity you will need to have run and the space around the pool you want to have available.
Items that can take up space in your outdoor kitchen include:
Seating areas
Stove, grill combination
Sink
Food prep space
Cupboards
Refrigerator
Ask your pool contractor to design a kitchen with various components so you can have a visual of how the completed project will look.
Will the indoor and outdoor kitchen work together?
Your indoor kitchen will play a role when constructing the outdoor kitchen. How? The space you're devoting to the outdoor kitchen space may mean you need to use more of your indoor kitchen for prep than you'd imagined. Do you want to fully equip an outdoor kitchen with plates, utensils, cooking pans, etc. or will you use your indoor items in the outdoor kitchen?
If you're going to be moving items to and from kitchens, make sure you have an easy and smooth path to do so.
What can you not live without?
Some people cannot live without a wine fridge, others need a wet and dry prep space, still, others cannot imagine not having a dishwasher. What are your absolute must-haves? Let your contractor know this up front; don't compromise if you know you will not be happy Put together your list of essentials which could include:
Prep space
Grill top
Stove top
Cupboards and drawer space
Refrigerator
Microwave, etc.
Do you truly need everything in your outdoor kitchen that you have in your indoor kitchen? Give your must-have list a good, hard look during the planning stages.
Look for low-maintenance materials that can withstand the elements. Look for pre-fabricated items for your kitchen. See how items you already have can be incorporated into the kitchen design. For example, if you have a new grill, find a way to get that into the new kitchen construction rather than investing in a new one.
Do you want a covered space with a permanent roof or will you be happy with a gazebo or umbrellas?
Mirror or contrast with your home design?
Do you want your outdoor kitchen space to be a design extension of your home or do you want it to look like a completely separate area? Keep in mind that if you ever sell your home, you will want to appeal to the widest buyer base and that could play a role in your decision-making.
Are you going for a minimalist look for your kitchen? Do you want a kitchen that is vibrant and full of bright colors and shapes even though your house is neutral in shape and color?
DIY or professional project?
On a scale of 1 to 10, how much of a DIYer are you? Do you feel comfortable and confident taking on a project as large and costly as constructing an outdoor kitchen? If the answer is a shaky "maybe" you may want to leave the project to the pros or you can do some aspects of the project and leave the major components to the pros.
Having an outdoor kitchen makes your swimming pool even more party-ready and your home even more of a party hotspot. Are you ready for a new outdoor kitchen this year?