Is September too early to start planning your Halloween pool party bash? Not at all! You want to get the plans in place and have your guests "save the date" for your party! You can even host a pool party bash at Halloween even if your pool has been closed. Although you may want to consider keeping your pool open for the Halloween party — if you have a pool heater.
Pool owners who live in the warmer climates have the advantage that their pools may not even be closed yet and they may even be able to take the chill off the water by running the pool heater for a brief time. If you have a hot tub, you may use that for your "pool" party bash.
If it's chilly where you live when Halloween rolls around you can still invite guests to swim and offer them heated towels. The towels can come from a heated towel rack or be freshly warmed from the dryer!
Start Planning Your Halloween Pool Party Bash!
Throwing a Halloween party will just might be the last party you will throw this season and your guests may be so excited about it that they will be thrilled to brave a bit of a chill in order to spend time outdoors, with friends and be poolside.
Gather Halloween pool party supplies 
The pool, of course! If the pool is closed, then spend time in the hot tub.
Decorate! Skeletons, coffins, webs and spiders, headstones and inflatable decorations
Pumpkins — carved and ready-to-carve. You can let your guests carve a pumpkin as a pool party activity! They can take it home with them and use it to decorate their own homes! Offer cut-outs and painting supplies.
Orange bulbs and blacklights to set the mood
A fog machine
Spooky and fun Halloween music
Halloween-centric snacks and treats
If the pool is still open, get some floating candles to help set the mood and light the night
Flashlights, glow sticks and light up necklaces and bracelets
 Halloween party activities
What can you do to make your Halloween party one your guests will long remember?
Pumpkin carving station. Have child-friendly pumpkin carving utentsils. Have an adult on hand to help those who can't carve their own pumpkins. Get some stencils to help with design ideas. Set up a painting station for those who'd rather paint their pumpkins. Grab battery-operated candles to put into the pumpkins.
Have a pumpkin carving/painting contest! You can use the same criteria for the pumpkins as you use for the Halloween costume contest.
Let guests know there will be a costume contest with prizes.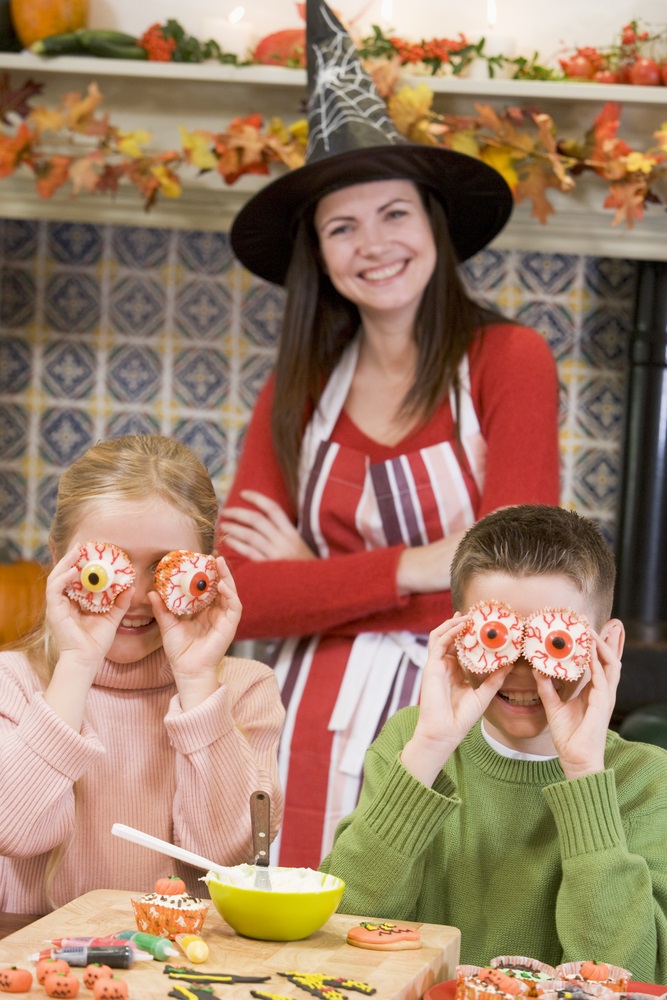 Your costume contest categories can be:
Scariest
Funniest
Coolest
Most unique
Best use of a theme
Etc.
Give prizes to everyone! You may have a grand prize winner and maybe you can have everyone present vote on the grand prize winner!
Swimming pool or backyard treasure hunt. If the pool is open, have a Halloween pool party treasure hunt. Drop items into the pool. The person who finds the most items wins a prize. Make sure you have your in-pool lighting on and give your party goers a glow stick to swim with to help them find the sunken treasures.
If the water is too cold, host the treasure hunt in the backyard. Hide Halloween themed items — tiny plastic pumpkins, spider rings, Halloween candy, etc.
Halloween pool party safety 
If the party is going to start after the sun goes down, or even if it starts before the sun sets, you will want to be prepared for guests to stay until the sun has gone down — that's the mark of a good party!
Light the pool if guests will be swimming. Also line up a responsible adult or two to keep track of anyone swimming pool.
Use battery-operated lights for pumpkins. Candles are beautiful but are a fire hazard.
If you have inflatables and pool floats used in the pool for your Halloween party, make sure they are in good condition and have no air leaks.
Have life vests on hand.
Have additional towels on hand for those guests who didn't bring theirs with them.
If you're serving adult beverages, don't let guests who have been imbibing drive home. Have a space set up for guests to spend the night and have breakfast foods on hand (casseroles are ideal) to feed those guests who spent the night.
Make Halloween memories 
Time spent in and around the pool makes for lasting memories. Add in the fun, spooky time of Halloween you amp that party fun and the memories you build up a notch!
Invite your guests to Halloween Party Central as soon as they arrive by having your yard decorated! Fill pumpkin and bat-designed leaf bags, hang ghosts, witches and bats in the trees and on the porch. Play scary music. Set up a scarecrow in a chair on the porch. Don't forget to hang cobwebs and toss in a few plastic spiders.
Halloween party food
Every party needs food and your Halloween party is no different. There are literally thousands of food ideas on Pinterest and other Google searches. You may want to serve burgers and hots and salads, chips and dip. You may also want to serve Halloween themed treats and even scary food items for the guests to play in (cooked, cold spaghetti makes great "intestines," peeled grapes are ideal "eyeballs."
If a guest says, "what can I bring?" Take them up on their offer to help with a meal component. Tell them your menu and see what they want to add or ask them what they want to bring and make it work.
Trick-or-treating
If you're hosting the party on Halloween, or when trick-or-treating is scheduled in your neighborhood, set aside time to answer the door to little trick-or-treaters. Make time in the party festivities if your guests and their children want to trick-or-treat in your neighborhood.
Above all — have a great, and safe, Halloween!