A swimming pool enclosure is different from an indoor pool. They may seem the same and the difference may be negligible but a swimming pool enclosure is a structure you build up and around the swimming pool – whether it's by the house or in the back yard. An indoor pool is typically built in a "spare" space within the structure of your house or you would have an additional structure constructed to house the swimming pool.
Swimming pool and hot tub enclosures:
Extend the pool swim season
Keep out the elements
Help keep the water cleaner longer
Trap any heat if you heat the pool water
They save on maintenance costs and chemical usage
Water bills may be lower because there won't be as much water evaporation
It may be easier to keep children and pets out of the pool
You will prevent bugs, rodents and other creepy outdoor pets from calling your pool home
The Benefits Of A Swimming Pool Enclosure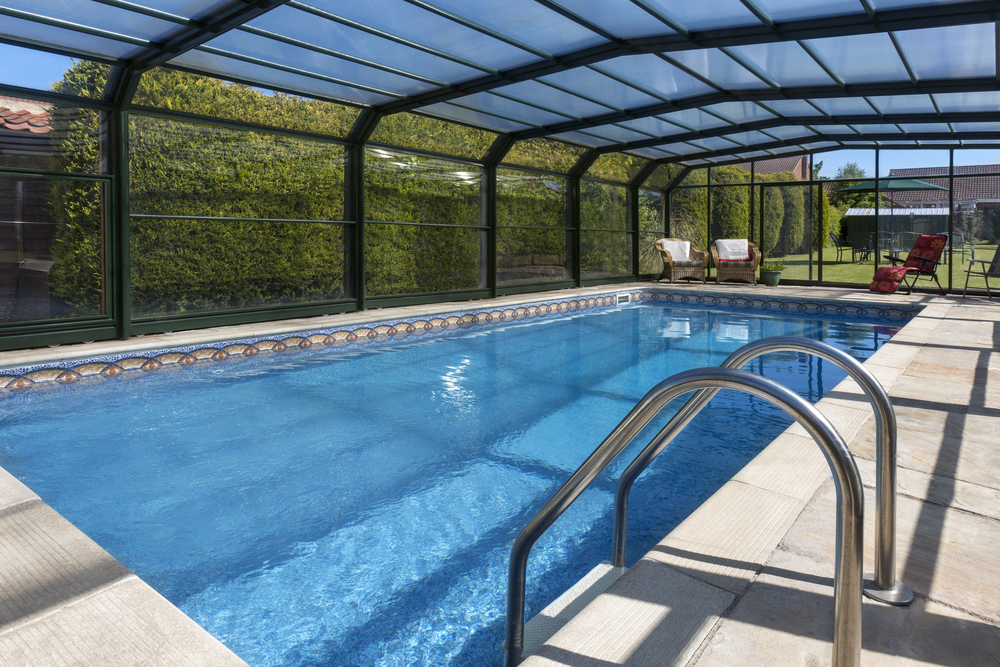 If you want the feeling of an indoor swimming pool or hot tub without having to move the pool or hot tub into the house, a pool enclosure might be just what you're looking for.
An enclosure is typically glass covered so you always feel like you're outdoors. Enclosures are equipped with sliding entry doors and even retractable roofs to make you feel even more like you're out of doors. The sliding doors may be available on all sides so you will get a great cross breeze and you won't feel as though you're swimming in a greenhouse.
When the weather cooperates, open up the doors. When it's raining and cold and dreary, close the doors and swim to the sound of the rain on the roof! Look for a polycarbonate enclosure material because this will also provide protection from ultraviolet lights while still allowing the heat and light of the sun to penetrate.
Swimming pool and hot tub enclosures can be attached to your home – if your pool is close to the house – or they can be free-standing if the pool is in the backyard. The enclosure can be delivered to your home pre-assembled or your pool contractor can construct it on site. The enclosures are made of tempered glass and stainless steel beams.
Your swimming pool is the focal point of your yard and as such you need to assure that the pool enclosure you invest in adds to, doesn't detract from, the aesthetic appeal of your pool.
Swimming pool owners who live in the warmer areas of the country like California or Arizona may not want to invest in a pool enclosure but may find that a pool house, gazebo or cabana works best. They are already able to enjoy themselves poolside for many months of the year. Pool owners in areas like New York or Maine, for example, could benefit from a pool enclosure because it would definitely extend the pool swimming season.
Check your budget and give your pool contractor a call and see if you have the budget available to have a pool enclosure constructed and what you need to do to make that project happen.
Determine the return on your investment (ROI) on a pool enclosure and how it will potentially save you money on pool maintenance and how you will be able to swim longer throughout the year. A longer swim season just might be the deciding factor!