Throw An Independence Day (July 4th) Party To Remember
The Fourth of July is a holiday celebrated with patriotism, fireworks, good food, good weather and great friends. It's a time when families have picnics at their homes, visit amusement parks and gather to kick off summer. Many of these picnics boast barbecued foods, burgers, corn on the cob, your favorite music, delicious desserts and more.
What are the keys to a great Fourth of July party? There are a few things to make your party a stand out and one that people will be looking forward to the next year:
The sounds of the party. What kind of music will you play? What kind of music do you enjoy? Why not ask your guests what kind of music they enjoy and you can make a soundtrack of various tunes sure to please. When it's time the fireworks watch them with a backdrop of the New York Philharmonic playing in the background. If you have friends who play in a band, invite them along and see if they want to play some music to entertain your guests. "Stars and Stripes Forever" is ideal background music to a sky filled with fireworks and the ooohhs and aaaahhhs of your guests.
Party fun. Your swimming pool will probably be the hot spot and one of the main attractions of the party so make sure it's cleaned and serviced prior to the party and schedule a pool cleaning immediately following the party as well. Pick up some pool games that the kids and the adults will enjoy. Anything from objects that can be sunk for a treasure hunt to in pool volleyball or basketball games. Have rafts and other floatables on hand for those guests who simply want to relax and lounge in the pool – that is, until they get soaked from the guests playing games!
Backyard fun. Croquet is still a fun game and that's why it's been around for decades. Bocce ball is fun and requires no set up like croquet does. A badminton or volleyball net will be fun for those guests who don't want to play in the pool. Grab a kiddie pool or two and fill one with sand and one with water for the youngsters who don't want to go into the big pool. If you have an extra kiddie pool, the dogs could use it or you could use one to hold ice and your beverages.
Party supplies. Stock up on dollar store flip flops, have extra towels on hand and don't forget sunscreen, sunblock and even lip balm to protect everyone at the party. No one wants to have a sunburn as a memory of the party.
Speaking of memories. Digital photos are great, but why not look into the automatic cameras which are gaining in popularity. Take photos of your guests and hang them or place them around the outdoor living space. You can sting up some yarn or string and tiny craft clothespins and hang the developing photos up. Your guests can choose a photo that they are featured in and take it home with them as a memento. Make sure you have a lot of film on hand to allow this to happen. Even though you're taking "real" photos, you will still want to capture the moments on digital camera or your smart phone as well. Set up a private Facebook group and share all of the photos with your guests. Invite them to the page and let them know the photos are for the group and are not visible to the public. Guests can print photos from the group that they want if they're building their own summer fun scrapbook.
Decorate with abandon. Yes, the Fourth of July is marked by red, white and blue, and unless you want to buck tradition, decorate in those colors. Hang streamers. Blow up red, white and blue balloons. Buy some colored candles to place on the tables for light when the sun goes down. If you're crafty, pick up some terra cotta planters and paint them in patriotic designs, fill them with beautiful flowers, party decorations and offer the table decorations as "parting gifts" to your guests.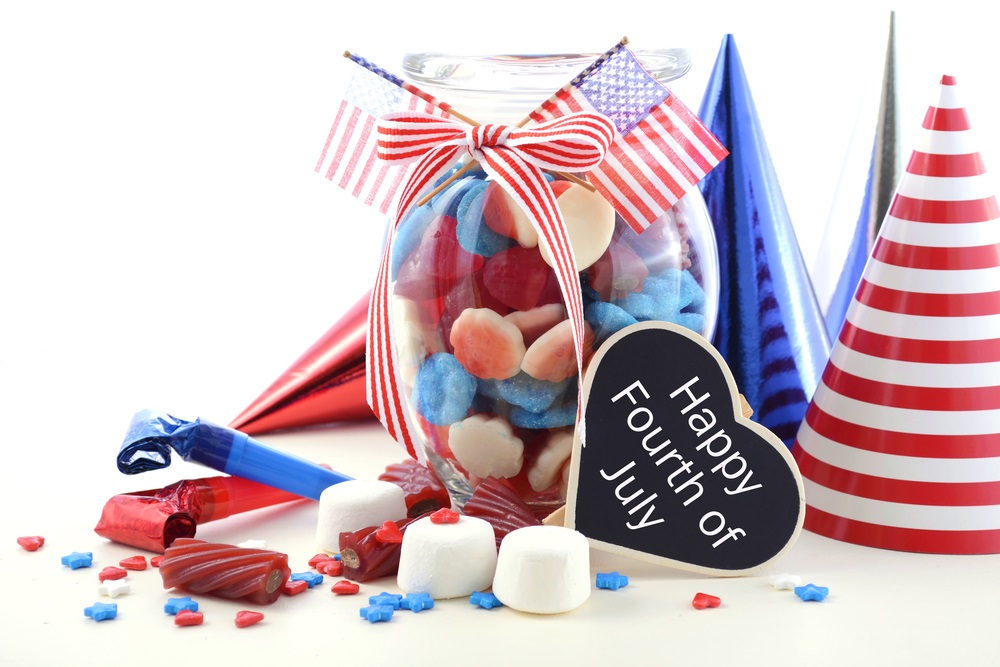 Keep it safe. When the pool is being used you need to specifically appoint a responsible adult to watch out for everyone. Depending on how many people are in the pool, you may need more than one person whose only task is to monitor the safety of those in the pool. If you're serving alcoholic beverages you may want to appoint a designated driver to take those guests home who shouldn't be behind the wheel. If you want to extend the pool fun, invite everyone to spend the night. Set up tents in the backyard and let the party continue until the wee hours. In the morning, serve breakfast before you send everyone on their way.
Light, bright red, white and blue dessert
Strawberries, sliced
Blueberries
Croissants, sliced
Whipped cream – homemade or store bought
Spread whipped cream on the sliced croissants, layer strawberries and blueberries, top with the croissant. Chill and serve.
Old Fashioned Potato Salad
Directions: Bring a large pot of salted water to a boil. Add potatoes and cook until tender but still firm, about 15 minutes. Drain, cool, peel and chop.
Place eggs in a saucepan and cover with cold water. Bring water to a boil; cover, remove from heat, and let eggs stand in hot water for 10 to 12 minutes. Remove from hot water, cool, peel and chop.
In a large bowl, combine the potatoes, eggs, celery, onion, relish, garlic salt, celery salt, mustard, pepper and mayonnaise. Mix together well and refrigerate until chilled. (AllTastyRecipes.com)

Make your own lemonade
(This is fun for all guests!)
Lemons, cut into quarters
Sugar
Ice
Water
Give your guests a chance to squeeze their own lemons for lemonade. Show them how to squeeze out the juice, add water and ice and sugar to taste. Yum! You can even add more interest and intrigue by dropping in a few sliced strawberries and/or blueberries.
If you want to add to the fun, mix in sparking water or club soda to give the homemade lemonade a bubbly, fun taste and look.
Barbecue cookoff
Do you have friends who just love to brag on their ribs, chicken or other grilled foods? Invite them to "bring their best" and have a cook-off. Have a prize on hand for the winner (We bet that all of your guests who participate will be winners, so have enough prizes for everyone!)
If you have grillers doing this, you can take on the responsibility of making the side dishes. Friends who ask if they can help, make sure you tell them yes! And Thank you! Set up your menu, tell them what's on it and see what they want to bring.
If you have guests who are going to participate in the grill-off, mention that in your private Facebook group and let the "trash talking" begin!
July Fourth Fun Facts to entertain your guests with
The Fourth of July commemorates the adoption of the Declaration of Independence. It was initially adopted by Congress on July 2, 1776, but then it was revised and the final version was adopted two days later.
Thomas Jefferson drafted the Declaration of Independence on a "laptop," which was a writing desk that could fit on one's lap.
John Adams and Thomas Jefferson both died on July 4, 1826.
Congress declared July 4th as an official holiday in 1870 as part of a bill to officially recognize other holidays, Christmas being one of them.
The American Pyrotechnics Association (APA) estimates that more than 14,000 fireworks displays light up U.S. skies each 4th of July.
How will you celebrate July Fourth? No matter how you do it. Be safe. Have fun!