Hands up if you absolutely love your swimming pool!
When you have a swimming pool your house is party central and that means the pool will encourage people to gather at your home and in the outdoor living space. A pool provides endless hours of fun and is an ideal place to host pool parties for the children and the adults.
Why is a pool so ideally suited to fun?
It's a place to cool off
Everyone loves pool games and swimming
It's a great place to build memories with your friends and family
It's. A. Pool!
Tips To Keep Your Pool Trouble Free
You will spent countless hours in and around the pool, but there are also maintenance items that need to be attended to in order to keep the pool and the outdoor living space clean and healthy and fun for those parties you'll be hosting.
Bathroom breaks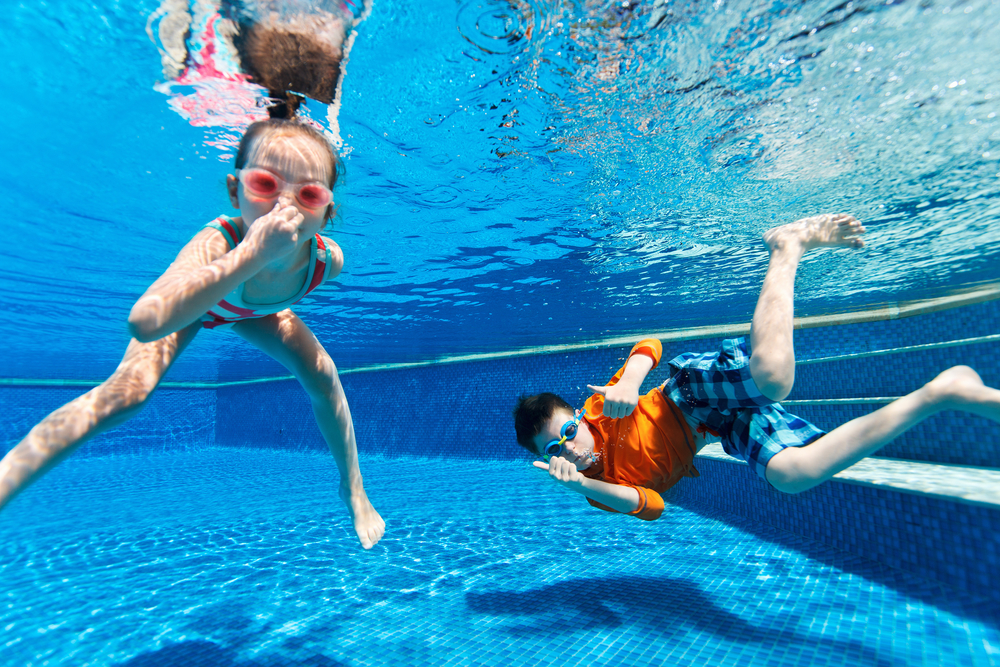 Okay, we shouldn't have to say it, but please don't pee in the pool. Make certain children use the bathroom before they get in the pool and that they take regular bathroom breaks. It will be up to the adults to assure the kiddos get out of the pool to pee!
If you have a pool house and have a bathroom in it, it will be easier to assure that no one pees in the pool.
Here is a very good reason to not pee in the pool. Feel free to share this with your guests! Check the water for chemicals like trichloramine and cyanogen chloride. This forms in pools with chlorinated water and when mixed with human urine it reacts with the chemicals and can morph into cyanogen. This is an odorless, colorless chemical that has been used in chemical warfare and can affect the nervous system, lungs and the heart.
Make sure the water is not harboring these chemicals by enforcing a "no pee in the pool rule."
Chemical testing
The pool water chemistry needs to be tested regularly. What your pool contractor is testing for, and what you will be testing for between pool service visits is:
Cyanuric acid
free chlorine
pH levels
Alkalinity, and
Calcium
Your pool contractor will bring a test kit with him when he services the pool. You can purchase a pool water testing kit from him, at a local pool store or you can take water to the pool contractors' store and they can test the water for you.
Maintaining proper chemical balances is critical to keeping the water bacteria-free and the swimmers safe.
Debris clean up
Your swimming pool filter will do a lot of work and heavy lifting to keep debris out of the water. But as a responsible pool owner you will want to grab the skimmer — several times a day — and skim debris from the surface of te pool. If you use a pool cover, it will keep debris out.
Also, pick up debris that collects around the pool and the pump and filter. When you mow the grass, debris can collect and can make the pool area look unsightly.
Filter cleaning
The swimming pool filter is a hard worker. It keeps the water clean, it captures debirs, it pushes the water back into the pool when it's been filtered.
If not for the filter, the pool water will get murky quickly. Clean the filter basket at least weekly.
Leaks
There are complicated instruments and gauges that can check for leaks, but you can do it yourself, just by being observant. Look for standing water. Make note of whether the pool water levels are dropping more quickly than they should be from simple evaporation.
Perform the bucket test:
Grab a bucket
Draw a line inside the bucket where you fill the water level and on the outside of the bucket where the pool water level is
Drop a brick in it
Place it on a step inside the pool such that the water level in the bucket is exactly the same as the water level in the pool
Wait a few days. If there is a significant difference in levels, you have a leak.
Note: Checking for leaks is not the same as finding the leak. Once you find out that there is a leak, you need to find where the leak is and get it fixed. A leaky pool is a serious hazard to your home as well as your pocket.
Talk with your pool contractor to see if there are little tasks you should do between service visits to assure your pool is in top shape!