Do you have rules of the pool? Do you always enforce the rules? It's important that you do because any lapse in rules around the swimming pool could lead to a slip and fall injury or even worse. The best way to make sure rules of the pool are adhered to is to set them down when you open the pool for the first time.
There is nothing more enjoyable than building memories and having fun with family and friends in and around the swimming pool. Children can swim before they walk as long as they're introduced to the water in a way that helps them enjoy it and not fear it. Talk with your child's physician before you get into the pool to make certain they're healthy enough to be in the pool with you.
You may also want to put a swim cap and even goggles on your baby so their delicate eyes don't get red and water doesn't get in their ears.
Swimming pools and family are an amazing combination, as long as you have safety measures in place to keep everyone healthy and happy poolside all summer long!
Pool safety for everyone
It makes sense that you will want to have pool safety measures in place for children, but adults and teens are not immune to potential swimming pool accidents. In fact, we don't recommend that anyone ever swim alone — not even adults. You never know when you might suffer a medical emergency and if you're alone you may not be able to get out of the pool. Always have a person in charge of the activity in the pool. This person should know how many people are in the water and should always be checking to be sure they can see everyone in the water.
Safety facts
Swimming lessons are recommended by the American Academy of Pediatrics for children four years old or older. You can teach your children to swim at a younger age as long as your doctor agrees and that you can find a swim instructor who teaches young children.
No matter whether your child passes his swim lessons, you can never leave him alone in the pool. A water safety class can certainly reduce the risk of drowning, but nothing is foolproof and children need to be supervised at all times.
Toddler Swimming Pool Safety Tips
Children have no fear of anything and will love the water unless they are made to fear it. Children will love swimming in the pool with you, or splashing around in a kiddy pool. You may find, though that your child will be hesitant to get into the pool at first because it's much larger than the swimming pool or kiddy pool they have come to love.
If your child doesn't seem to want to go into the water — even if he loved it the day before — don't force him. Don't try to tell him, "you'll love it once you get into the pool." Always making time in the pool fun and enjoyable will help build a love of the water for a lifetime.
Here are some basic rules of the pool
No riding toys poolside. 
Don't let your children ride trikes or bikes or scooters by the pool. If the deck is wet, they could easily slip and fall into the pool or onto the deck and injure themselves. Also, don't leave any riding toys inside the pool fence; they will lure the children to try and climb the fence to get to them.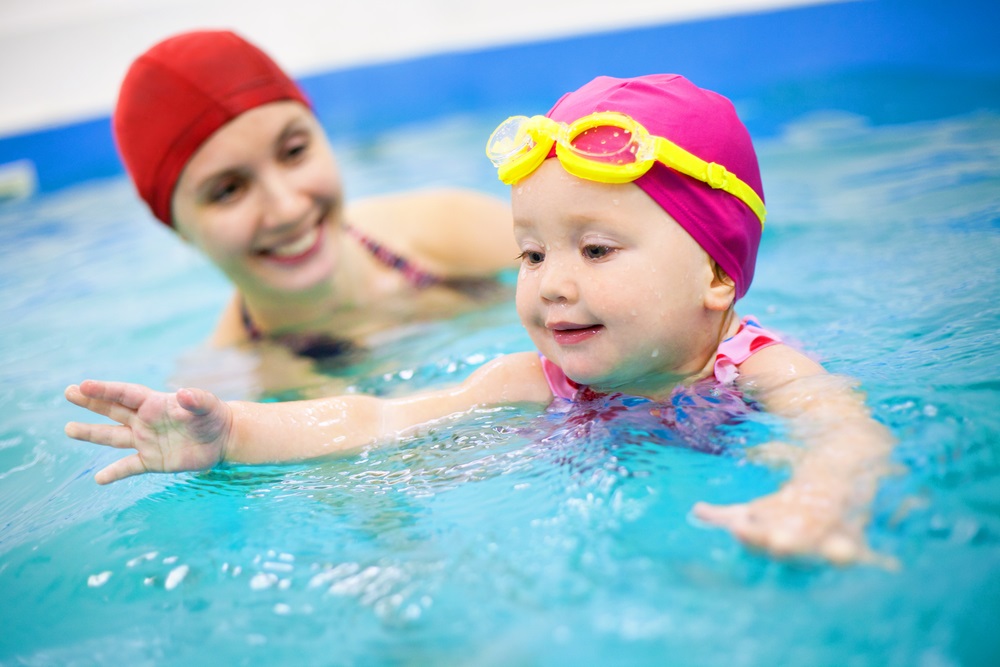 No one should be left alone in the pool EVER
We cannot stress this enough. No adult. No child. No one should be left alone in the pool. You don't want to "run into the house for just a second." An accident can happen in the blink of an eye. Your "second" could turn out to be longer than you anticipated. The best way to keep everyone safe is to keep everyone supervised.
Supervise. Supervise. Supervise. 
Children, even those who know how to swim, should have close supervision. If you're having a swimming pool party, you may want to have your children wear safety vests because it will keep them safer, especially in a pool full of people. Don't let your children wear inflatable water wings as they can easily slip off a wet arm and your child could go under water.
When you're having a pool party, there should be someone responsible for the children and that person should always be within arms' length of the children. You may need more than one adult to be responsible for the children if there are quite a few of them in the water.
Check the gate. Keep it locked. 
Invest in a self locking pool fence gate. Chances are you will always remember to pull the gate tightly closed, but on that rare occasion you don't a self locking gate is your best friend. Test the gate to make sure it's latched. Check the fencing to assure there are no holes or areas into which your children could climb through or over.
Add pool alarms to add layers of safety to the swimming pool. You can buy floating pool alarms, infrared pool alarms that will sound when the beam is broken and combinations of other styles. You can also add an alarm to the pool gate that will sound if it's opened.
Life saving equipment 
No poolside safety is complete without having:
life vests in various sizes
a telescoping pole to pull someone out
a lifesaving ring
a phone poolside for emergencies only
CPR instructions and/or someone who lives in the house who knows CPR
Always let fun be part of the rules of the pool
We certainly never want to scare anyone away from spending time in the pool with friends and family. We just want to make certain the pool is always enjoyed and family is celebrated together with as much safety as possible!