Who's ready to get out of the kitchen and free up some oven space? Who wants to be crowned pie grill master of the holiday? If you raised your hand then you want to try your hand at a grilled pumpkin pie. Whether you let your guests make their own mini or personal pies for your Thanksgiving day dinner, you can grill a pumpkin pie, or mincemeat or a sweet potato pie for a delicious and unique way to end the Thanksgiving day dinner.
Try Your Hand At A Grilled Pumpkin Pie
The beauty of pumpkin or mincemeat or sweet potato pies is that they are not only delicious but they are very forgiving in case there is a mishap (which there won't be!) Pull your outdoor grill into service on Thanksgiving day and use it to bake your desserts. Keep in mind that back before indoor ovens, all foods — including pies — were cooked on open flames and in fire pits.
The beauty of grilling a pumpkin pie is that you don't need to adjust your favorite recipe. Follow your family's favorite recipe. The only adjustment you may make is to the temperature of the grill or to have to cook the pie on indirect heat.
If you want to try your hand at our very favorite pumpkin pie recipe, we want to share it with you. Note that you can use canned pumpkin or you can use a pumpkin that you've cut and cooked down from scratch. You can cook the pumpkin down on the grill if you really want to go "from scratch."
Grilled Pumpkin Pie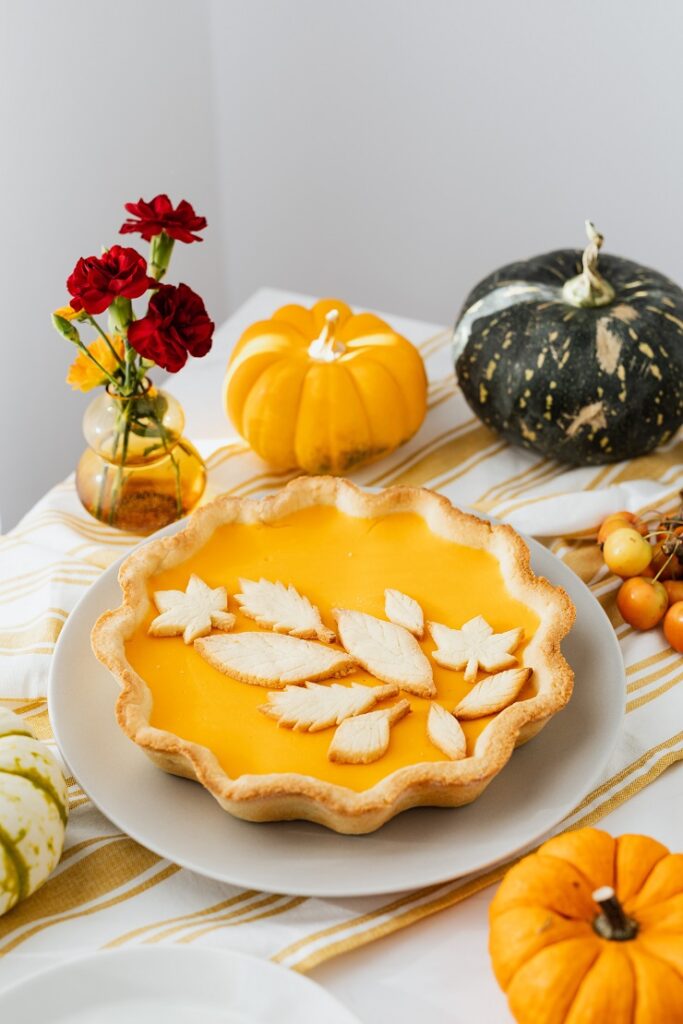 Ingredients:
For the pumpkin pie filling
1 medium sugar pumpkin (approximately 3 lbs) or you can use canned pumpkin
2 tablespoons Canola oil + extra Canola oil for oiling the pumpkin
1 14-ounce can sweetened condensed milk
½ cup whipping cream
2 tablespoons cornstarch
2 tablespoons molasses
1 tablespoon ground cinnamon
1 teaspoon ground ginger
¼ teaspoon salt
3 large eggs
For the pie crust (or you can purchase ready made crusts, we won't tell!)
2 cups +1 cup all-purpose flour
¼ teaspoon pie crust
2/3 cups cold unsalted butter, cut into 1/2-inch pieces
4 tablespoons cold water
Directions:
Preheat grill to 375 degrees Fahrenheit for at least 15 minutes.
Remove the pumpkin's stem and cut it in half.
Scrape out the seeds and rub a generous amount of canola oil inside and outside both pumpkin halves.
Place them on a rimmed baking sheet lined with aluminum foil with the cut side up. Put them onto direct heat and close the lid. Leave it on your grill for about 45 minutes to 1 hour, or until the pumpkin's flesh can be pressed down with a fork.
Prepare the crust while you wait for the pumpkin to grill.
Combine 2 cups of the all-purpose flour and the salt in a large mixing bowl. Using your fingers, add in the butter to the flour and salt until it becomes crumbly.
Make a well in the center of the bowl and add the water.
Mix in the crumble mixture until it becomes a moist dough. Divide the dough in half and shape each half into a ball. Wrap one in plastic wrap and set this aside so that you can use this later.
Dust a flat surface and your rolling pin with flour. Flatten out the dough using a rolling pin until it becomes a flat circle measuring 12 inches in diameter. Use the remaining canola oil and flour to grease and flour a 9-inch pie dish to prevent the dough from sticking. Transfer the flattened dough into the pie dish. Fold the excess dough under and crimp this to make it more presentable. Pierce the dough using a fork and wrap the entire thing in plastic wrap. Refrigerate this for 15 minutes.
After 15 minutes, take out the pie crust from the fridge and remove the plastic wrap. Line the inside of the crust with aluminum foil and dried beans to prevent the bottom or the sides from puffing up while grilling it.
By this time, the pumpkin has already roasted. Take this out of the barbecue grill and allow it to cool. Move the coals to either side of the grill so that the center serves as your indirect heat area. Place the pie dish here and close the lid. Leave this for 12 minutes or until the sides of the pie is set. Remove the pie crust and take out the aluminum foil with the dried beans. Allow it to cool before turning down the temperature of your grill so that it's down to 350 degrees Fahrenheit.
Scoop out the flesh from the roasted pumpkin and blend in a food processor until it becomes a puree. Add in the condensed milk, whipping cream, cornstarch, molasses, canola oil, cinnamon, ginger, salt and eggs and blend them together until it becomes smooth.
Pour the pumpkin filling into the pie crust. Lightly tap this to make sure that there are no bubbles. Place this on the indirect heat area of your grill and allow this to bake for about 1 hour or when you put a knife into the center of the pie, and it comes out clean. Place this onto a rack and allow this to cool for 30 minutes.
To serve your grilled pumpkin pie, place a generous wedge on a plate and add a dollop of whipped cream and lightly dust this with cinnamon.
Sweet potato pie
If you want to make a sweet potato pie, you can cut sweet potatoes in half, grill cut side down until they are soft. Scoop out the flesh and put it into a blender or food processor until smooth, Add the same ingredients you'd put in the pumpkin pie. Pour into a shell and bake. Remember, a sweet potato pie is a great foil for toasted marshmallows. Top the pie with whole marshmallows right before the pie is done and let it cook until the marshmallows are melted. We have also toasted marshmallows, put them onto the top of the sweet potato pie and indulged.
Here's to you and yours for a happy and delicious Thanksgiving!