If you're a grill master, but want more than a grill in your outdoor kitchen space, it is time to upgrade your outdoor kitchen for 2021. For the intrepid griller, you can cook outdoors year-round, especially if you have an outdoor kitchen that suits all of your cooking needs and your cooking style.
Have you been using your outdoor kitchen — or maybe you just have a grill — and know that it's lacking but have been putting off upgrading and updating it? Well, what are you waiting for? If 2020 and the coronavirus pandemic have taught us anything it's that anything can happen. Why put off your kitchen dreams any longer?
Your outdoor kitchen design needs to give you a balance of:
Functionality
Style
Affordability.
Relationship with your indoor kitchen
How much space is there between the house, the pool and your indoor kitchen? This is something to consider when looking at outdoor kitchen design ideas.
There needs to be there is ample space for the different areas of your outdoor kitchen–the cold areas (refrigeration and storage), hot areas (grills and ovens), wet areas (sinks) and dry areas (prep counters). There needs to be enough space for you and your guests to sit, dine and move around comfortably.
If you have limited space for the kitchen, you may need to utilize areas of your indoor kitchen. Make certain the outdoor kitchen has an easy path toward the indoor and the outdoor kitchen so you're not hindered from cooking and entertaining.
Upgrade Your Outdoor Kitchen In 2021
What are you unwilling to live without?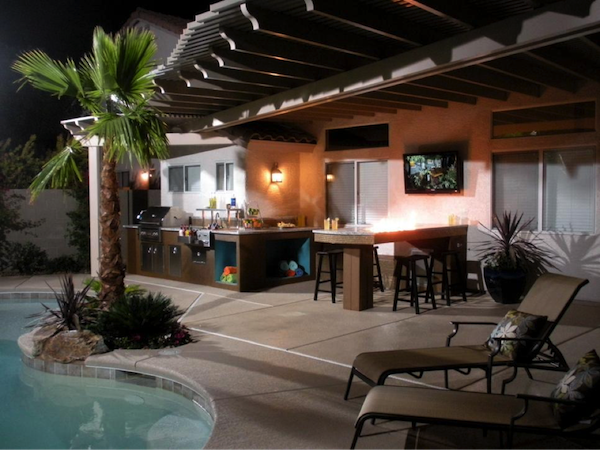 After determining what relationship your indoor kitchen will play with the outdoor one you need to know what you absolutely, 100% cannot live without in your outdoor kitchen. Some must-haves:
A grill
A deep frying area
Stove top
Cutting board
Kitchen
Prep space
Seating space
Dishwasher (yes, some families cannot live without an outdoor dishwasher)
Cupboards
An additional set of dishes, cutlery and pans for the outdoor space
Wine cooler
Refrigerator and freezer
Oven
Microwave
Let your imagination run wild
Determine what part, if any, of the project you want to do on your own and what you want to turn over to your pool service contractor or outdoor contractor. You may also have outdoor appliances that you love that you want worked into the design.
If you're looking for a budget-friendly outdoor space, consider using prefabricated outdoor kitchen kits you can find in hardware stores. These kits come in a variety of designs and come with the essentials for your outdoor kitchen at a fraction of the price.
Go for low-maintenance materials
You need to decide if you want a roof over your kitchen. Even if you do, you will still want to buy equipment that is designed to withstand outdoor weather and even splash out from chemicals used in the pool.
Stainless steel is a safe bet since it's easy to clean and has a high resistance to corrosion and grease stains and frankly stainless steel looks incredible.
Consider adding stone work into the outdoor kitchen design. They do look beautiful, but are highly porous, especially if you use limestone — it will absorb moisture and stains more quickly, making them prone to damage.
Seek professional help
Let your design and construction professional know what your budget is. Don't shoot for the moon if your budget will only allow for shooting for the top of the house! Remember, in addition to buying your appliances, you will possibly need to run plumbing, gas, and electrical lines in and around your outdoor kitchen. That will eat into your budget, but must be prepared for.
Hiring a professional contractor ensures you get the most out of your outdoor kitchen based on the design idea you want and your budget. Also, when you work with a professional designer for your project you can have an idea of what the entire space will look like when it's 100% done, even if you don't have the budget to do it all right now.
Contrast or complement your home design
Something to consider is if you want your outdoor kitchen and swimming pool space to look as though it's a completely separate space or if you want it to appear as if it's a seamless connection to your home. Look through design magazines, talk to your pool contractor and search online to see how you feel about complementing or contrasting designs.
Something to consider: If your home is a Zen or modern style will you want the outdoor space to mirror that calm and minimalistic design? If your home is made of bricks or stones, choose outdoor kitchen layouts that echo the use of bricks and stones in its design as well. Or go completely different!
Here are some ideas to spark your imagination!
High-End Retreat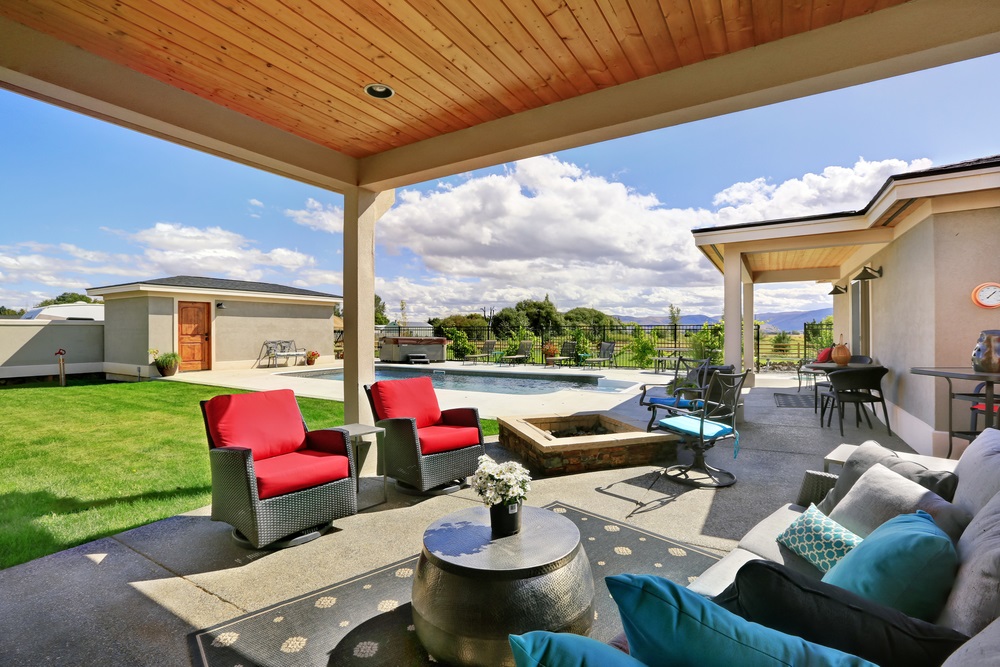 If there is limited space between the backyard entrance and the pool consider using an arbor covering to give the illusion that the outdoor cooking space and ining area are an extension of the home's interior.
Adding the fireplace at the center adds to its sophisticated look and feel. A fire feature gives you a way to host dinners and make use of the outdoor kitchen even after summer is over because it will lend heat to help keep your guests comfortable.
Pool Party Ready
If you don't have a lot of space to work with between the home, the pool and where you want the outdoor kitchen, consider a straight path to and from to make the best use of the available space.
Luxury Poolside Escape
Consider placing your outdoor kitchen close to the pool itself. You may want a poolside escape and kitchen design that makes it feel as though you're not close to your own home — a true staycation spot.
Gift yourself the luxury and beauty of an outdoor kitchen for the new year! If you're staying close to home, you don't have to feel like you're at home! A pool, hot tub or spa and an outdoor kitchen and well-designed outdoor living space make it feel as though your backyard is a staycation spot without leaving your driveway!