Who wants to go inside and cook a meal when all the fun is happening outdoors and poolside? Not too many people! You can talk with your swimming pool contractor about having an outdoor kitchen installed in your backyard. The outdoor kitchen can be as minimal as a grill, sink and refrigerator or as massive as a grill, oven, stove, refrigerator, wine refrigerator, dishwasher, seating area, cupboards and more.
Adding an outdoor kitchen poolside elevates outdoor parties and family get-togethers. Proper planning is key to a successful outdoor kitchen project. Why? Because if you have a bigger idea for the kitchen than you have budget to complete it, you can still plan out the entire project and chip away at it over time. Also, ask your pool contractor or designer to give you a bird's eye view drawing of the project so you can truly see how it will look and how the flow will be.
Upgrade Your Outdoor Living With A Kitchen
Items to consider for your outdoor kitchen and how it will fit into your existing pool area
Will you need to have a slab poured to accommodate the kitchen items?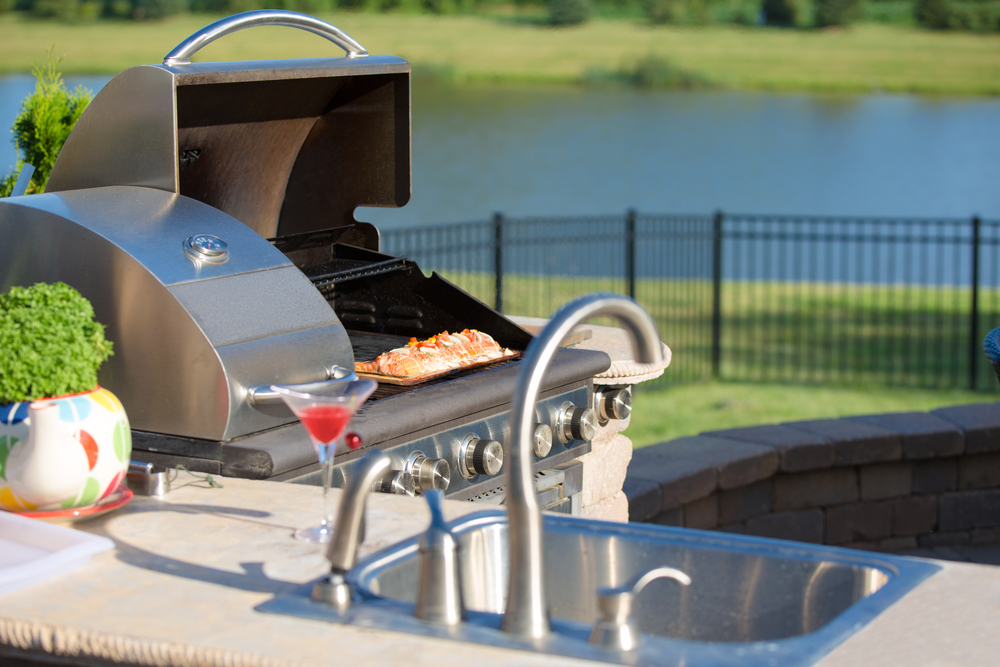 You certainly can't just put your kitchen items on the ground and hope for the best. You will need to have a slab poured, but you may have a portion of your current outdoor living space that could potentially accommodate the outdoor kitchen but you will need to ensure it is sturdy enough to hold it all and support its weight.
Are you just going to have a concrete slab or do you want to have a floor or tiles for the kitchen space? If you want tiles or other flooring make sure it won't get slippery from any potential splash out from the swimming pool. Also, consider how close you want the pool to the kitchen space — do you want to deal with splashing water on the grill when you're cooking?
Location matters 
As mentioned, a bird's eye view of the entire kitchen project is recommended. Don't forget to determine where the grill will be placed and what the wind flow will be — you don't want the flames getting blown out because it's too windy.
The outdoor kitchen must be placed at least ten feet away from any combustible material and from your home. There may be other local or municipal requirements for the placement so make sure are aware of those.
What will the view from inside your home to the outdoor kitchen be? Will it block the pool? Will it obstruct the view to your beautifully landscaped backyard? Your bird's eye view will help you determine that, but it may not be something that you consider until the kitchen is constructed and it's too late to gaze upon your gazebo, fountain and herb garden.
Accessories matter
The space available for the outdoor kitchen will help determine the accessories you can fit. Also, your budget will play a definite role. Consider these:
Weather resistant cupboards
Refrigerator/ Wine fridge
Grill
Sink
Work surface
Seating area
Dishwasher
Cook top
Will you fully equip the outdoor kitchen space with utensils, cooking items, pots, pans, plates, etc. or will you lug items from your kitchen every time you cook. You certainly can, but depending on how often you cook outdoors in your kitchen it may become a hassle.
Seating area
The kitchen is the heart of the home and that is just as true when you're cooking in your outdoor kitchen. Your friends and family will want to sit kitchen-side and chat or be your sous chefs. They may want to linger in the kitchen space over drinks or appetizers. Decide whether you want permanent seating at a bar type seating space or if you will simply pull chairs over and let your guests spend time with you in the outdoor kitchen.
Now that the swim season is over it might be the ideal time to consider a project like adding an outdoor kitchen. Give your pool contractor a call. If he can't undertake the project he may have a contractor with whom he or she works and can give you an introduction.
What would be in your ideal outdoor kitchen?