Is there anything better, or any month better, than July!? It's Independence Day, it's warm, beautiful weather AND it's National Picnic Month! We don't know who decided that July was Picnic Month, but if we find them we will thank them and invite them to a barbecue!
As if you needed a reason to call your friends and family and say, "grab your suits, we're going to have a cookout and a pool party and you're invited! We have rounded up a few of the favorite grilling and picnic recipes from our team members and put them together for you here. Try one, try them all, mix ad match but above all — enjoy your picnic ( we think you need to have more than one picnic to properly celebrate!)
When you think of a picnic you may think of traditional picnics with wicker baskets, checked blankets and delicious food. You can enjoy those amenities in your own backyard or you can entertain friends at a local park and use the picnic tables. No matter where you are or what you do, don't forget to include your favorite foods, your favorite people and time in the swimming pool!
Ways To Celebrate July & Picnic Month
What comes to mind when someone says, "want to come over for a picnic?" What we think is:
Burgers
Hots
Ribs
Macaroni and potato salad
Veggies
Adult beverages
Chips and dip
Pickles, mustard, ketchup
Friends
Family
Swimming pools
Picnic games like corn hole!
Eating a meal with friends is one of the purest joys of the summer months. This is so much more true for those who live on the East Coast or the MidWest and deal with winter's cold, snowy times for so many months of the year! We know there is nothing that tastes better than food on the grill.
Get ready for our fave picnic foods and recipes
Classic Cheeseburger
Cheeseburgers are a mainstay at any outdoor barbecue party. The key is to use quality beef with a little bit of fat. Don't worry about the extra calories. One bite of this will assure you that it's going to so worth it! As good as the burger itself is, we know that it's the toppings and condiments that help that burger soar into the stratosphere!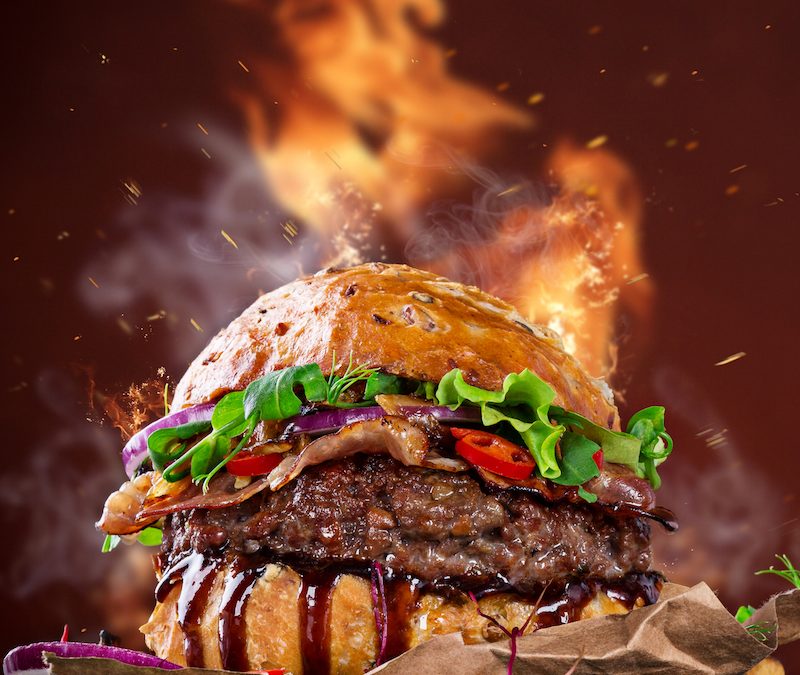 Ingredients
1 ½ lbs lean ground chuck with 20% fat content
1 ½ tablespoon canola oil
Salt and pepper to taste
4 slices of American cheddar cheese or your favorite cheese or more than one!
4 hamburger buns split crosswise
Directions
Preheat gas grill. If using charcoal, heat it until the coals glow bright orange and ash over.
Divide the ground chuck into 4 equal portions.
Form each portion into a ¾-inch thick burger patty.
Season both sides with salt and pepper.
Brush the burger patty with canola oil on both sides. Place on the direct side of the grill.
Cover and grill about 3 minutes or until the burger patties are golden and slightly charred on the first side.
Flip the burgers and grill for another 3 minutes.
Resist the urge to press on the burger. It will release the delicious fats that give the burger its flavor and could cause a grease fire
Add the cheese onto the tops of the burgers.
Place the buns on the indirect side of the grill, cut side down.
Cover and grill for another minute to melt the cheese and toast the buns.
Remove the burger patties and buns from the grill.
Give your guests the option of a myriad of burger toppings. Set them up buffet style. Pickles — sweet and dill; cheese, mayo, mustard, ketchup, onions, peppers, tomatoes, lettuce, and on and on! Make your burger your very own!
Place patty on top of the bottom half of the bun and top with the top part of the bun.
Serve immediately. Source: Food Network
Hot dogs with homemade Coney Island sauce
1 pound lean ground beef
1 (12 ounce) bottle chili sauce
1/4 cup water
1 (1.25 ounce) package chili seasoning mix
1 tablespoon yellow mustard
1 teaspoon Worcestershire sauce
1/2 teaspoon onion powder
Eight hot dog buns
Directions to make the Coney Sauce
Heat a large skillet over medium-high heat.
Cook and stir beef until browned and crumbly
Drain and discard grease.
Add chili sauce, water, chili seasoning, mustard, Worcestershire sauce, and onion powder
Bring to a boil.
Reduce heat and simmer until Coney sauce is thickened about 30 minutes.
Grill your favorite hot dogs — red hots, white hots, turkey hots
Place 1 hot dog in each bun and top with Coney sauce.
If you don't want Coney sauce your guests can choose the condiments from the condiment buffet you'd set out for the burgers
Old-Fashioned Macaroni Salad Like Mom Made
Ingredients:
1 (16 ounce) package macaroni
4 eggs
1 cup mayonnaise
1/2 cup sour cream
1 teaspoon salt, or to taste
1/4 teaspoon ground black pepper, or to taste
1/4 teaspoon ground mustard
1 carrot grated
2 tablespoons sweet pickle juice
1 cup celery, chopped
Sprinkle paprika on top
Cook noodles until al dente.
Rinse cooked noodles in cold water
Set aside until cooled.
Add in all ingredients except for eggs and paprika.
Slice eggs and arrange on top of Macaroni Salad
Sprinkle paprika on top.
This is a great side to make a day ahead of time. The flavors meld the longer it sits.
Some non traditional add ins include, frozen peas, onions and tomatoes
Picnic Beverages
Iced Tea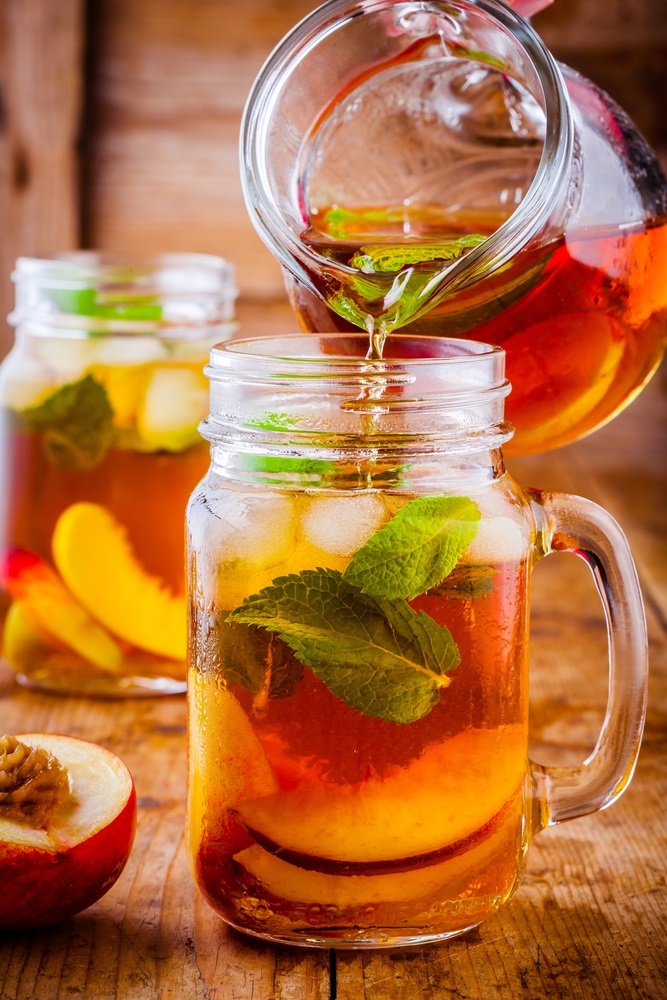 Start with a cold brewed English Breakfast Tea and you can add in a lot of ingredients to make various types of Iced Tea. You can make a simple syrup (as mentioned in our Strawberry Limeade recipe) and add unique flavors to enhance the Ice Tea
Take six cups of cold English breakfast tea (you can brew it hot and cool it, or drop six tea bags into six cups of water and brew in the sun
Now try a Peach Ginger Tea by mashing six canned peach halves with 1 1/2 cups of the juice from the can, 1/3 cup sugar and 1 tablespoon grated ginger. Add to a pitcher with ice.
Lemon Iced Tea. Take your English Breakfast Tea brew, add sliced lemons, squeeze a few in and add a bit of sugar or let your guests sweeten their own
Strawberry Iced Tea. Start with the English Breakfast Tea base, mash some strawberries and add to the pitcher. Slice a strawberry and rest it on the rim of the glass, add a bit of sugar and enjoy.
Strawberry Limeade
Make simple syrup:
Dissolve 1 cup sugar in 1 cup water in a saucepan over low heat
Let cool.
Combine with 1 cup lime juice, 2 cups water, some frozen chopped strawberries and ice.
Adult beverages anyone?
Margarita
Shake 3 ounces tequila
2 ounces lime juice
1 ounce simple syrup
Strain into an ice-filled glass.
Consider coating the rim in sugar or a sugar salt mix
Simple Picnic Snacks
Chips and pretzels are a picnic staple.
OR Go Healthy
Grab your favorite veggies — potatoes, zucchini, sweet potatoes, etc. and make your own "chips." Slice the veggies thin, toss in olive oil, spread on a baking sheet, sprinkle with salt and pepper and bake at 350 degrees until crispy — about 30 minutes.
Purchase chip-dip or grab sour cream or greek yogurt and mix in dill, or dried onion soup, mix it up. Chill. Enjoy.
Cut up various veggies and have them available for dipping.
Watermelon Fruit Salad Bowl
One large, perfectly ripe watermelon
Half of a small cantaloupe
Half of a small honeydew melon
Two cups of red grapes
Half a can of pineapple chunks (optional)
Two cups of strawberries and/or blueberries
Slice the melon in half, scoop out the melon and use the shell to hold the fresh salad. Use a melon baller for the cantaloupe, honeydew and watermelon. Chill and enjoy!
Grilled peaches are a great dessert idea
Slice peaches
Remove the pit
Brush with honey
Sprinkle with cinnamon
Grill, cut side down
Serve with a scoop of ice cream or vanilla yogurt and a mint leaf
Don't just sit around!
Of course you're going to have fun in the swimming pool. Purchase in-pool game accessories, pool noodles, rafts. Have buckets poolside to hold sunscreen for your guests. If you have a kiddie pool available, set it up poolside and fill with sand and beach toys for those children who don't want to swim.
Make sure you call your pool contractor to schedule a pool cleaning before the picnic and maybe even one after
Corn hole is a popular outdoor game enjoyed by many families. Buy one or make your own and toss bean bags to your heart's content.
Set up a Nature Scavenger hunt. Look at items around your yard and put them on a list for your guests to find: Leaves, twigs, you can hide various items around the yard, a four-leaf clover, and more.
Croquet and bocce ball are always traditional favorites.
Because it's National Picnic MONTH get out there and have as many picnics as you can squeeze in!