Halloween, Thanksgiving, Christmas and New Year's Eve. Those may not be dates and holidays you'd think about when it comes to spending time in the swimming pool or even in your outdoor living space. This is especially true if you live in the northeast. Swimming pool owners in the northeast understand that the swim season is fleeting.
If you have spent as much money on a pool as you inevitably have, how can you spend more hours, days, weeks or even months of the year in and around the pool? Pool owners in Arizona, California and other areas of the southwest are fortunate in that they may be able to use their swimming pools many more months of the year — maybe even year round!
How can a swimming pool owner take steps to spend as much time in and around the pool as he or she possibly can? A pool heater and outdoor heaters are the beginning steps in the process!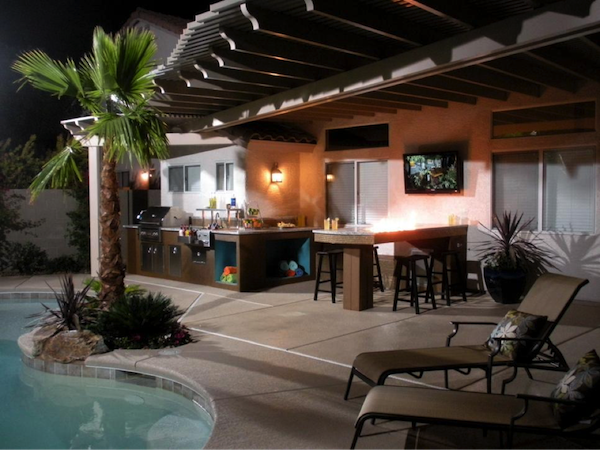 What kind of pool and outdoor heating units can you invest in?
Solar
Gas or propane
Electric
Wood
A combination of methods — gas, electric, wood, solar
Heat pumps/geothermal
Don't jump into the first type of pool and outdoor living space heating system you find. Talk with your pool contractor and get his or her input on initial cost, installation and ongoing costs to operate it. Ask how messy or dangerous the heating type maybe. Find out whether a combination of one or two heating types might make the best sense fo your unique pool and outdoor seating area. For example, you may want a heat pump for the pool water and fireplaces or electric and moveable heaters for the outdoor space.
A heated swimming pool and outdoor living area is luxurious. When you have a swimming pool water heater you can decide whether you want to take the chill out of the water or if swimming in bathtub warm water is what you want for the winter months. If you want water that is that warm, talk with your pool contractor about the installation of a hot tub or spa.
Ways To Extend Time Spent In The Pool & Outdoor Living Space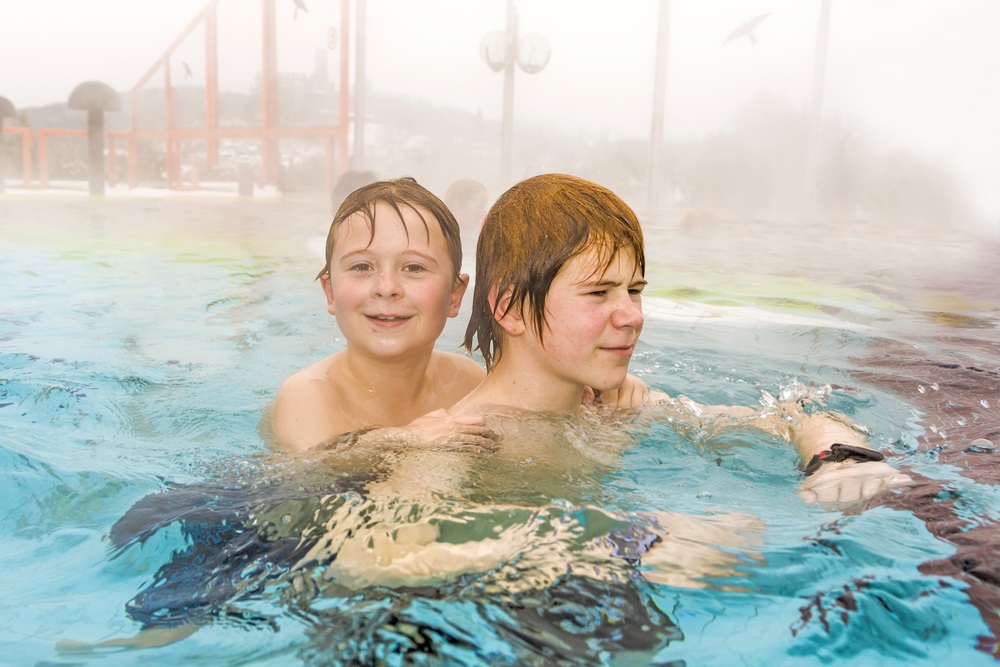 Use the pool year-round. It is difficult to say goodbye to summer and to the pool and to the fun times you've had connecting with your family. Add a pool heater. Use heaters and invest in warm, fuzzy blankets for the outdoor living space. Warm up with hot cocoa poolside and watch movies under the stars.
Plan your budget. Many pool owners plan for X number of months a year for pool cleaning and maintenance. If you're going to extend your swim season you will need to budget for ongoing cleaning and maintenance AND the cost of heating the pool water. Heating the pool water — no matter what type of heater you use can be cost-prohibitive. Some pool heaters are more cost-effective than others, but depending on the ambient air temperature the pool heater may have its work cut out for it and you will pay the price when your utility bills arrive.
Budget, too for servicing and maintenance of the pool heater itself. Know, too that the pool heater will likely need to run all the time. If you turn it off, the water will take even longer to warm up and depending on the ambient air, it may not get as warm as you'd like before you're ready to jump in.
Rearrange the outdoor living space. If your outdoor living space was set up for ease of movement and for large gatherings of guests, you may want to move it all in closer. It will be a more intimate space, but it will also cost you less money to heat a smaller area. Decide whether you want tall heaters or small, foot-level heaters or a combination. If you invest in a fire feature, rearrange your furniture around this feature for its warmth and beauty.
If you have walls for your outdoor living space that you can erect, or curtains or aesthetically pleasing "tarps" you can hang up, it will help contain the heated air and keep the cool breezes from making you more chilly.
Even if you keep the pool open, you will want to determine how you will get to and from the pool, especially if you don't normally use a snow blower in the backyard. Also, when you get out of the warm water and your skin is exposed to the cold air, you may want to consider a poolside towel heater to wrap yourself in once you're done swimming.
Getting the most enjoyment out of your pool and poolside space is certainly something many pool owners are experimenting with.
Is this your year to extend your swim season and your outdoor living space usage? Give your pool contractor a call!