Whether you're having a new swimming pool constructed or if you're thinking of having a swimming pool remodeling project done at the end of the pool swim season, you may need to know what to think about and ask if you're going to add a water feature. Water features add elegance and beauty and relaxation to your family pool.
Water features can be as simple as a diving board, or as elaborate as a rock waterfall and anything in between.
What are you imagining you want in a water feature for your pool?
A cascade of fresh water pouring into the swimming pool
Sunshelves
Swim up spa
Water fountain features
and more
What To Think About When Adding A Water Feature
You can look online or ask friends and family what water features they have and enjoy or you can talk to a pool contractor and spend some time looking through his or her look book for ideas.
Grotto
A grotto is a secluded space behind which you can sit and enjoy a gushing, cascading curtain of water in front of you. You will hear the sound of the pouring water, but it is muted as well so as not to be overpowering.
This is an ideal space to stay mostly dry and enjoy solitude. Adding lighting inside the grotto can also make it a perfect romantic space.
Natural
Waterfalls can be elaborate or it can be functional and aesthetically pleasing. You can make the waterfall into a stunning work of water-filled art.
A rock waterfall can be constructed of manmade or excavated rock. The water can cascade over the rocks and into the pool. It can be made to look like a natural formation, especially if you add plant life.
"Old Faithful"
If you've ever seen the impressive spray of water shooting out of the earth when Old Faithful erupts, you can also have something like that in your own family pool.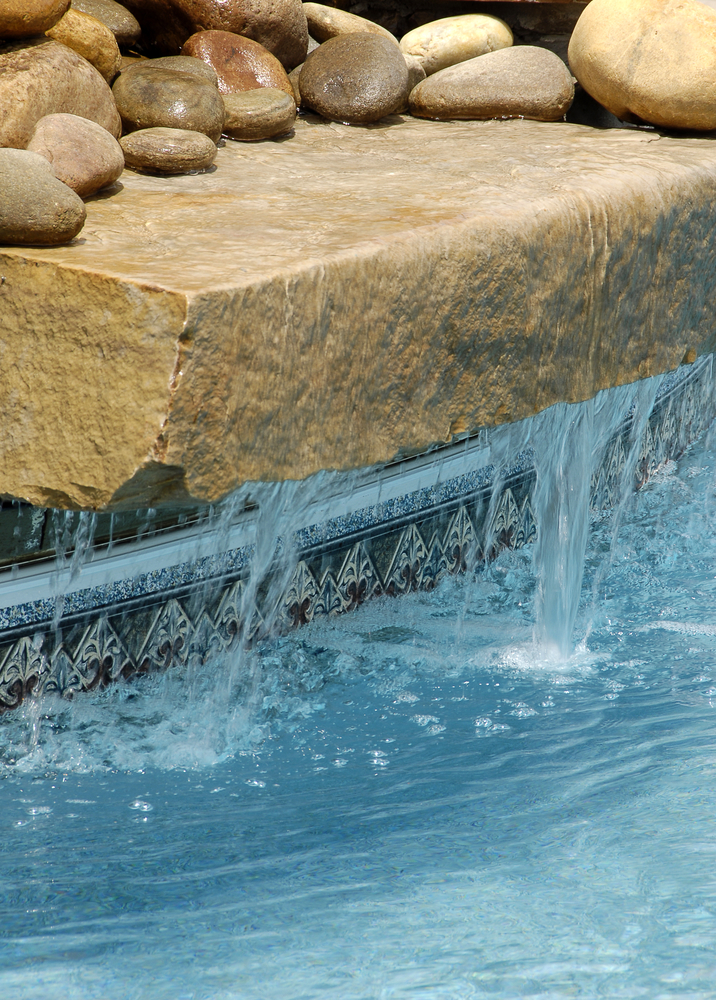 The geyser/gusher can be set to different heights and can also feel like you're at a water park when the water gushes out.
Noise
Keep in mind that when you add a water feature like a waterfall or other cascading water feature, the noise factor can range from relaxing to an unsettling roar. A waterfall makes a noise that can be quite distracting, if you live in a loud neighborhood or a high-traffic street, the waterfall can dampen the sound and that is a plus.
If you're looking for a relaxing jet of water, you will want to think about that when having the waterfall constructed. A small waterfall cascade will be louder than a wider cascade of water.
Lights
To add to the beauty of your waterfall or water feature, don't forget about lighting options to have installed as part of the overall project. Add LED lights because they are energy-efficient and long-lasting. Lighting adds a touch of elegance making the whole scene picturesque and adding enough light to help with safe nighttime swimming.
Get your pool builder to give you lighting ideas and water feature and accessory ideas and look at ways in which to use innovative lighting.
Adding a water feature lends a touch of distinction to your swimming pool and also enhances the aesthetic appeal to your existing pool.