You may think you're saving money if you don't build the pool, its deck and the outdoor living space at the same time. Overall, if you break the project up, you won't pay as much up front, but the cost savings and ease of construction may make it worthwhile to do the entire project at the same time. The simple fact that prices go up every year is a great reason why you don't want to put off that other investment in the backyard poolside landscaping project.
When you're planning for a new swimming pool and outdoor amenities like a pool house, outdoor kitchen, deck, slide, and others, you may find it makes more sense from a budget and from a strategy standpoint to do the entire project all at one time.
The bigger the pool project and all its outdoor amenities and bells and whistles will eventually be may mean completing the project in the same fell swoop will make for a smoother project as well as cost savings. Another factor you may not consider is if you don't complete the entire project at once, items you dreamed of for a different part of the project may not be available when you're ready.
Why You Should Build Pool, Deck And Outdoor Living Space Together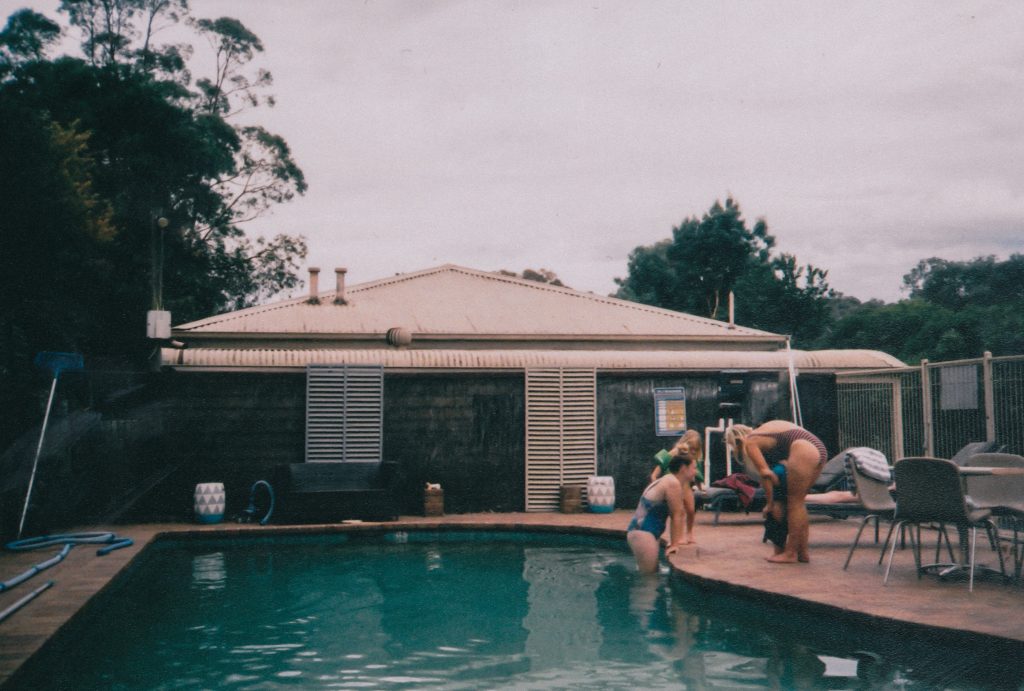 Completing the entire project at the same time leads to project unity and cohesion – and that is the bottom line benefit!
Here are other reasons to consider going all in on your swimming pool, deck, outdoor living and other backyard staycation project all at one time!
It will simply flow better together. When your pool contractor puts your dream project down on "paper" you can see how it all works and flows together and it is a harmonious flow when it's all done at one time. The theme, colors, construction materials and other aesthetics are integral to one another. The swimming pool contractor is your design partner in this entire project and all its facets.
The original design plan was comprised of appliances, design features and other aspects that work together and are optimally functional. If you want a swim up bar, for example, but want to "hold off" on the dry side (where the drinks and glasses, etc. will be stored) until a later time, your swim up bar isn't truly functional.
When you're planning the entire project, your current landscaping and hardscape is accounted for. Trees, driveway, fencing and more all factor into the overall project. If you plan for an infinity pool to be constructed around a particular tree or other landscape item and something happens to that particular piece of landscape what happens to your overall vision?
The project may rely on a piece of equipment to function when attached to a different piece of equipment – the grill, stove, refrigerator and dishwasher for example. If you only invest in one or two of the pieces then down the road want to invest in the others; what if they don't fit well together and what if newer technologies mean the older tech won't work?
It will be a one and done. Imagine having to go through more than one construction project? Not many people can. They want to have access to their yardspace and not have construction going on. When you have the entire project done at one time, you can enjoy the completed swimming pool and deck and outdoor living space without the idea that more construction is coming.
Is there a construction project in your future? Were you considering doing it piecemeal? Do you now wonder if it would make more sense to simply finish it all at once?
Talk with your swimming pool contractor and let him know your budget, your overall plans for the project and how you can make it happen all at once — we think you will be glad you did.