Did you know… May 28 is National Hamburger Day? We didn't either until we were searching for delicious food you could grill up for Dad on Father's Day and we came across this holiday. So, yum! Of course we had to stop what we were doing and check out burgers, burger recipes and unique takes on this favorite grilling classic.
Who was the genius who started this delicious day? We aren't quite sure, but we did do some research to find out when and where hamburgers got their start. It took us a while to get through the research and these recipes because we had to go grill up a burger for ourselves!
We love that it doesn't have to be National Burger Day in order to enjoy a burger!
Grilling Up Burgers For National Burger Day
Hamburgers — the word — originated in Hamburg, Germany. Hamburger steaks, made from beef from Hamburg, were formed into patties and cooked. The hamburger as we know it in the United States, is still a hotly debated topic. Some believe hamburgers originated in the US at the end of the 1880s others think it didn't make its way onto our plates in the US until the 1900s.
Either way, we are grateful that burgers were "discovered" and are still in existence today, aren't you? Burgers and their companion, hot dogs, are staples in the backyard barbecue repetoire for many backyard grilling chefs.
What if you want to shake up your "burger" and try something other than beef?
Are there options that work on a grill and in a hamburger bun? Glad you asked:
Venison
Bison
Bean, tofu or veggie for vegetarians and vegans
Ostrich
Turkey or chicken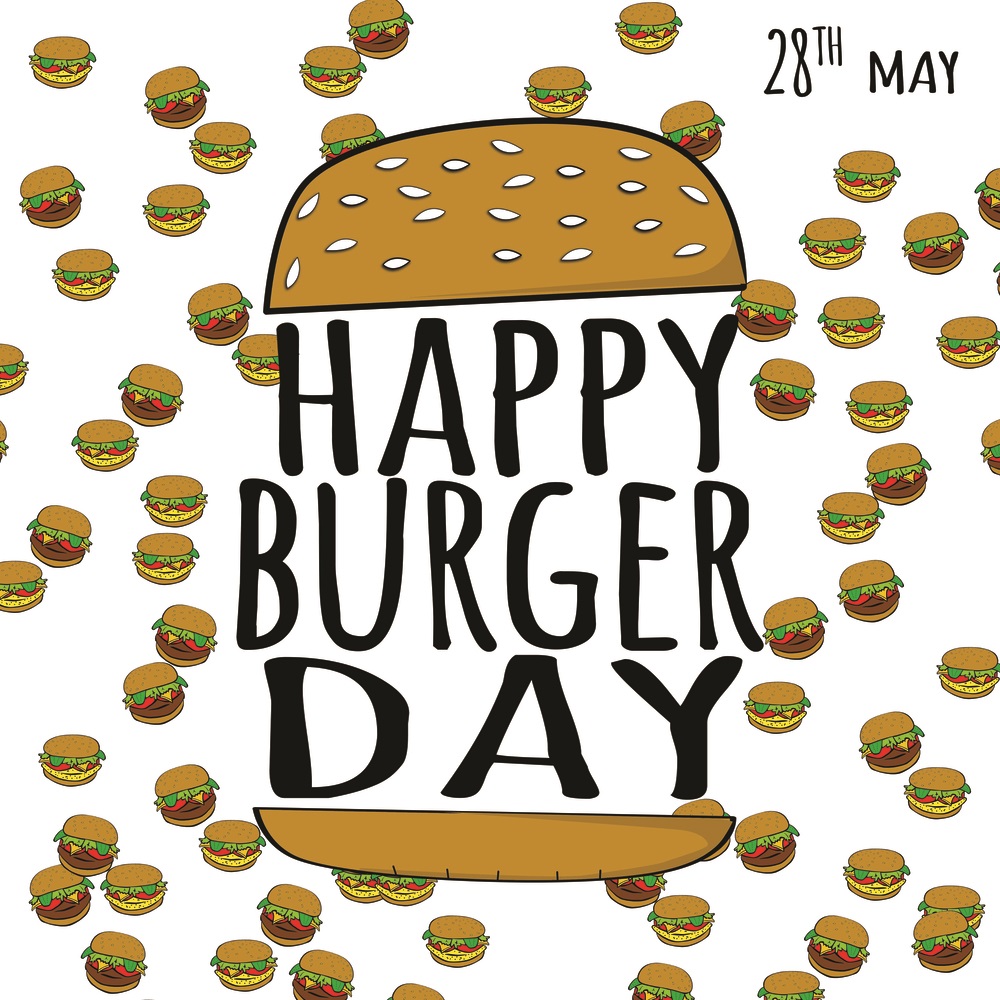 Facts About National Burger Day
It's estimated that American men eat about seven ounces of meat a day; women eat about four ounces.
Beef is eaten more than 50% of the time followed by poultry and fish
The most expensive burger in the world cost $5,000 and weighed more than 770 pounds.
Since National Hamburger Day falls right around Memorial Day, what can you do to add Memorial Day celebrations to your National Hamburger Day celebration?
Host a backyard barbecue
Throw a pool party
Ask the friends you invite to bring their BEST BURGER recipe to the party, grill it up then have a competition to see whose burger is best. It will be a delicious contest, that's for sure!
A traditional burger classic
The Classic Burger or Cheeseburger
The plain ol' hamburger and cheeseburger are mainstays on any outdoor barbecue party. The key is to use quality beef with a little bit of fat; an 80/20 mix is ideal for grilling purposes.
Ingredients
1 ½ lbs lean ground chuck with 20% fat content
Salt and pepper to taste
4 slices American cheddar cheese. Consider another cheese that is your favorite, but remember at that point you're not quite grilling up a traditional cheeseburger.
4 hamburger buns. Go fancy with your bun — sesame seed topped, brioche bun, potato bun
Directions
Preheat your grill to high heat if you're using a gas grill. If you're using a charcoal grill, heat up the coals until they glow bright orange and ash over.
Divide the ground chuck into 4 equal portions. Form it into a patty. Season both sides with salt and pepper.
Place the burger on the direct heat side of the grill. Cover and grill about three minutes or until the burger patties are golden and slightly charred on the first side. Flip the burgers and grill for another 3 minutes. Don't press down on the burger because it will push out and release the juiciness and dry out your burger.
Once the burgers are cooked to the desired wellness, remove from the heat, add the cheese. While the cheese is melting, place the buns on the indirect side of the grill and warm them through.
Remove the burger patties and buns from the grill and serve them up.
Offer guests a variety of condiments for their burger — from mayo to ketchup to mustard. Provide pickles, tomatoes, lettuce, onions (raw or cooked), sliced mushrooms, and other toppings that your guests might want to use to personalize their burger.
Amp up the burger and turn it into a California Burger by adding avocado. Turn it into a Hawaiian Burger by topping it with grilled pineapple. Turn it into a Barbecue Burger by topping with fresh, raw onions and slathering with your favorite barbecue sauce.
Spiced Lamb Burger
Use flatbread or a pita instead of a hamburger bun and grill up a spiced lamb burger.
Ingredients:
For the lamb burgers:
1 teaspoon each cumin seeds, coriander, fennel seeds and black peppercorn
½ cinnamon stick, broken up
A pinch of cayenne pepper
3 teaspoon paprika
1 finely chopped garlic clove
2 teaspoon fine sea salt
2 lbs. ground lamb shoulder
For the spiced yogurt (this makes a delicious, unique topping for your burger):
½ teaspoon cumin seeds
½ teaspoon coriander seeds
1 cup Greek yogurt
1 garlic clove, crushed with a little sea salt
1 dozen fresh mint leaves, finely shredded
A pinch of sea salt
1 tablespoon sesame seeds
To serve:
Canola or olive oil
8 Flatbreads
Romaine lettuce leaves
1 cucumber, sliced
1 small red onion, finely sliced
Directions:
Toast cumin, coriander, fennel seeds, peppercorn, and cinnamon about a minute or two in a skillet on the grill. Grind to a fine powder. Transfer ground spices to a bowl. Add cayenne pepper, paprika, garlic and salt and mix well.
Add in the ground lamb and mix thoroughly. Cover with plastic wrap and refrigerate for at least an hour.
Prepare the spiced yogurt. Toast the cumin, coriander, and sesame seeds. Transfer toasted cumin and coriander seeds into a small bowl. Stir in the Greek yogurt, garlic, mint, and salt until well combined. Sprinkle toasted sesame seeds on the yogurt sauce. Cover with plastic wrap and refrigerate.
Preheat grill to high heat. Take out lamb, bring to room temperature.
Divide the lamb mixture and form into eight patties, each about ¾-inch thick. Lightly brush both sides of the patties with oil. Place on the direct-heat side of the grill. Cover and grill for three to four minutes on each side, until cooked through. Remove from the grill and tent loosely with foil.
Warm the flatbreads for one to two minutes on the direct side of the grill. Wrap a lamb burger patty with a flatbread along with some lettuce, cucumber, and onion. Drizzle some of the spiced yogurt, and serve. Source: The Kichn
Grilled Turkey Burger
Turkey is delicious and nutritious and grills up well! Try this as a delicious twist to the traditional burger.
Ingredients
3 pounds ground turkey
1/4 cup breadcrumbs
1/4 cup finely diced onion
2 beaten egg whites
1/4 cup chopped parsley
1 clove diced garlic
Salt and pepper to taste
Mix all the ingredients together in a large bowl. This will make twelve patties so you may want to halve the recipe depending on how many people you're feeding.
Grill the turkey burgers for three minutes per side or until the internal temperature is 180 degrees F (you don't want to eat undercooked poultry.
Serve the burgers with a cranberry salsa, top with cheese, lettuce, mayo or other favorite burger toppings.
How will you celebrate National Hamburger Day? What is your favorite burger type?